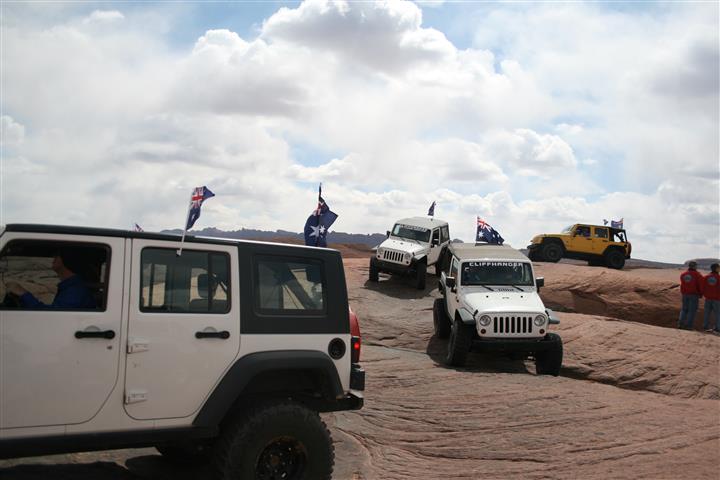 We didn't get a lot of pics, other than a few iPhone pics. The 4s is mucho better camera than the 4 but it's still not that great. I couldn't help but take a few shots of the 9 Aussie friends we had on the trail. Hopefully they can find this picture on the internet via search as I didn't get an email address to send the photos to. They rented 4 Jeeps for all week long and were having a great time. Some of the ladies had brought some trinkets and gave Lynds a Koala that turned out to be quite popular through the rest of the week.
Sat. was almost schitzophrenic in how cold it was. Lynds and I were shedding coats, hoodies, unzipping windows then zipping back up, adding coats, etc. all day long.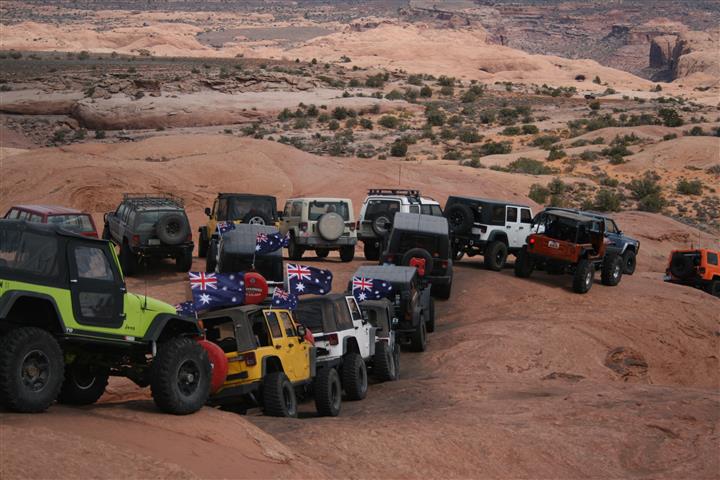 Group bunched up around Mickey's Hot Tub. I LOVE that our Australian friends came out and hope it was worth the expense (I can't even imagine the cost, I'm sure)
Said koala bear. Can't thank those ladies enough for making my daughter feel welcome. We have about 12 pics of this in various places in the Jeep.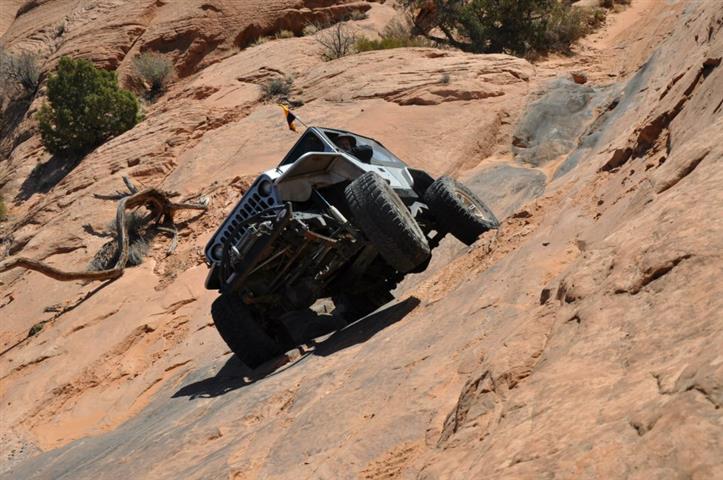 Sunday I'm a gunner on Poison Spider with Dave Adams. I didn't get many pics, but a fellow gunner posted them to Facebook. He mentioned I could steal them. (thanks Johnny!!!). Here's a little air at the wedgie. My parents first trail ever in my Jeep. They seemed to have a great time. Sorry to stuff my mom in the back.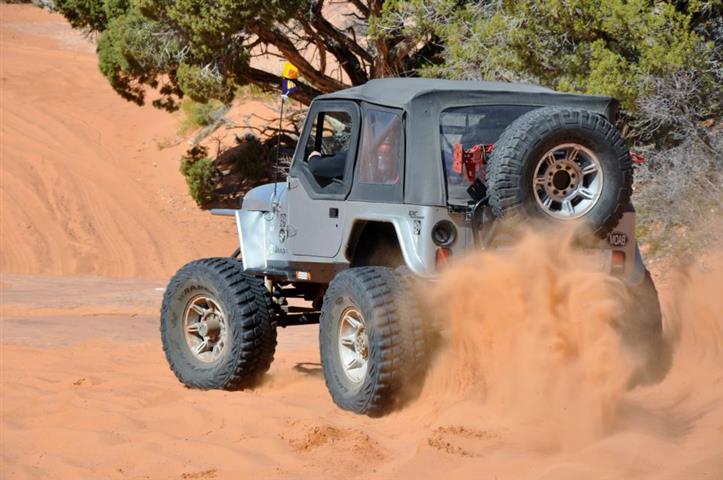 Johnny takes a sweet photo of me getting in touch with my 17 yr. old side. My mom thought that was a funny but accurate way to put it. They're still in the car. The TBI 350 is starting to really show it's age in the sand and on the highway (drove back on highway from Kane Creek on Thursday). I need to figure out what to do with that old engine. It's been uber-good to me. I think I've had it for about 12 years now. 4 years in the Suburban and 8 in the Jeep. Has yet to let me down. I feel like I owe it a rebuild.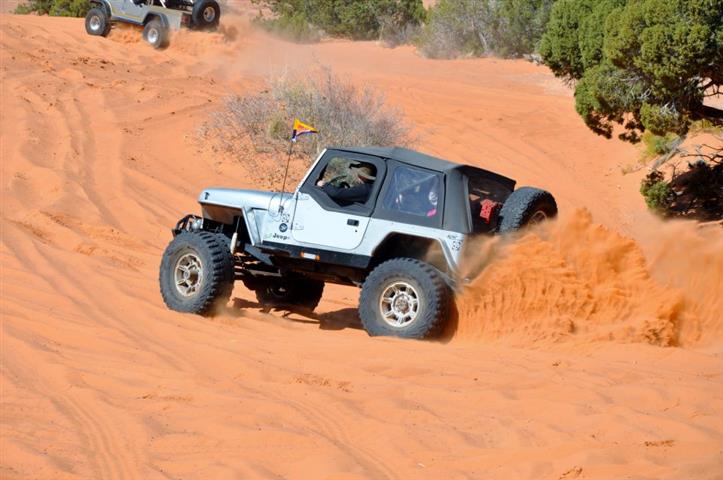 Rice roost :D 2WD obviously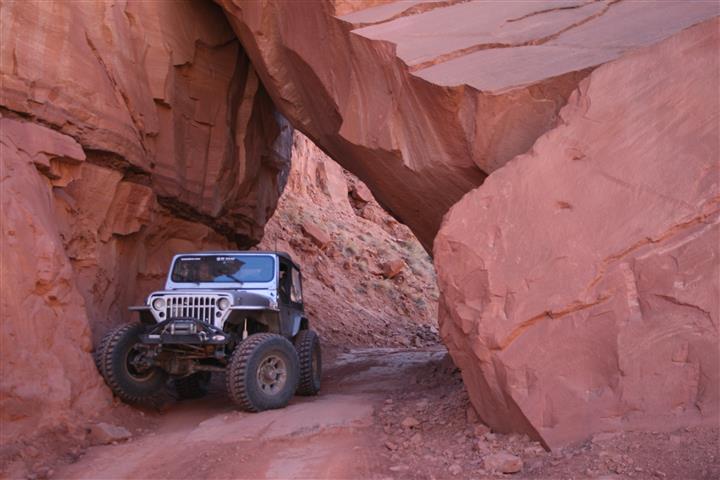 Monday, I thought my mom/dad would be up for a break so we ran Long Canyon. We drove out to Dead Horse Point then down the canyon. AWESOME is all I have to say about the visuals. I've always wanted to drive under this rock. Didn't trust my e-brake and wanted a pic with my real camera so I ran the Jeep into the wall to save my passengers.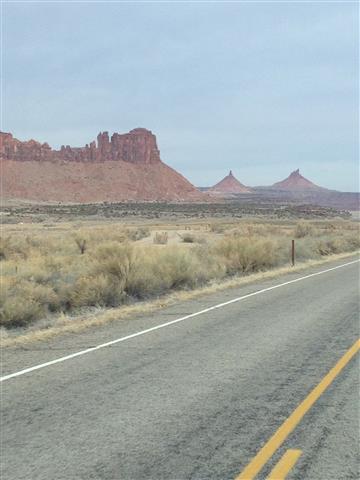 Lynds and I ran Elephant Hill for the first time on Tues. Mom/Dad ran home for some other obligations. Elephant Hill is WAY THE HELL OUT THERE but totally worth the drive. Our leader, Linda Adams has been leading it for 16 years (?). She's a great trail leader and good on the CB for passing along information and points of interest. I was a gunner again (three "working" days to one "off" day).
The above pic is on the highway after turning off 191 towards Canyonlands park. Amazing stuff out this way. I'll be back. Incredible rock formations and a cool "spirit" about the area.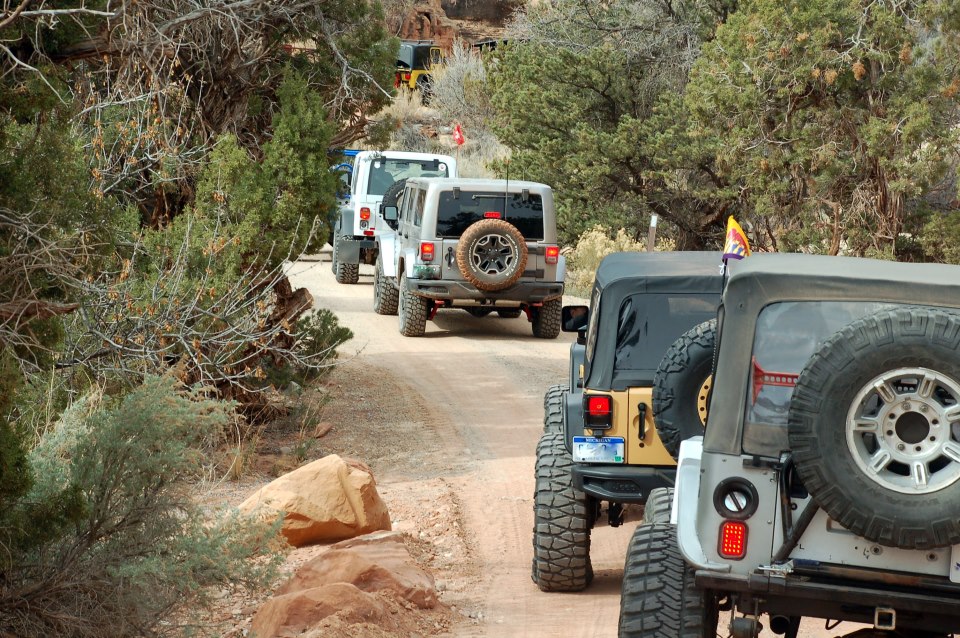 Just getting started on the trail. (photo by C Westrich)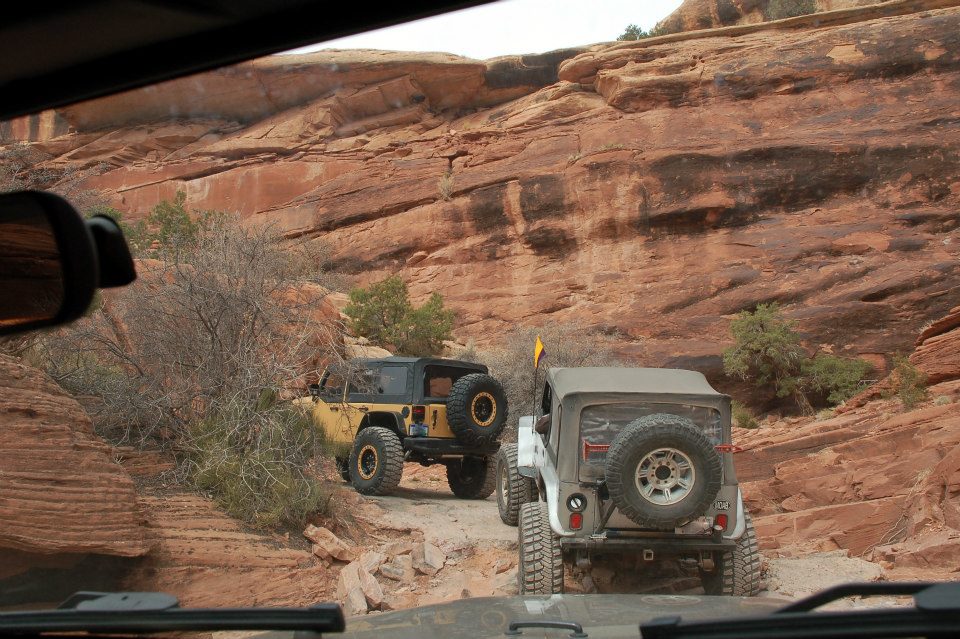 First little ledge. Big Sarge (Matt & Christinne Westrich) were following me in their stock TJ Rubicon. This proved doable for them but careful tire placement was required.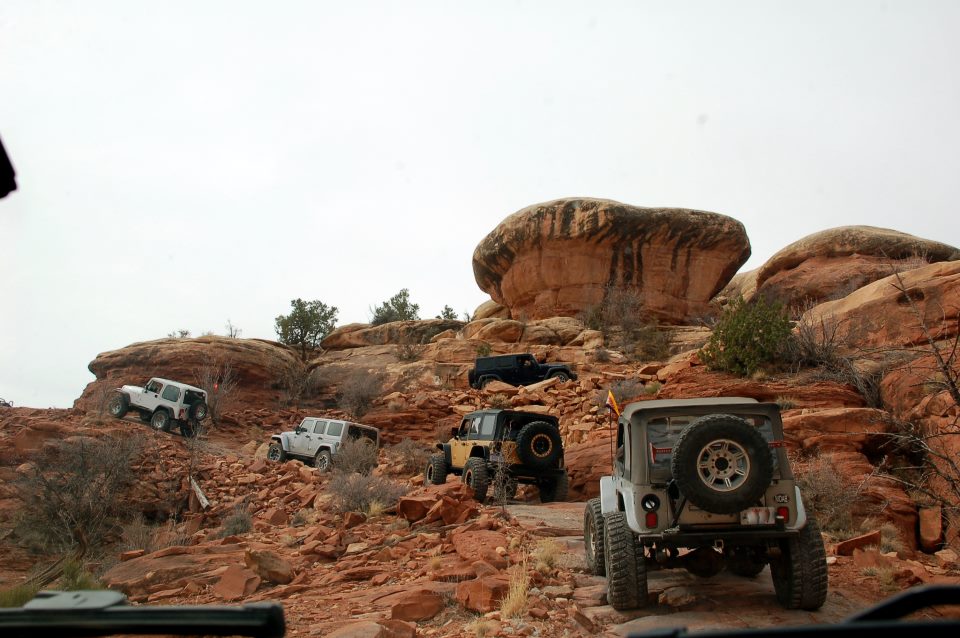 Elephant Hill is the first "obstacle" on the trail. It's long and tough due to it being early in the day and being a switchback type trail. Jeep accompanied us on this run with a couple of rigs. The one in front of me had a stock suspension and portal axles, running 40" tires. Guys were having fun, but I'm not sure if they'd ever been in low-range before. (photo by C Westrich)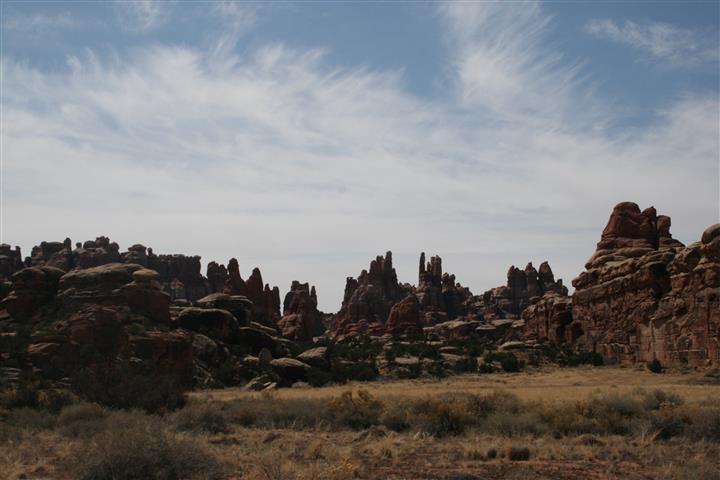 Nothing I can say here. Crazy stuff. Needles area of Canyonlands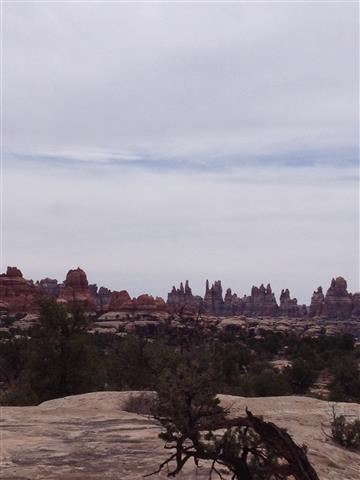 Good comparison of iPhone camera (this shot) vs. my Canon XTi (above shot). Just amazing stuff out there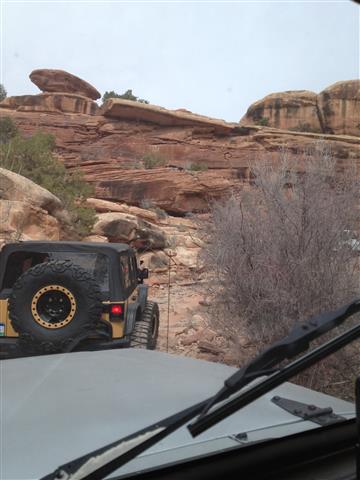 Tons of balanced rocks out there. I'm sure they don't even have names. Lynds and I had fun trying to make them into birds or giraffes or whatever....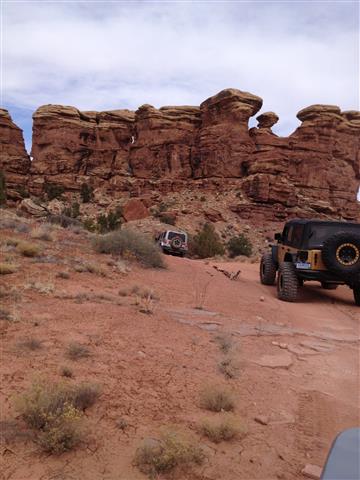 More rock formations. Trail is not really difficult but just cool.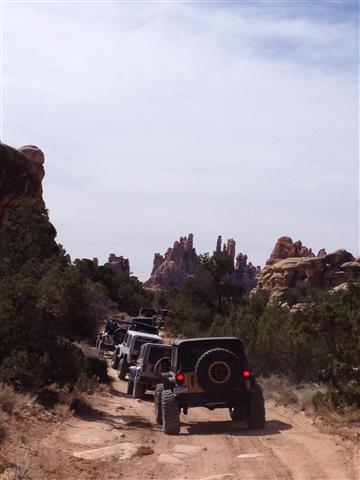 Again, just kinda crazy formations.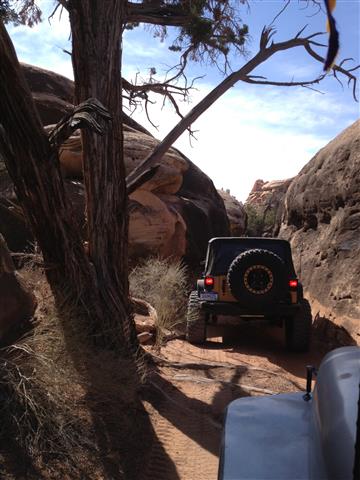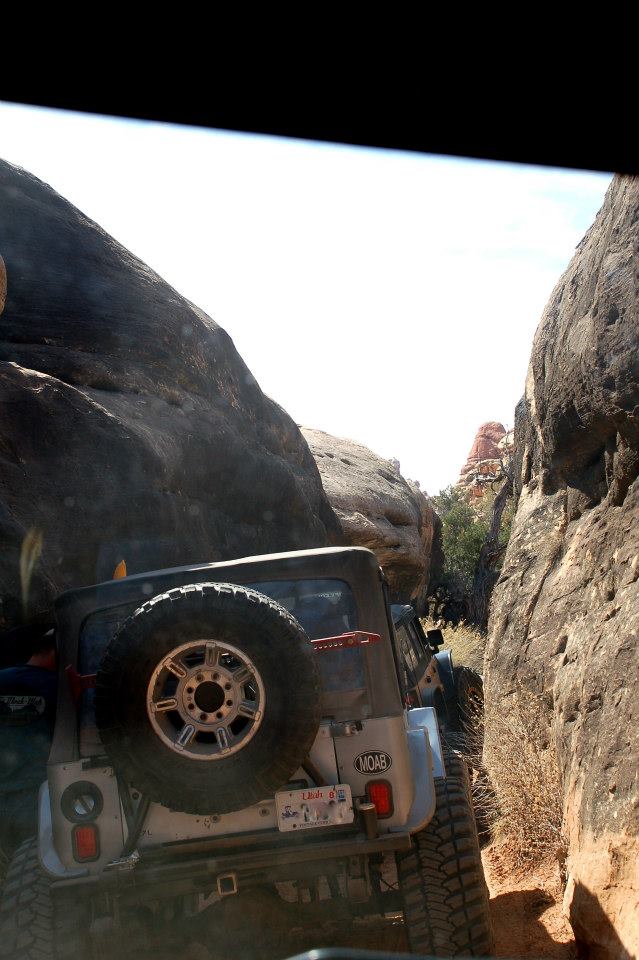 A very tight spot for the concept Jeep here. I had to stop him and steer him through this tight spot to save his top. Christinne Westrich took this photo of the little slot that we needed to drive through to get to the lunch spot. The Jeep built JKU JUST fit through the spot with it's portal axles and 40" tires. I stopped the driver at this point and had him back up. As he climbed the wall with his passenger tire, that action pushed his drivers rear down thus endangering the soft top. We got him through but there was literally 6-8" of clearance. A full size rig will have issue getting through here.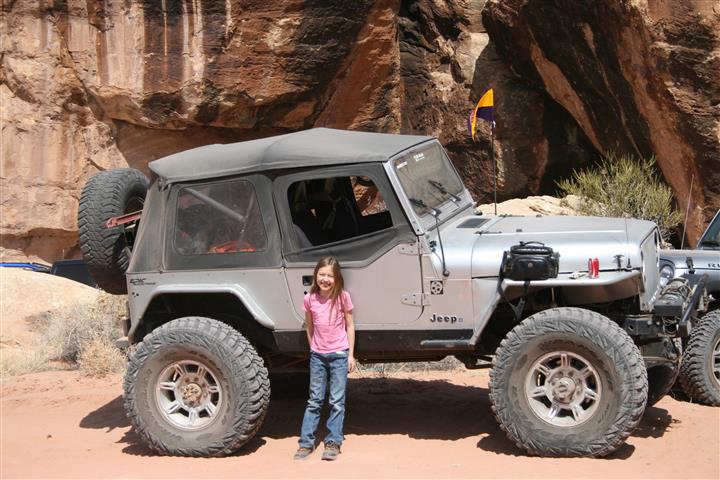 We're at our lunch spot. Mine's on the fender (trail mix, Gatorade and a Coke). My daughter had a great time
Kind of a funky spot. I was a little surprised by some of the grassy areas. (photo by C Westrich)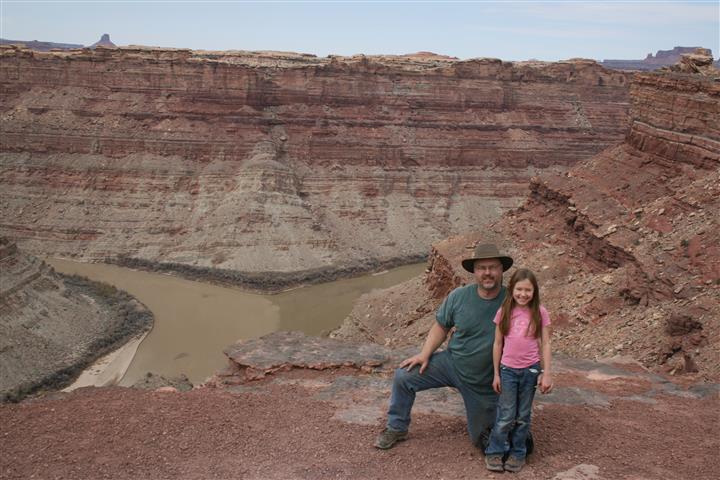 We went out to the confluence and our friend Josh took this picture. Pretty crazy that the river on the left of the picture is the Green and the river on the right is the Colorado. Pretty good drop to the river level from the plateau we are on. Hike was very manageable at 1/2 mile. My kind of hike.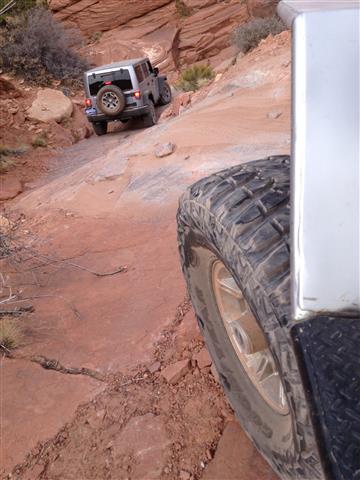 Headed back down Elephant Hill. Josh is ahead of us in his under 1k mile 2013 Rubicon. Way to break that baby in! We did use his skidplates a wee bit.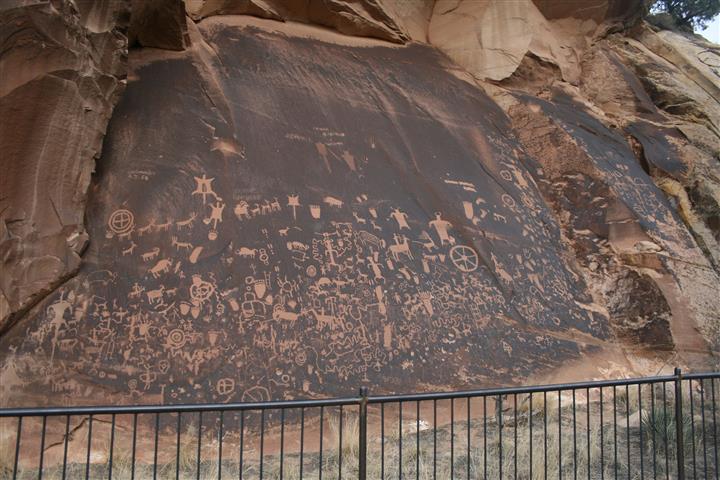 Newspaper Rock. Pretty interesting stuff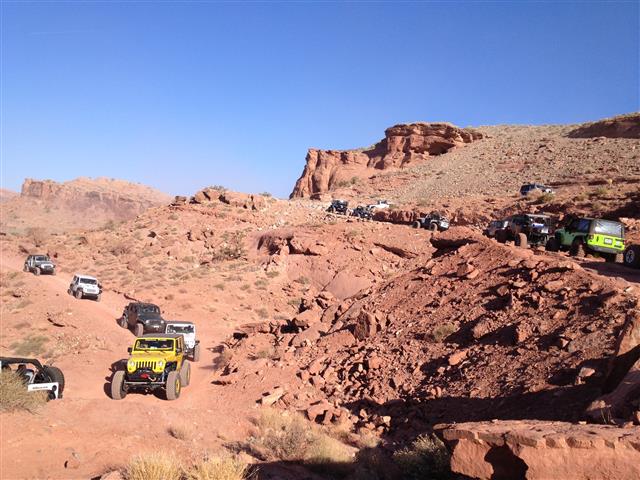 Wedneday we hit Poison Spider again with the JKOwners group. HUGE group. Kevin Hawkins was leading the trail and I was hoping to pick up some stuff that Dave Adams hasn't shown us. Kevin runs the exact same trail config we run on Sunday. We did pick up a freebie for the JK at the raffle from Rocky Mountain 4x4. Probably snag something from them for the JK.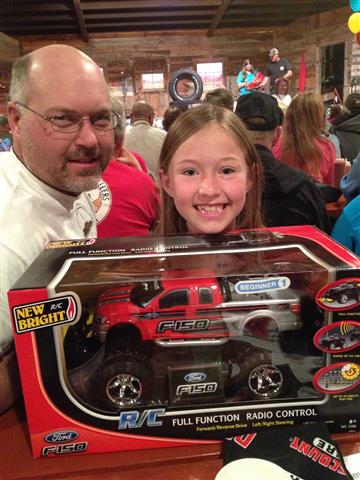 I'm convinced this is why Lynds comes down here. She wins something everytime at the RR4W raffle. This is even more popular than the stuffed bunnies she's won before.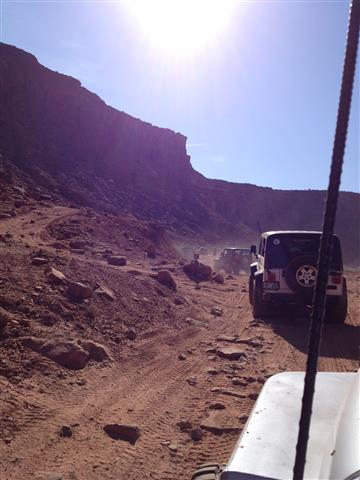 Thursday we hit Kane Creek as a participant. Pretty relaxing trail but has some overhanging branches that I would have been a bit grumbly about with my JK Unlimited. Lockers are likely not required on this trail. Handy but not required.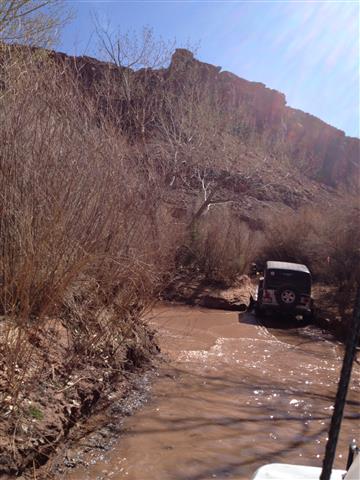 Kane Creek crossing. Following John and his pug (Lyndsay's newest friend).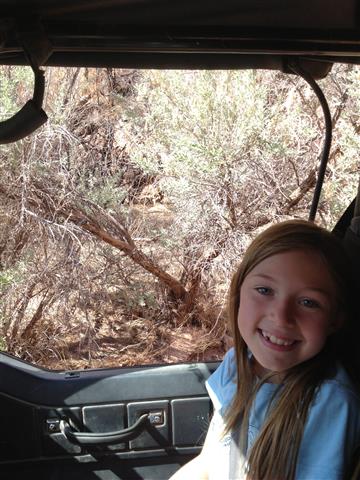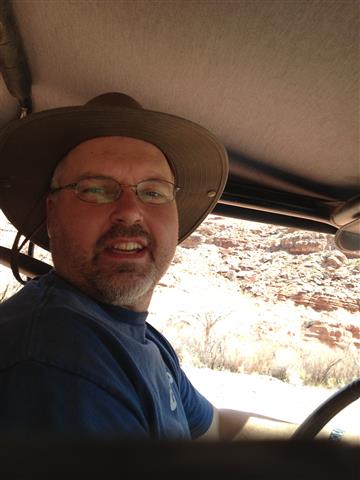 We're both showing a bit of wear but still pretty happy to be on the trail together.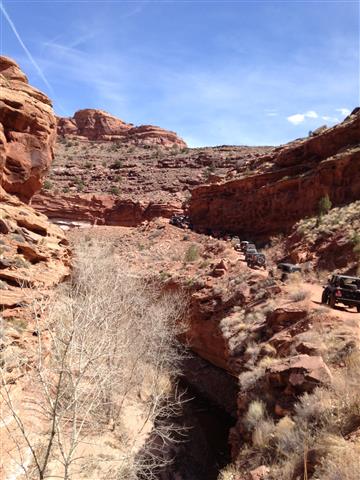 Kane Creek is a pretty cool little gorge. The latter part of the trail is cut into the canyon away from the water. I'd imagine it's quite difficult to maintain.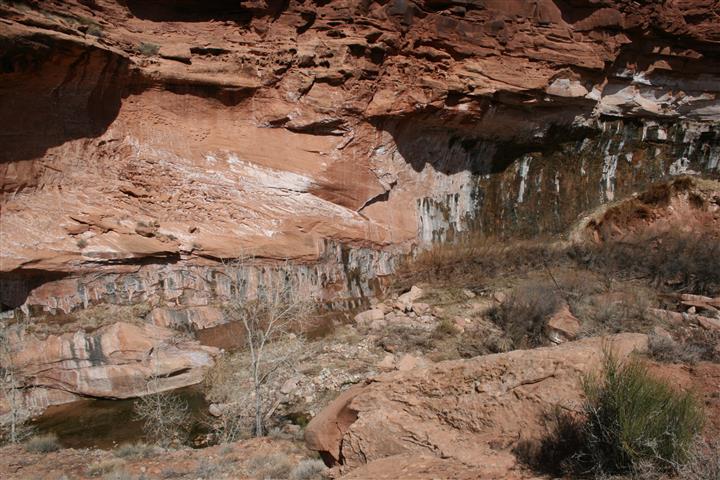 Here's a "weep" where water is coming out of the rocks. I'm not sure if this is a salt dome or limestone (if it's limestone, it's missing some greenness). Anyway, the water is just weeping out of the rock for a few hundred yards adding to the creek. Very interesting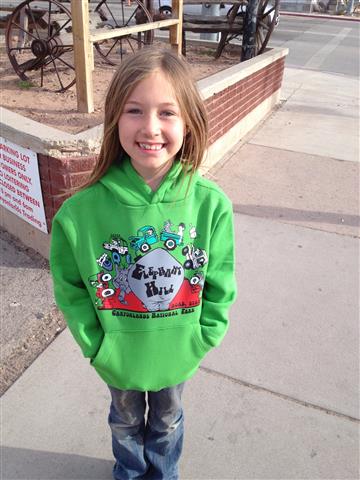 We hit the t-shirt shop after Kane Creek. Lynds picked up a hoodie with Elephant Hill graphic. She LOVES bright colors. Ran over to Moab Diner for a bite before heading for home.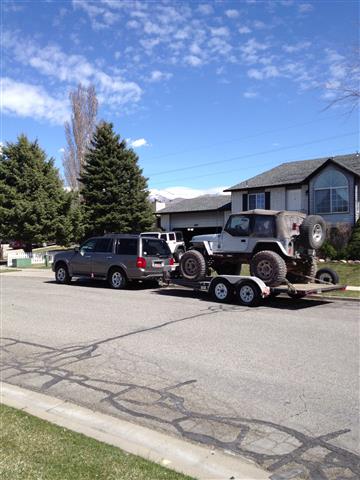 ...and here's my Friday. Glad to be home, but sad to be home. Towed with Marnie's Navigator for this trip since I don't have a deezel truck any more. It did surprisingly well, just took a while to get used to towing with a) a gasser again and b) air suspension (kinda sloppy but I think that's just how it is). Knocked down about 11 mpg for the trip. I think my Cummins only got about 13ish so I'm calling dumping the deezel a win. I was sad to spray the trail dust/Kane Creek mud off the Jeep.
Overall another great trip to Moab.