Well, 50th Jeep Safari has come and gone. I'm a little late on getting this report posted up but got a few minutes to get something done. There was a bit of a registration snafu and some other events that took place (one very unfortunate for a trail leader/wife) that led to a bit of a trail shakeup for my assignments. I also only had ME going down. I went from 5 kids to just ME. Corbin went on a mission, Eric & Lyndsay were in their last week of the quarter of school and Josh and Bridger weren't available either. That was a change. Sometimes welcome, sometimes lonely :D
One of the changes to my schedule was to run the "First Timers Experience" with Misty Adams and Mike Cobia. That consists of Chicken Corners, Secret Spire and Copper Ridge trails. I'd run only Chicken Corners the week before. Eric needed some driving hours so we set out for a 10 hour driving day (4 hours to Moab and 3-4 hours of trail driving). That worked pretty well to get some hours. Not sure if canyon driving with an inexperienced driver is a good way to start but it was a big learning curve and he had had enough experience I thought him ready to be thrown to the wolves a little. Not sure if I was ready but we made it through the canyon both times.
In my search for "ideal" EJS lodging I secured a room at the Utah 4 Wheel Drive Association house for a good rate. Accomodations are far from ideal but MUCH better than a tent and a definitely workable solution. I'll likely try that going forward ?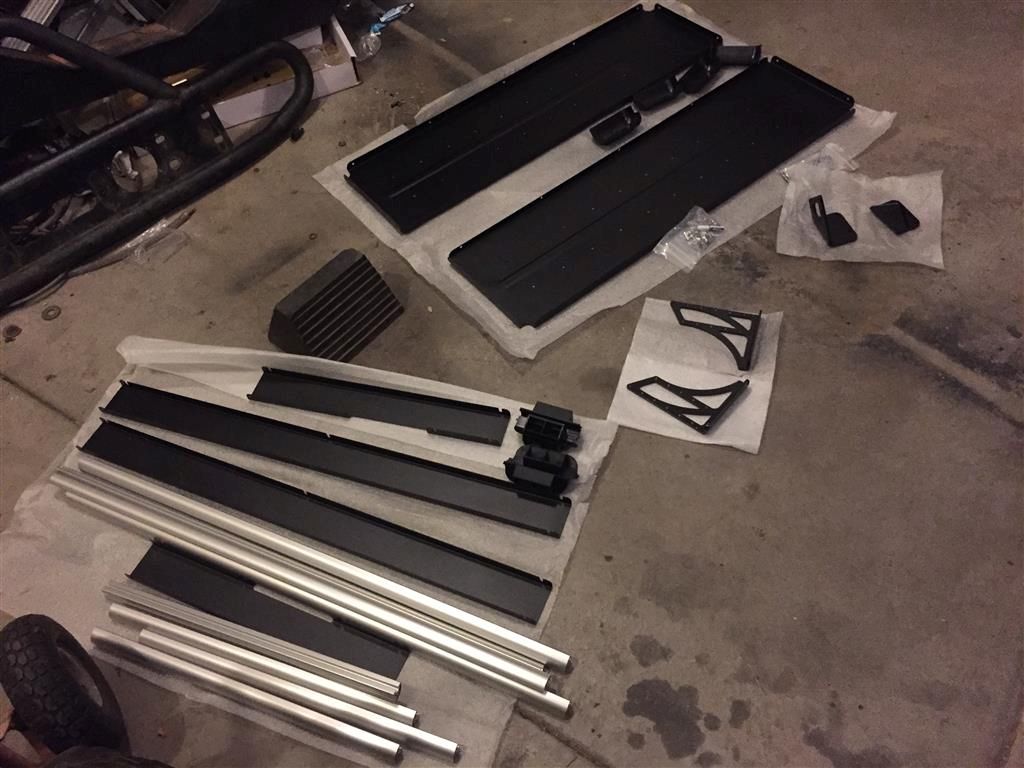 Teraflex rear cargo rack. LOTS of screws but easy to put together and very sturdy once it's together.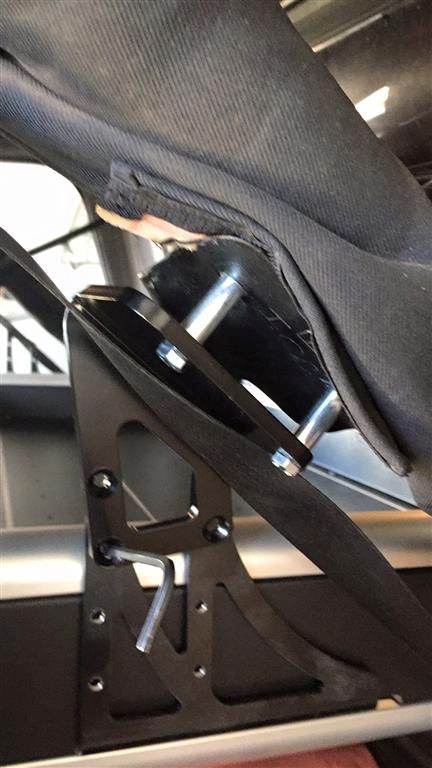 The cargo rack is made for hardtop setups. I specifically picked up a soft top for EJS and didn't want to put my hard top back on. Used these spacers to make the rack work. The rack is designed for 75 lbs. I would assume with these spacers 50 lbs would be a working limit which is more than enough for what I put in the cargo rack (first aid kit, chairs, blanket, hats and jackets and such)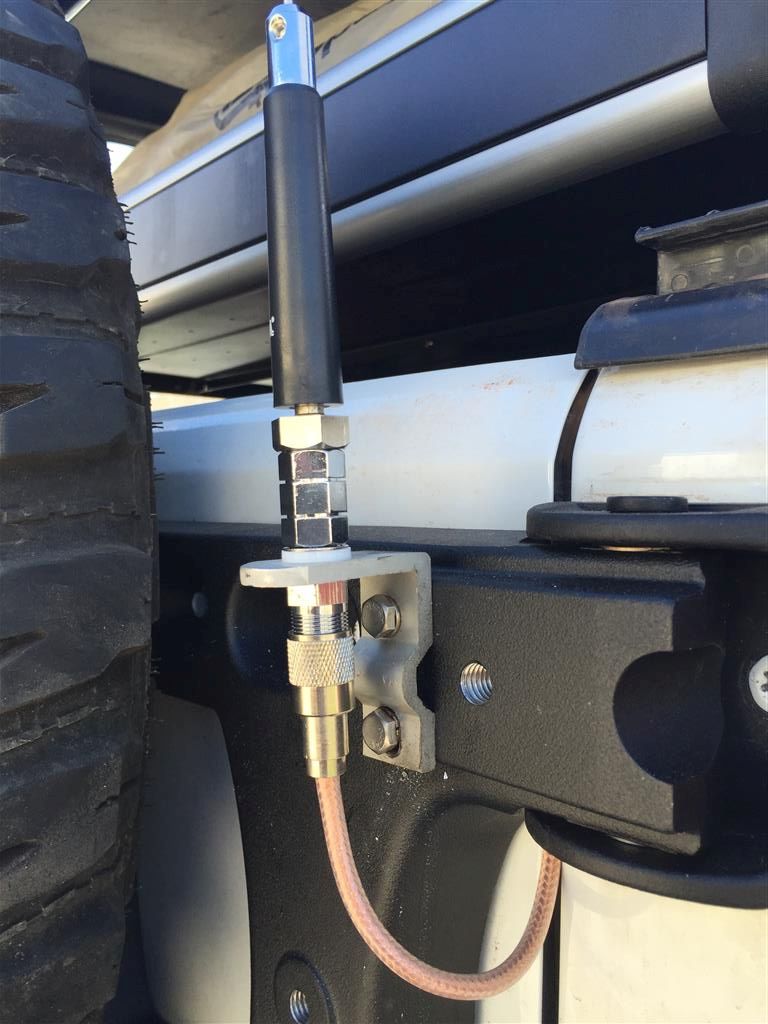 Teraflex tire carrier and hinge. This is the way to go for the JK. I took the opportunity to upgrade my CB cable (old one broke when I took it off...no wonder my CB kind of sucked) If you have a JK and are running a combo bumper/tire carrier do yourself a favor and get a Teraflex tire carrier/hinge setup. You'll wonder why you didn't before.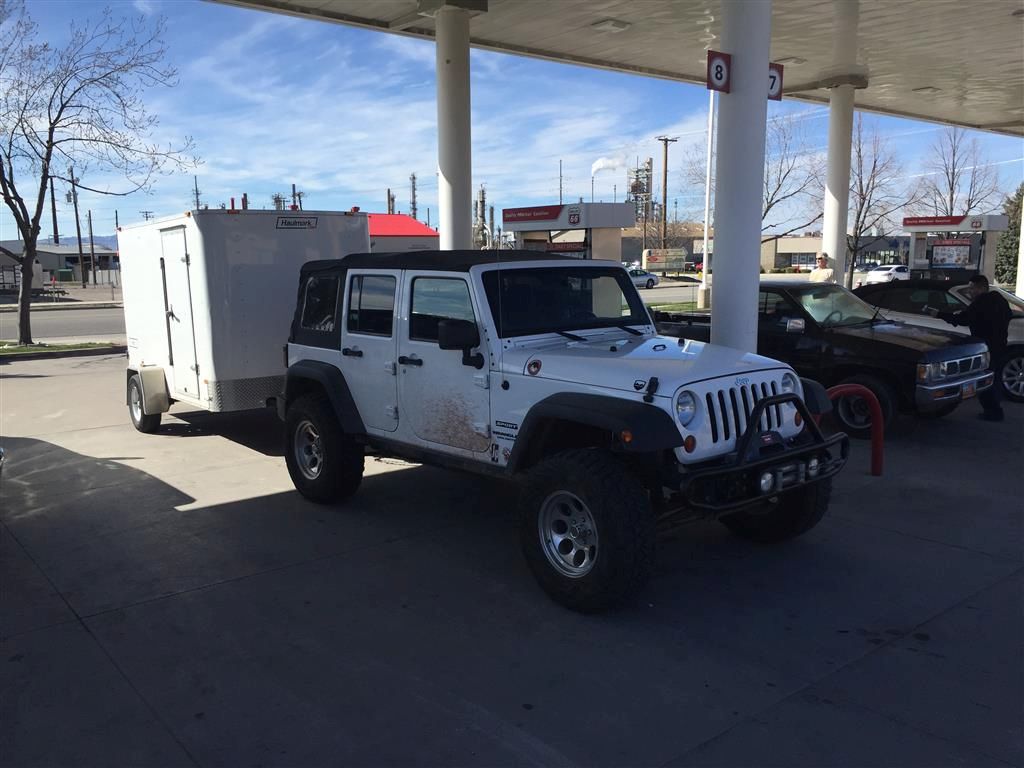 After my cement got poured and I got the rack and tire carrier installed I busted out with Sarge's trailer for Moab about 3 pm or so. The JKU handled the trailer pretty well but I kept my max speed to 70 as I didn't want any tire issues.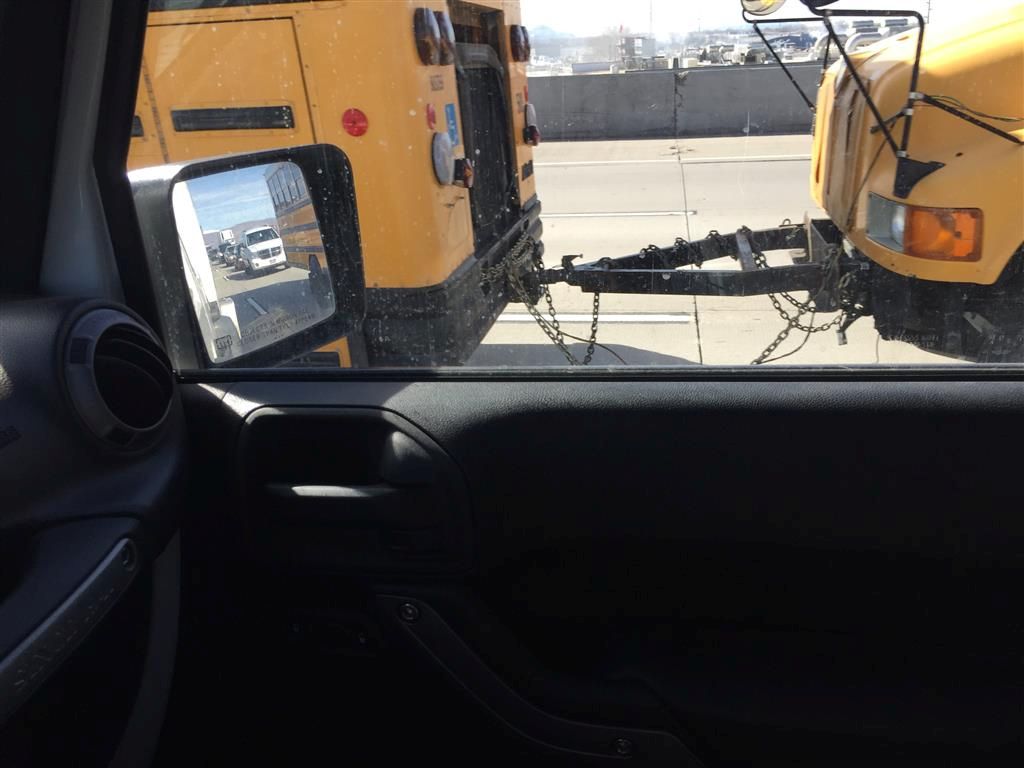 That is an interesting "toad". School bus being towed by another school bus during rush hour in SLC on a Friday. Good stuff. I followed him up the canyon.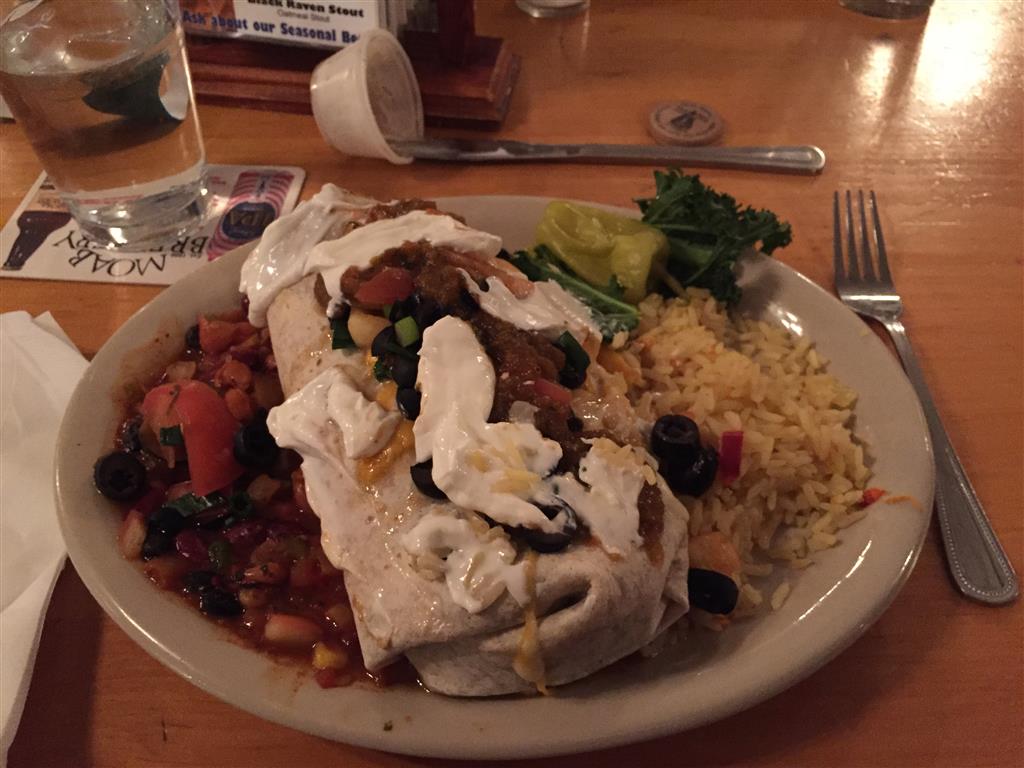 Oh yeah! Chile Verde Burrito at the Brewery on Friday night. John Hall and I convoyed down with me towing Sarge's trailer.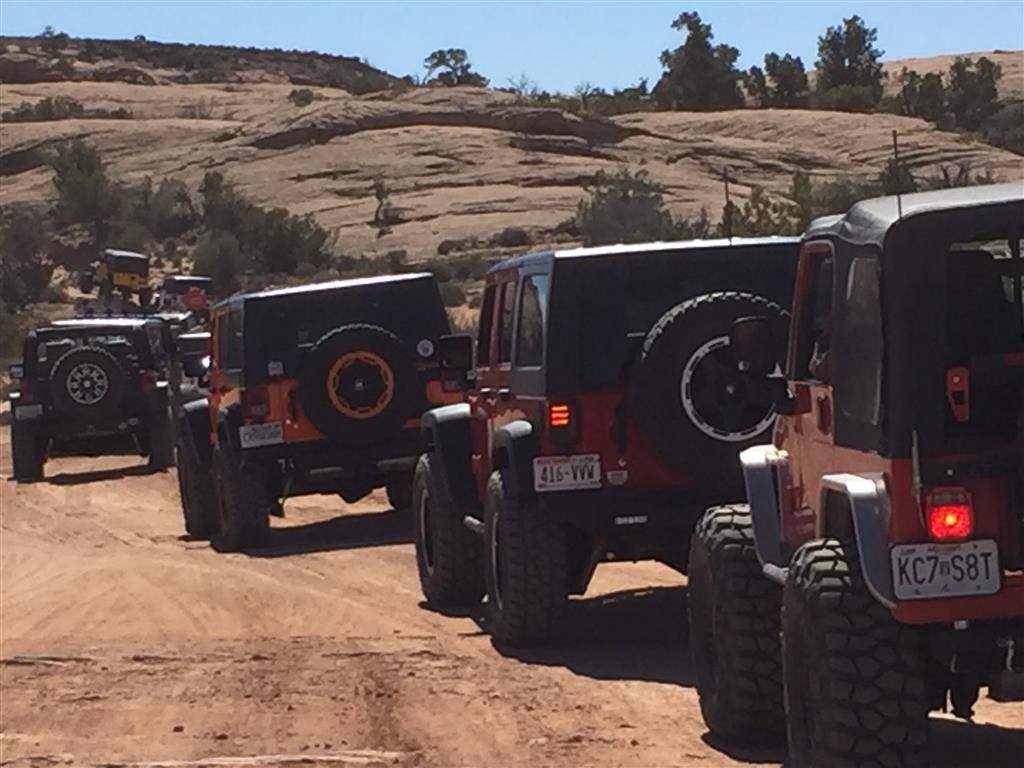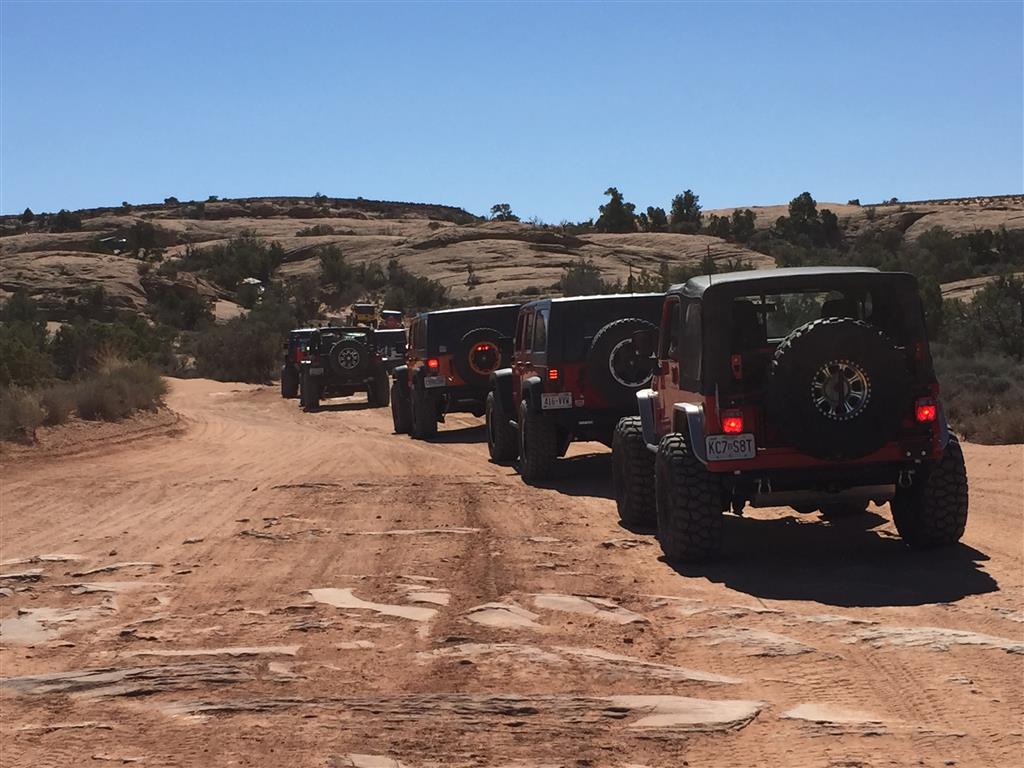 A little Hells Revenge action from just leaving the Overlook/Hells Gate area. The interesting thing is the many license plates. Missiouri, Wisconsin, Illinois and something else I can't read are represented here. I love meeting people from all over the country for this event. I think it's fun.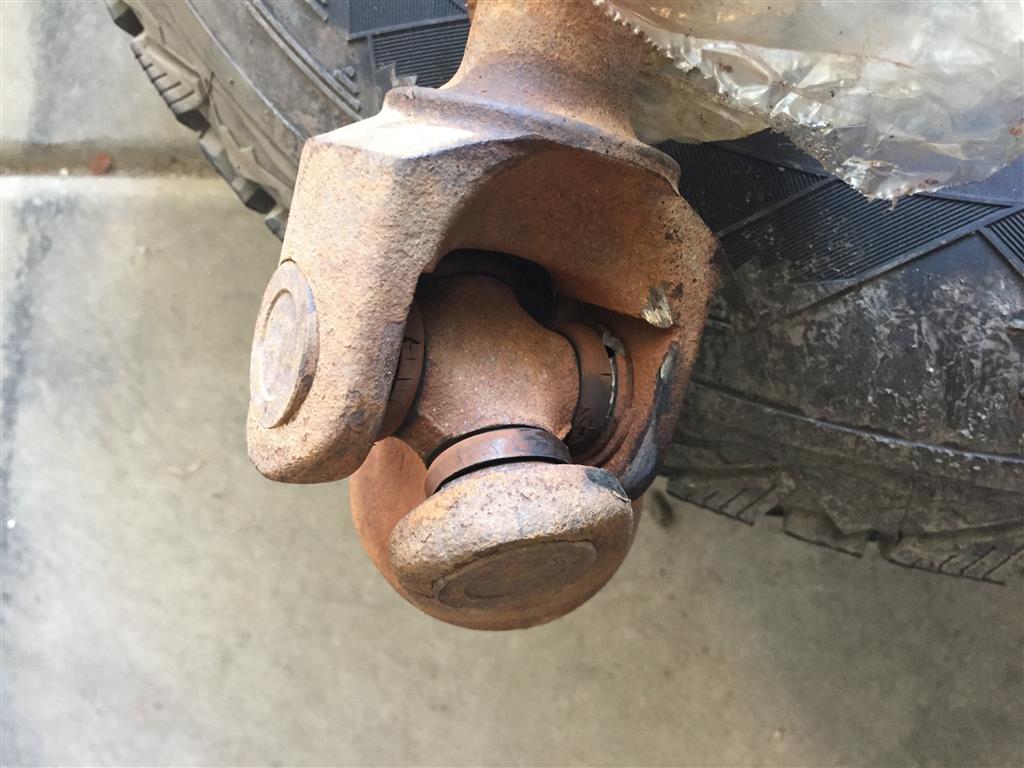 Good thing I brought the "reliable" new Jeep. Hrrrmmmm..... this joint started barking just before the Overlook. By the time I got off the trail it looked like this. There are NO needle bearings left in any part of that joint.
Chicken Corners "First Timers Experience"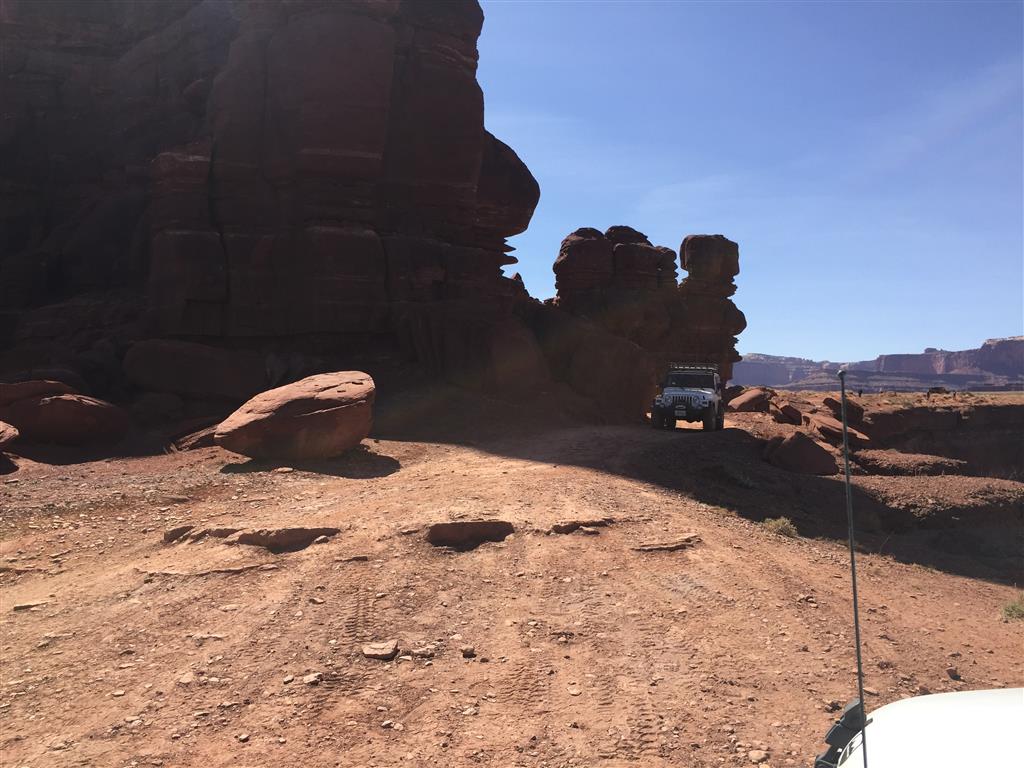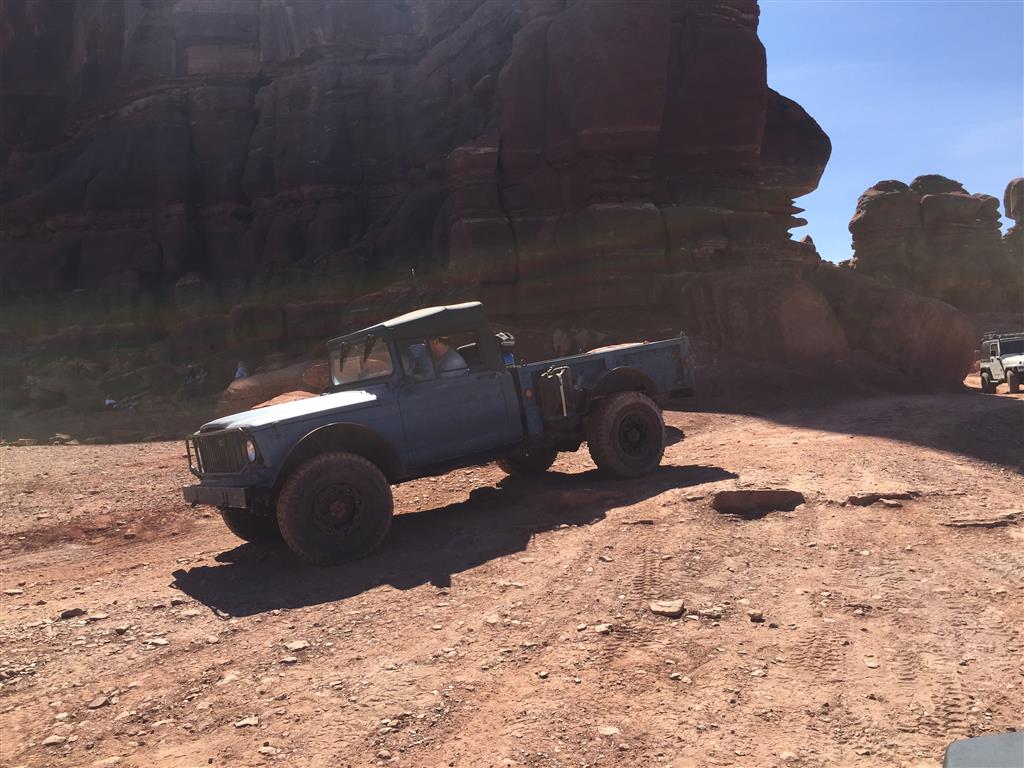 I actually led this trail. I was trying not to totally boogie but it was kind of hard not to on this road. We had Jeep Media with us on this run. It was good that we had a lot of Jeep heritage just from the M715 on the trail. This couple DROVE this pig from Boise. VERY cool! Still had the stock axles so it couldn't turn worth 8 cents but it was WAY fun and they are a WAY fun couple!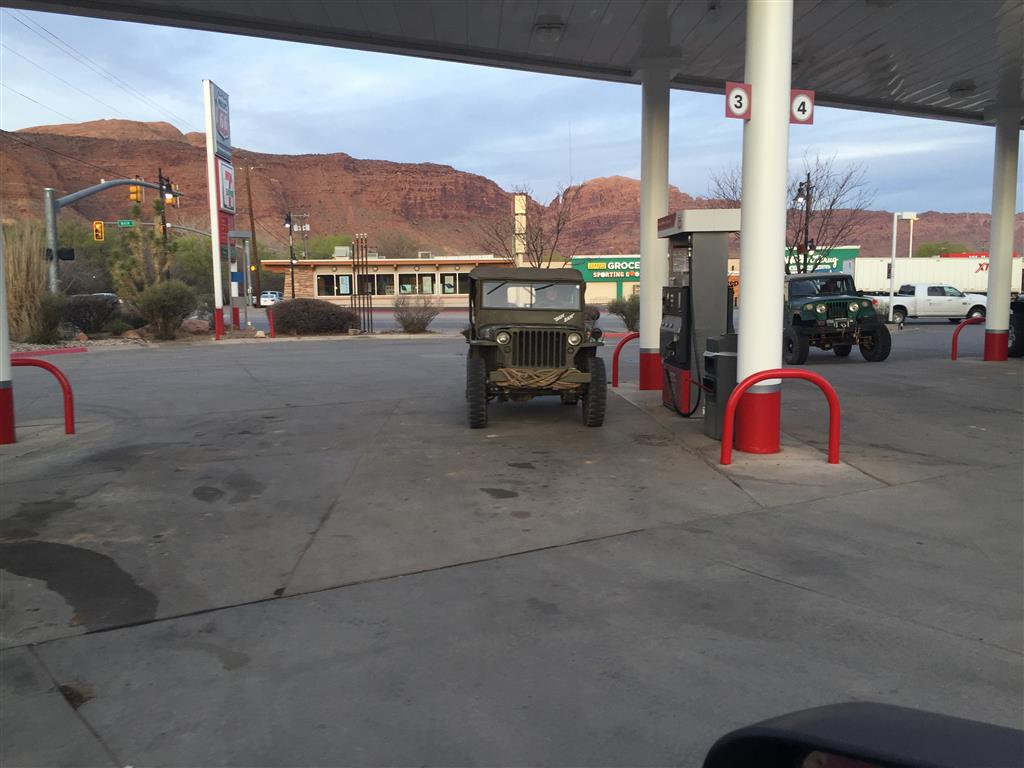 Getting some breakfast and saw these old dawgs at the gas station the next morning. I'm headed to Secret Spire and a new trail leader as Misty Adams had to run Dave to the ER. We'll run with Roger Peck for the day.
Secret Spire lineup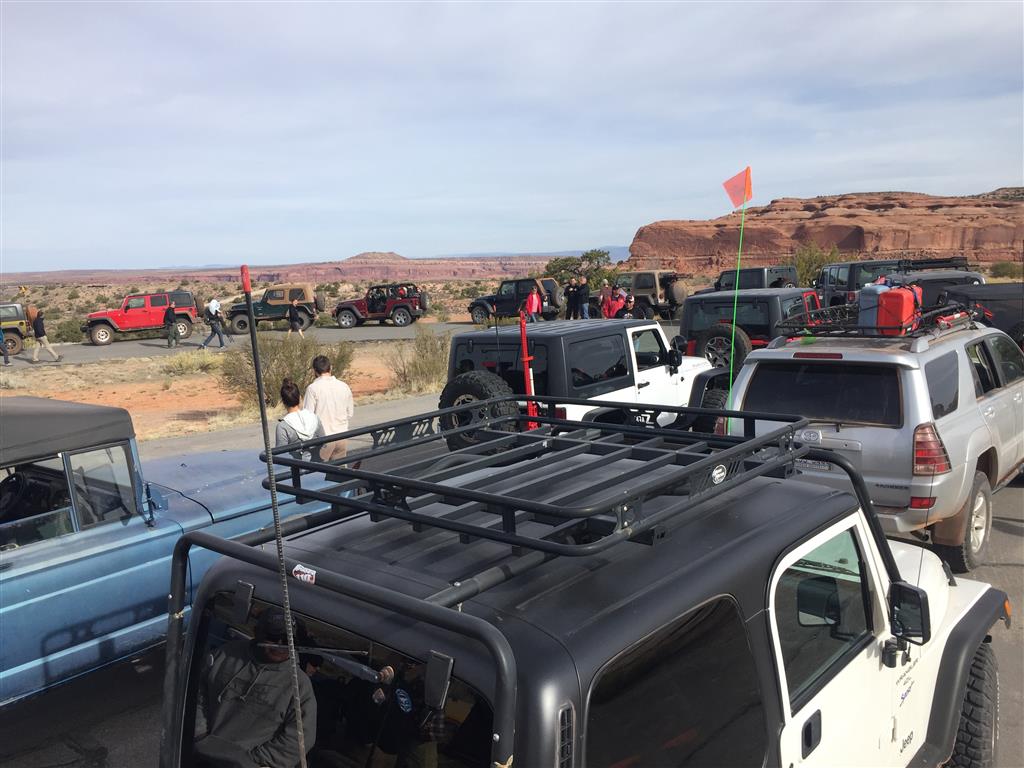 For Secret Spire we lined up on the 313 highway rest stop for a "safety meeting" where we go over the BLM expectations and anything we need to communicate about the trail for this years event.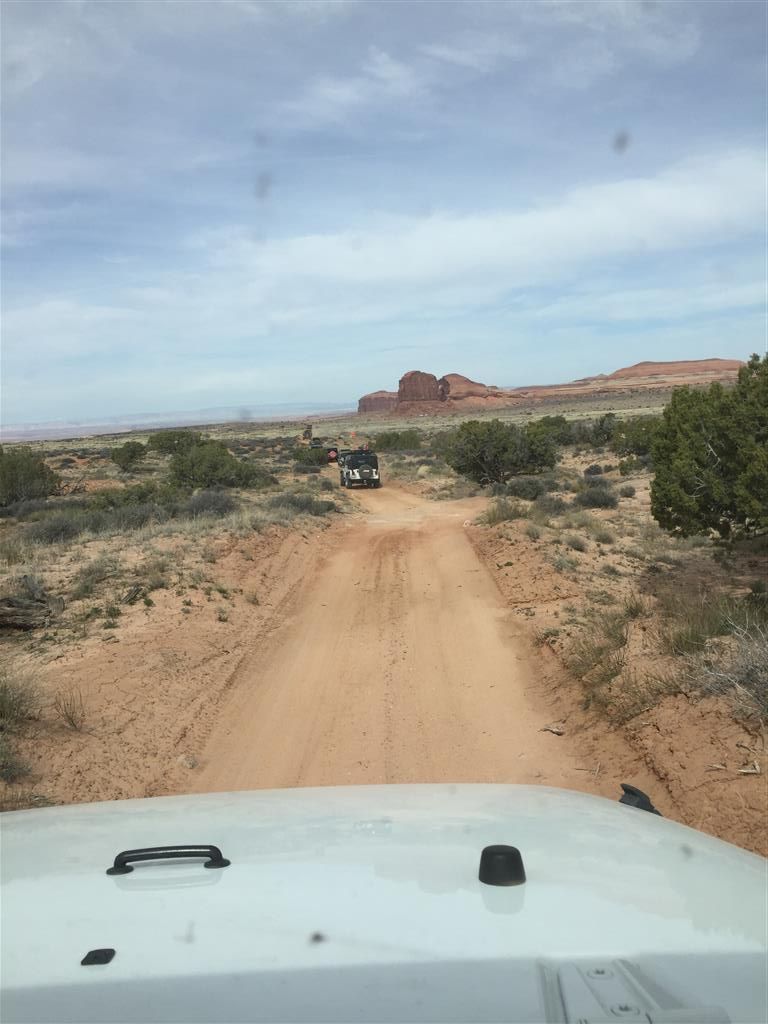 Finally out on the trail. I think I was the mid-gunner this day?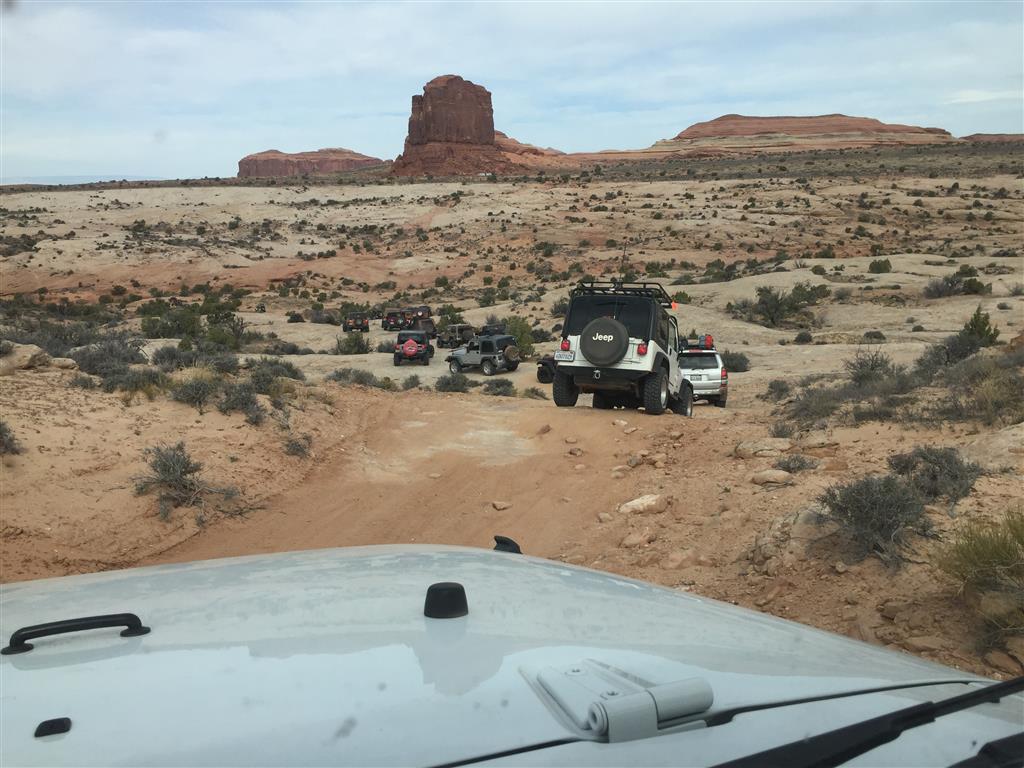 Out onto a slickrock area on Secret Spire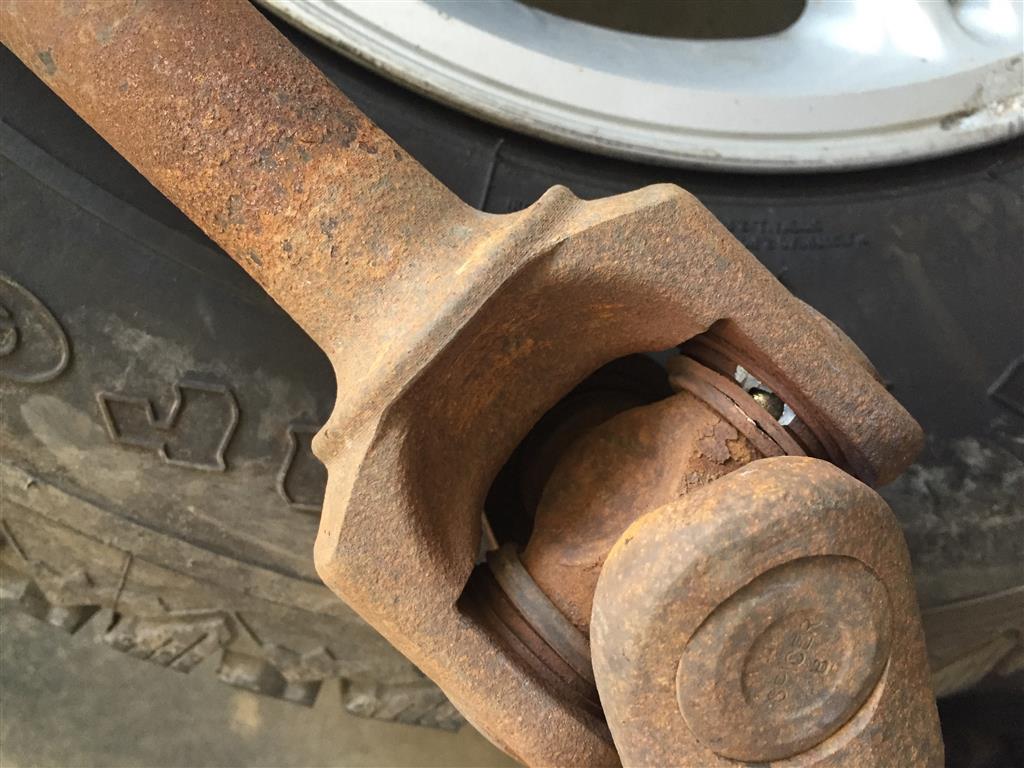 ...and here's my drivers side joint just two days after the passenger side gives up the ghost. Wait, I brought my reliable newer Jeep, right? This is Secret Spire, right? How do you break a joint on Secret Spire? I wish I knew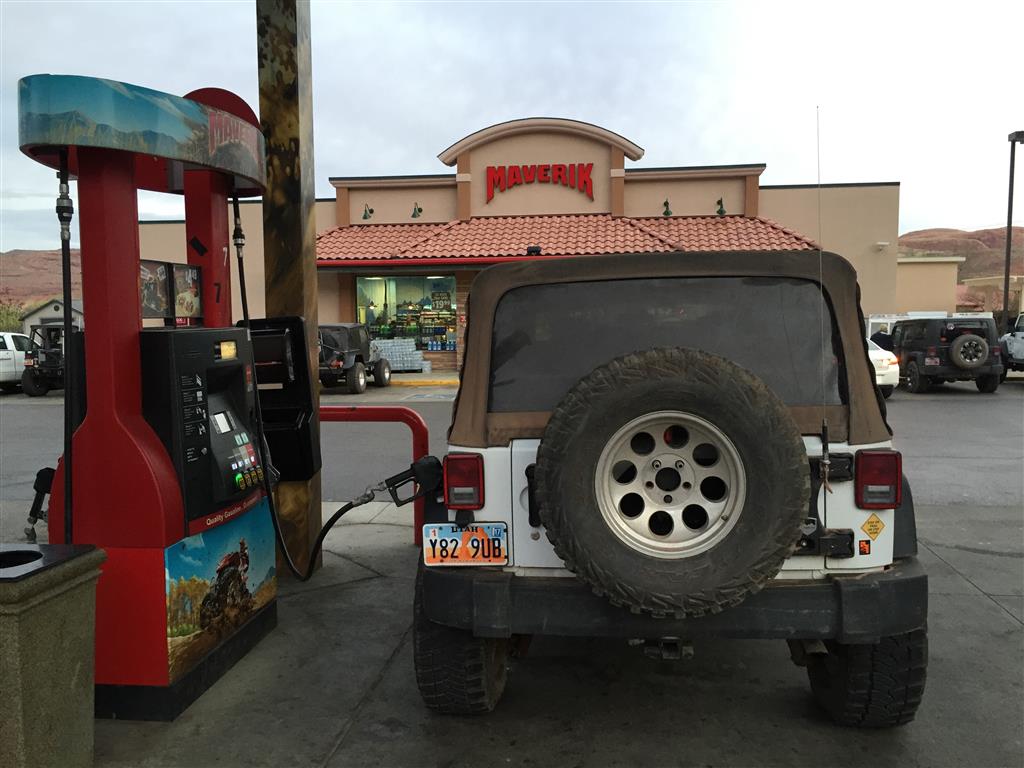 "Adventure Starts Here" #Maverik .....if I only knew how prophetic that was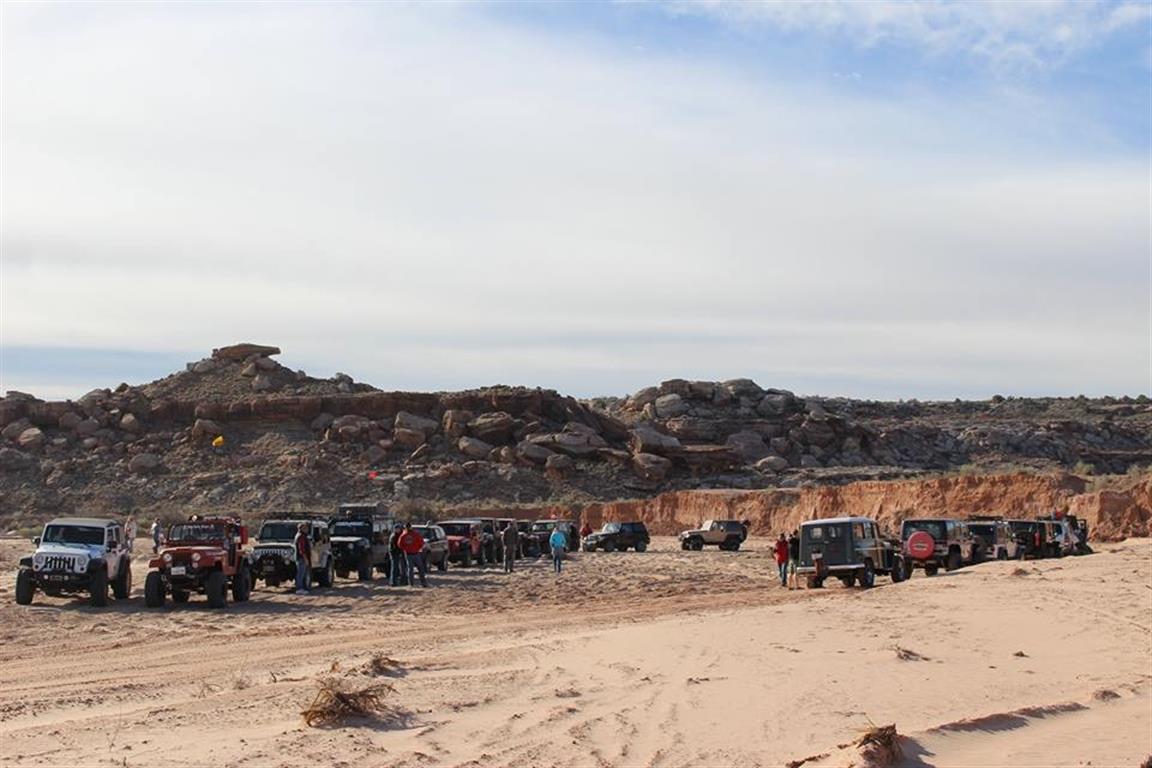 Here we are with Roger Peck getting lined up for Copper Ridge. There's my cute repaired front axled Jeep next to his old school CJ. Moab 4x4 Outpost had everything I needed for a quick repair. Dig the Willys wagon in the picture!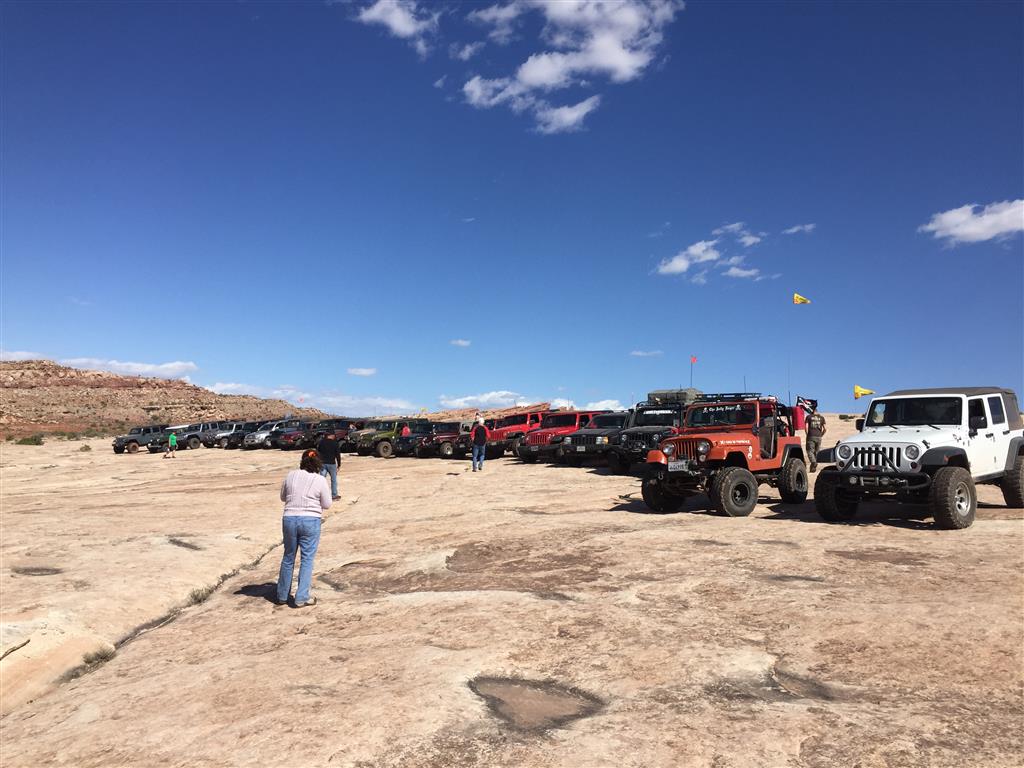 The whole of the group just before lunch on Copper Ridge.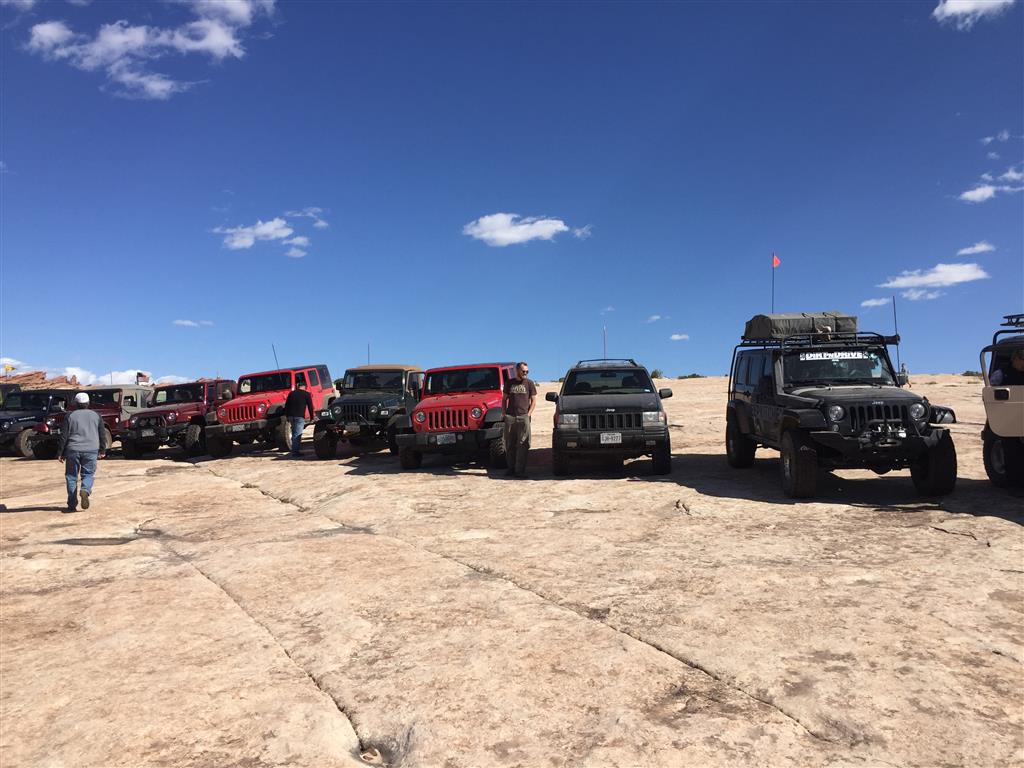 Good group. It was truly fun to have mostly the same people for three days. I kind of hope I get to do this or the Sophomore or Junior package next year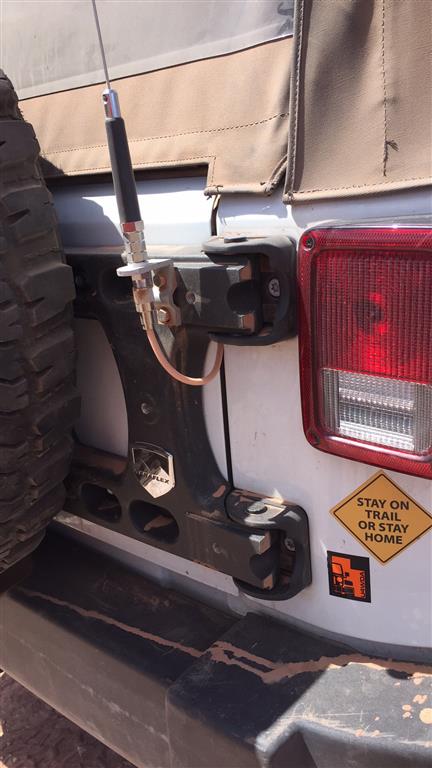 Dirty Jeep. I did have a mechanical casualty this day. I lost a bolt holding my rear sway bar link on. Glad I brought my daily driver Jeep.
Metal Masher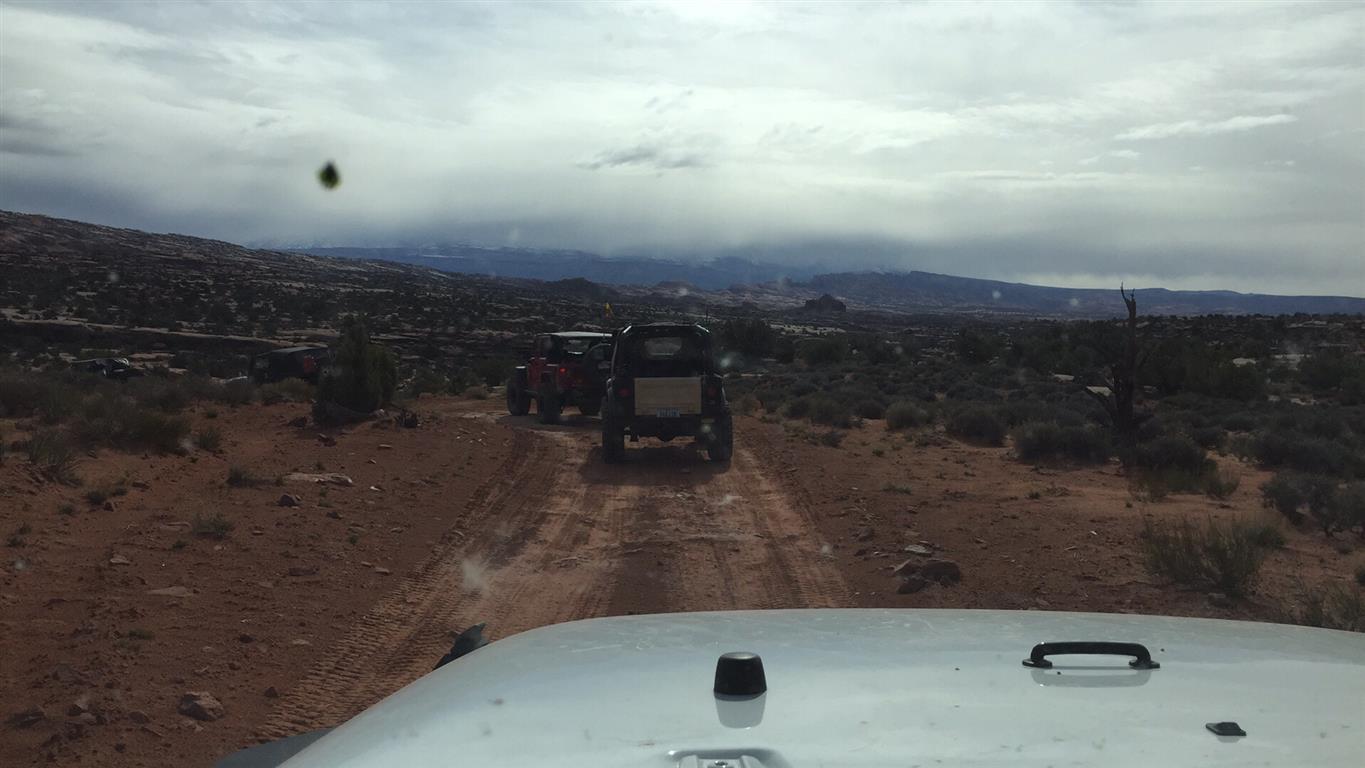 I really do love this trail. Haven't been on it for about 5-6 years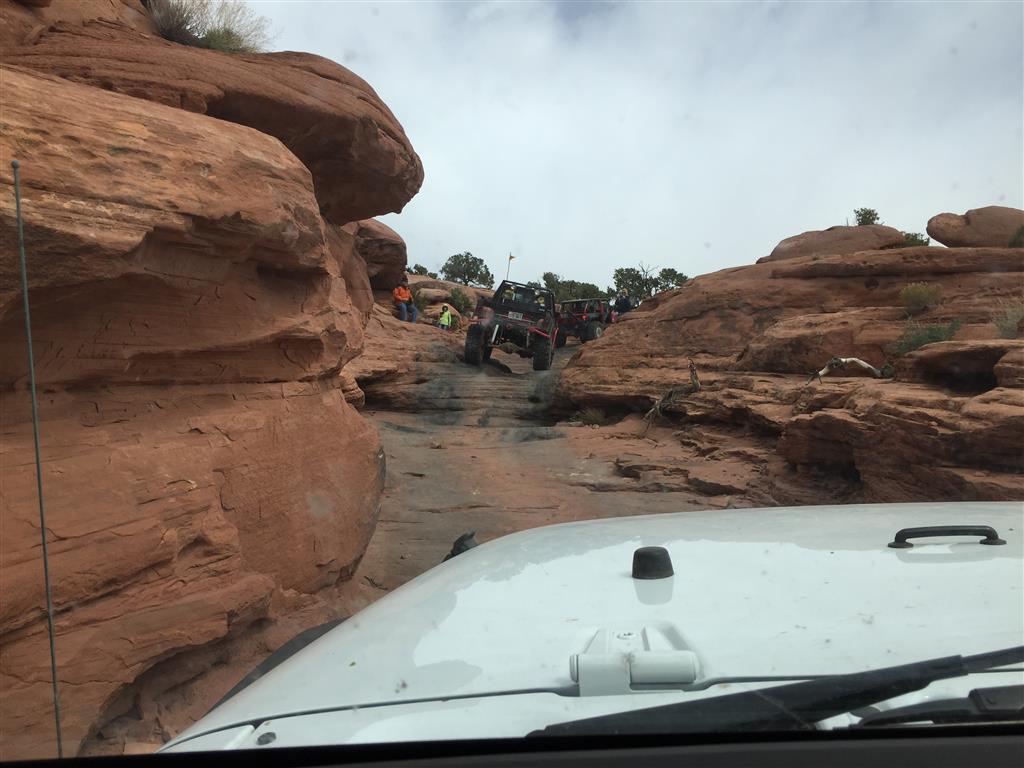 Mirror Gulch is pretty cool and some of the stuff past this has changed a wee bit since I was here last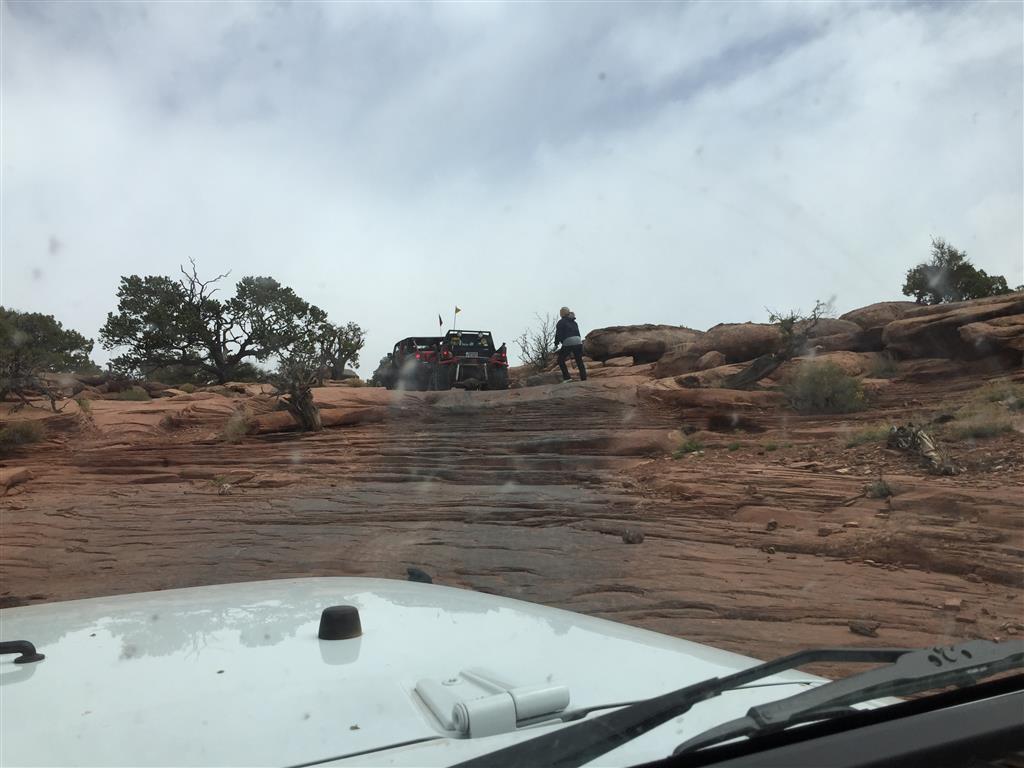 Some innocent steps past Mirror Gulch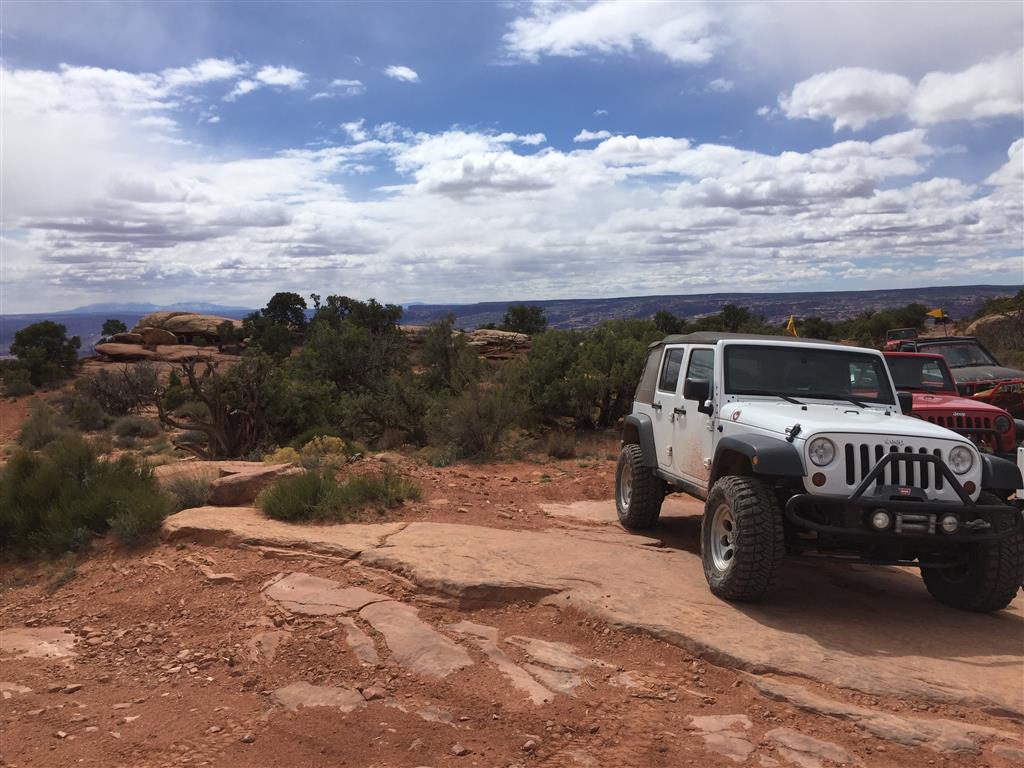 Overlook down to Hwy 191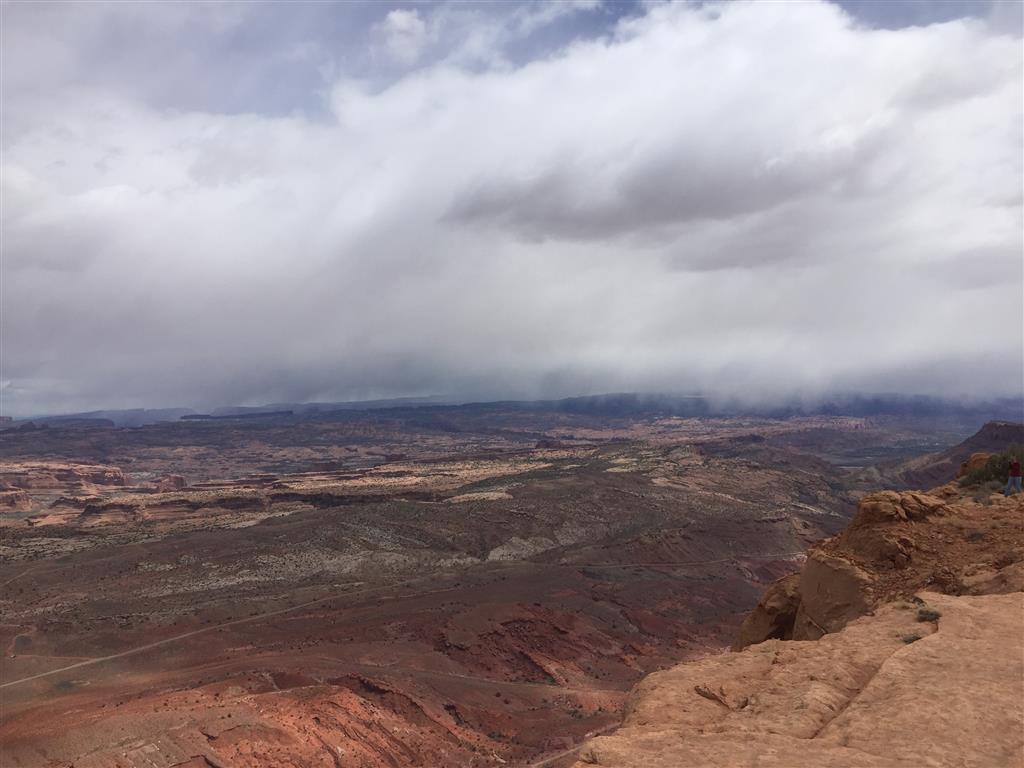 WOW!!! Looking back towards Moab from the rim with HWY 191 below. Amazing stuff with the storm and all.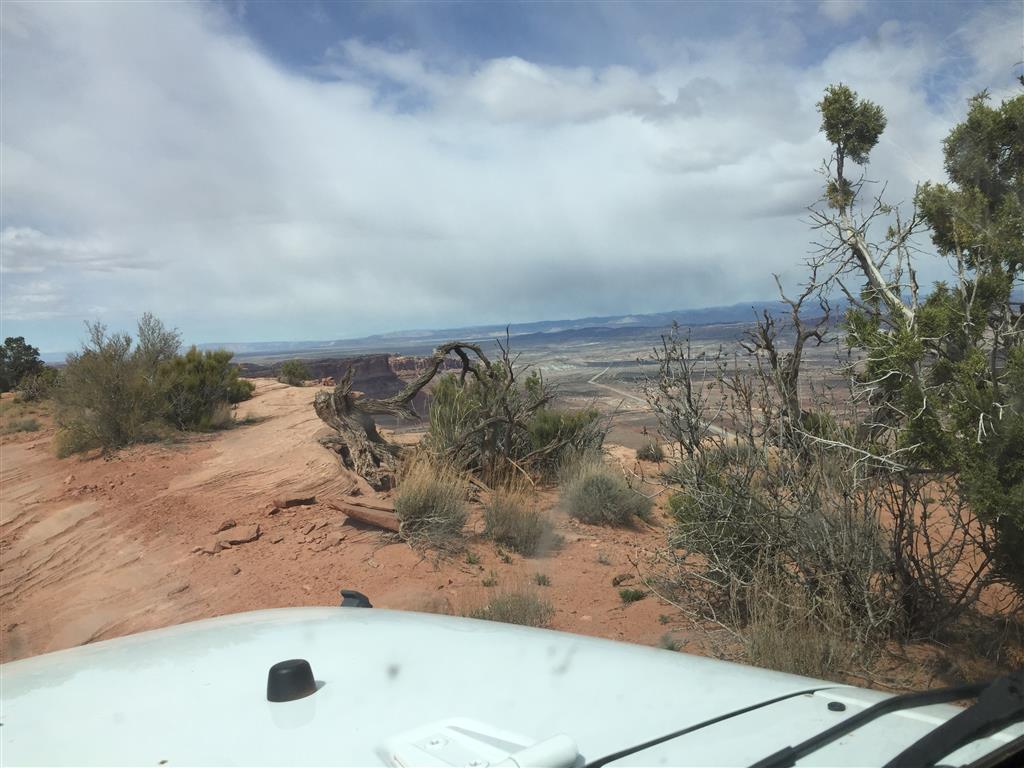 Just leaving the overlook. I forgot how long the trail ran along the edge of the mesa. This is looking northbound on 191 from the top of the mesa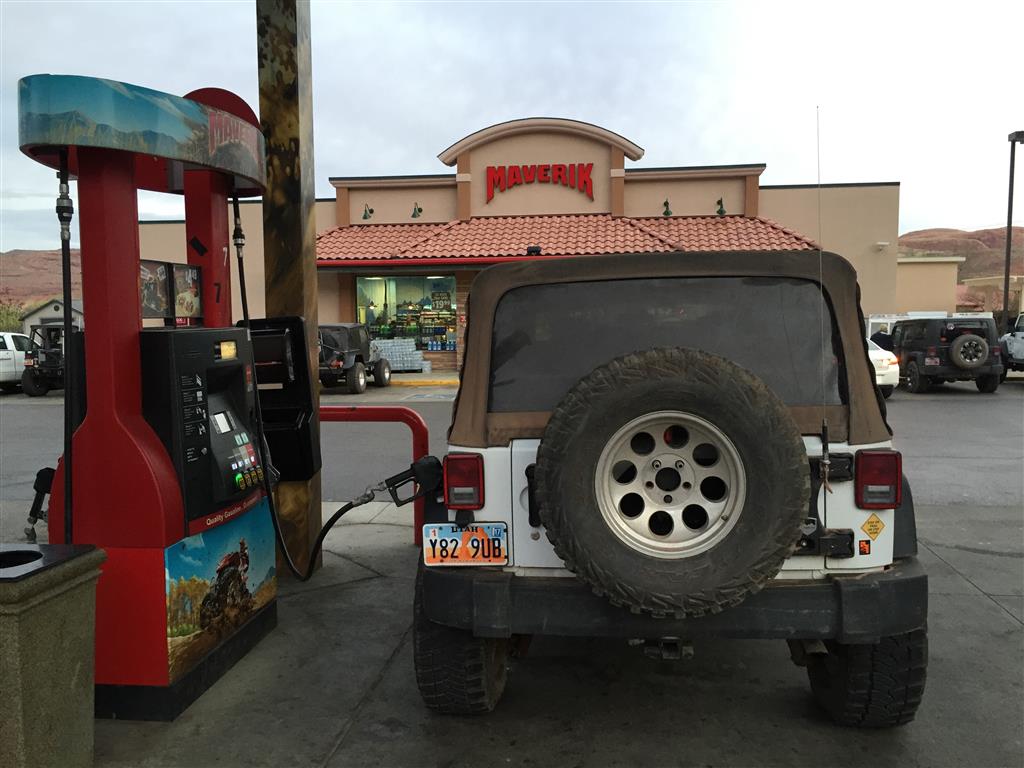 Hey, this looks familiar. Adventure's First Stop again. Remember the prophetic part? Well, my starter decided it didn't want to kick back from the flexplate. O'Reilly Auto Parts is just across the street so I'll change the starter and get on my way for Cliffhanger. We were down Dave Adams due to his ER visit so I didn't darre bail on Johnny Cobia, Nena Barlow and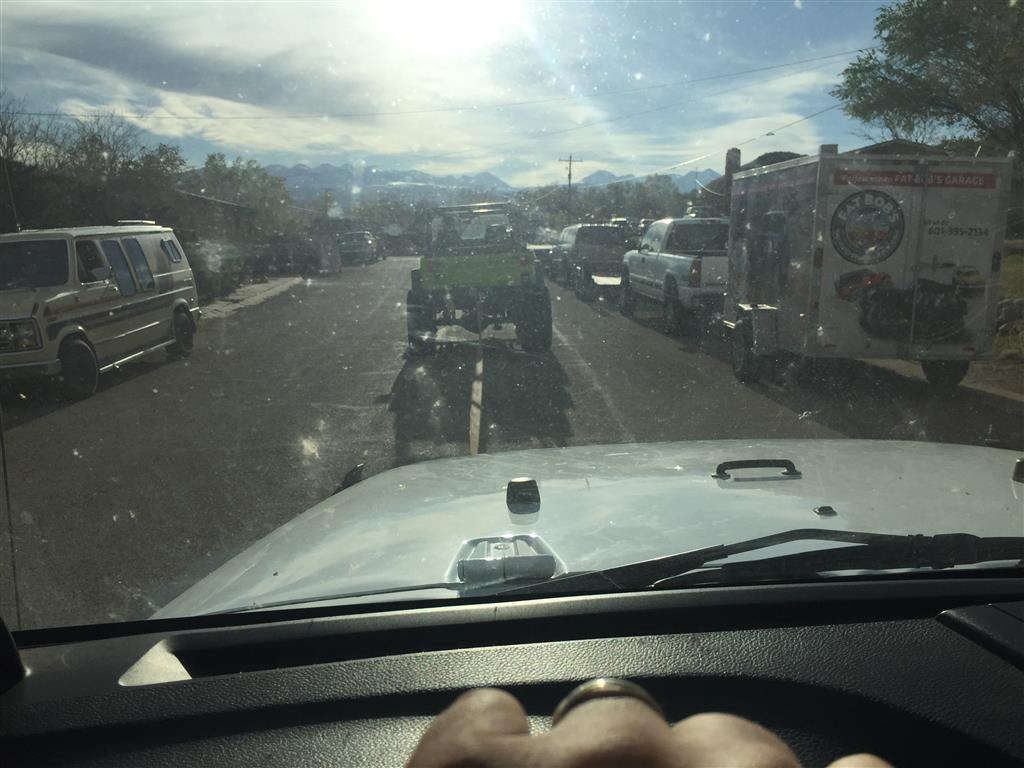 .....and now I have a dead starter on a 66k mile rig? Thanks for the tow Brett! Now I need to figure out how to get to the Cliffhanger trail without a rig. Enter BDavis who's never run the trail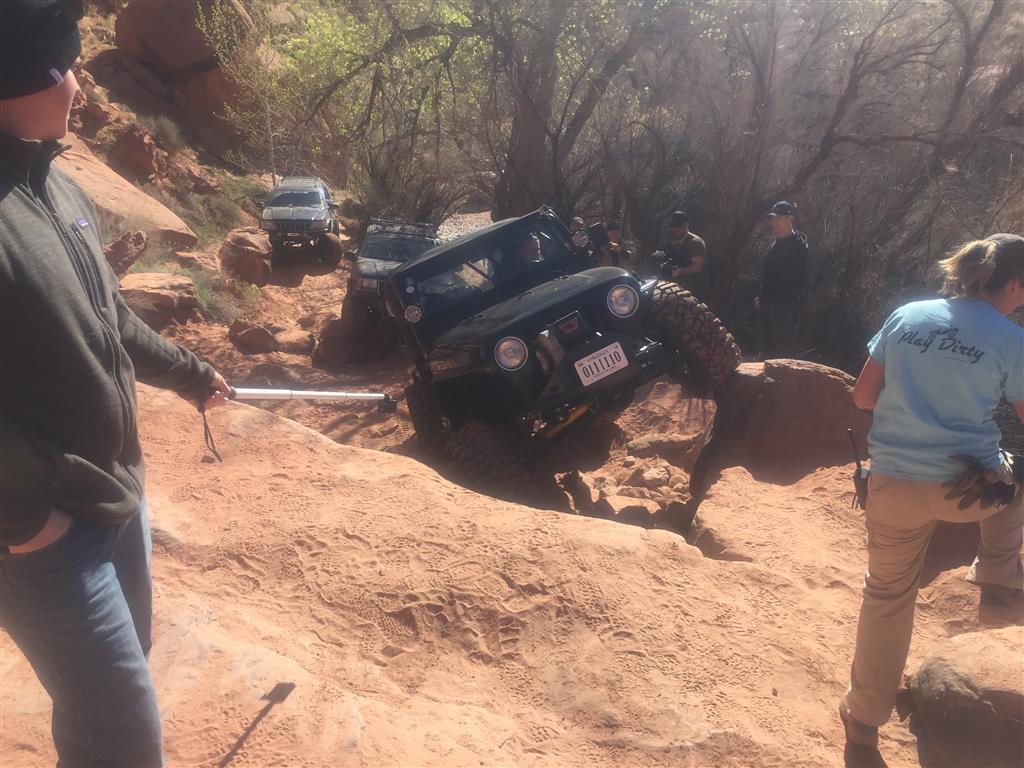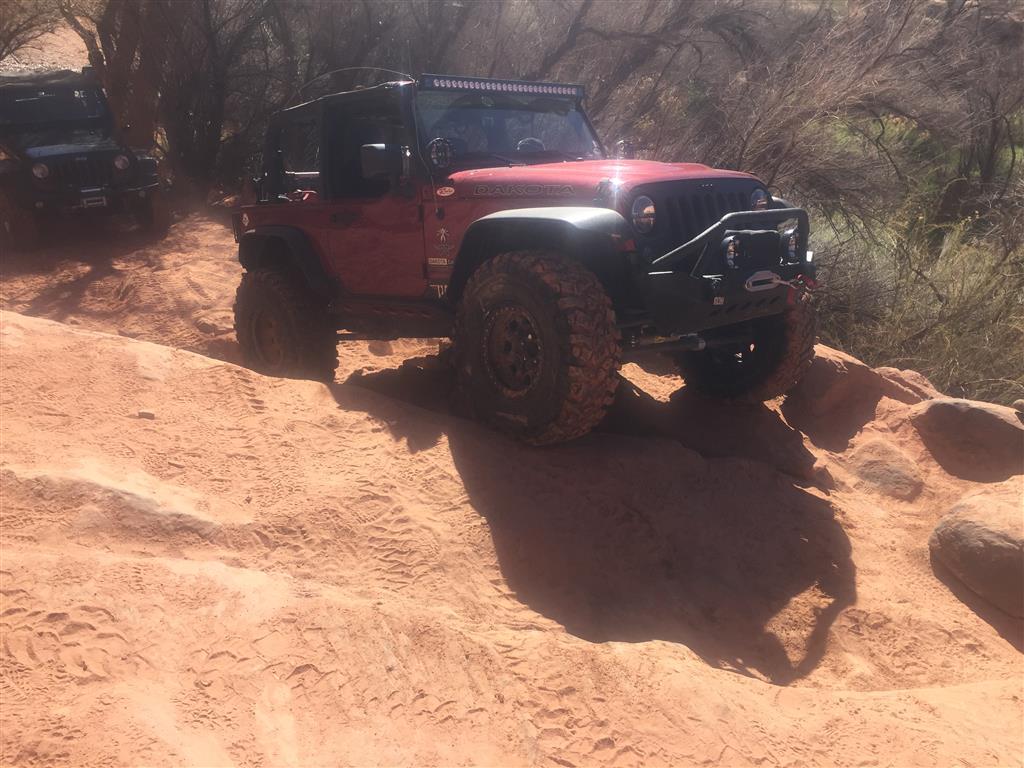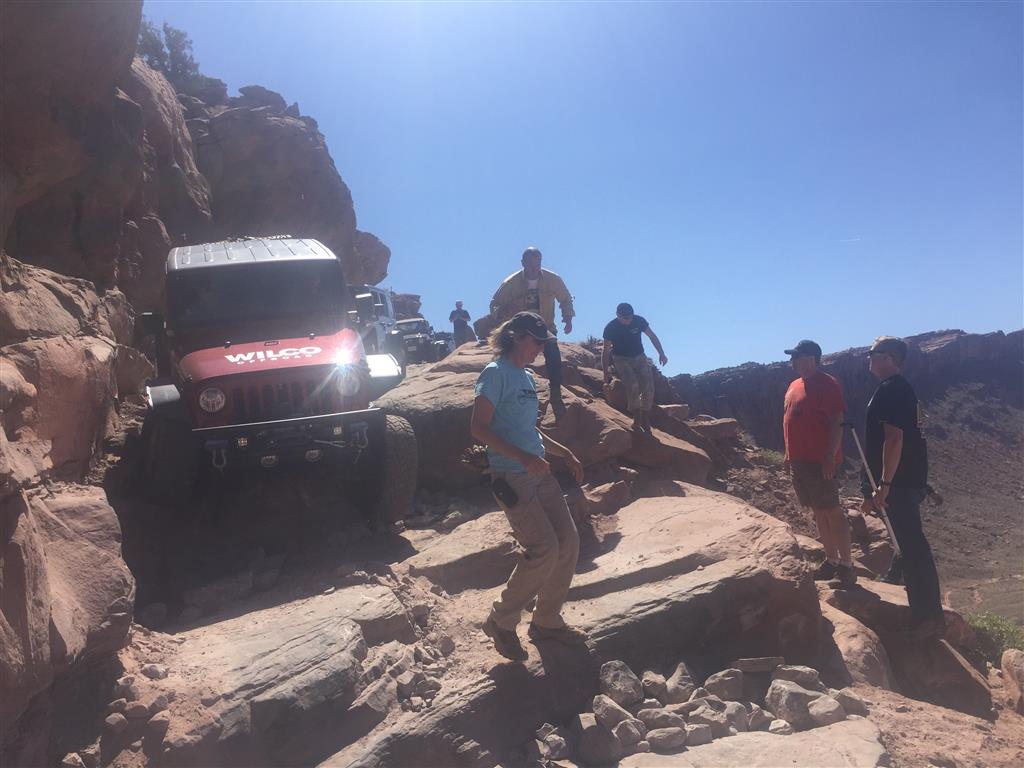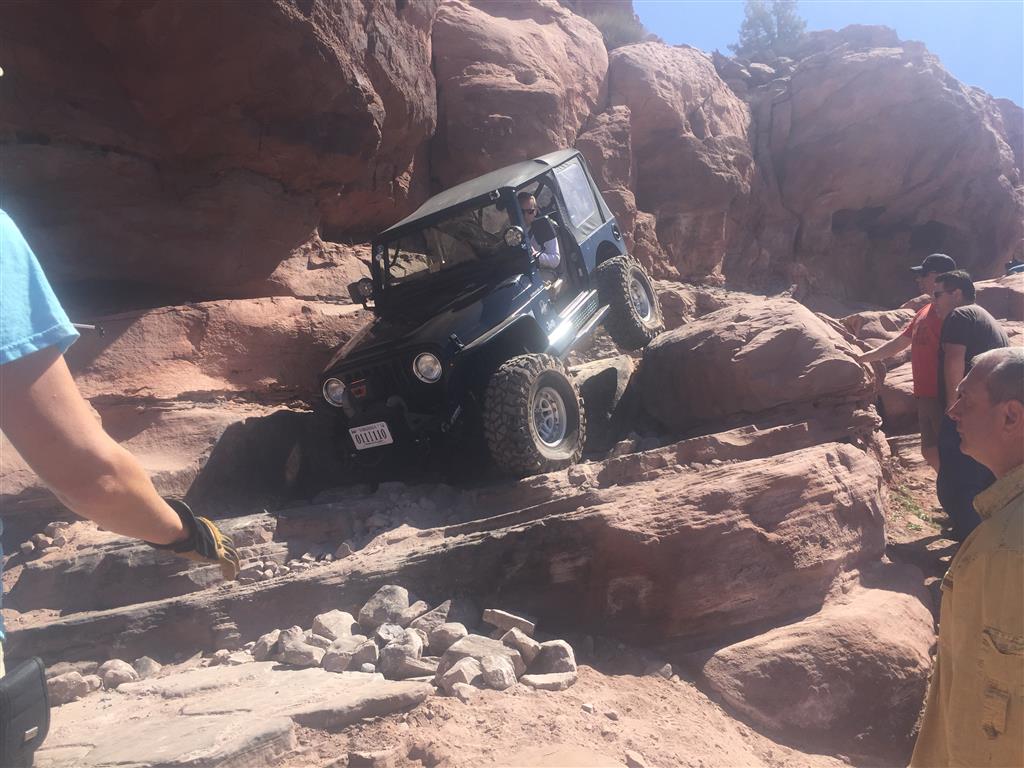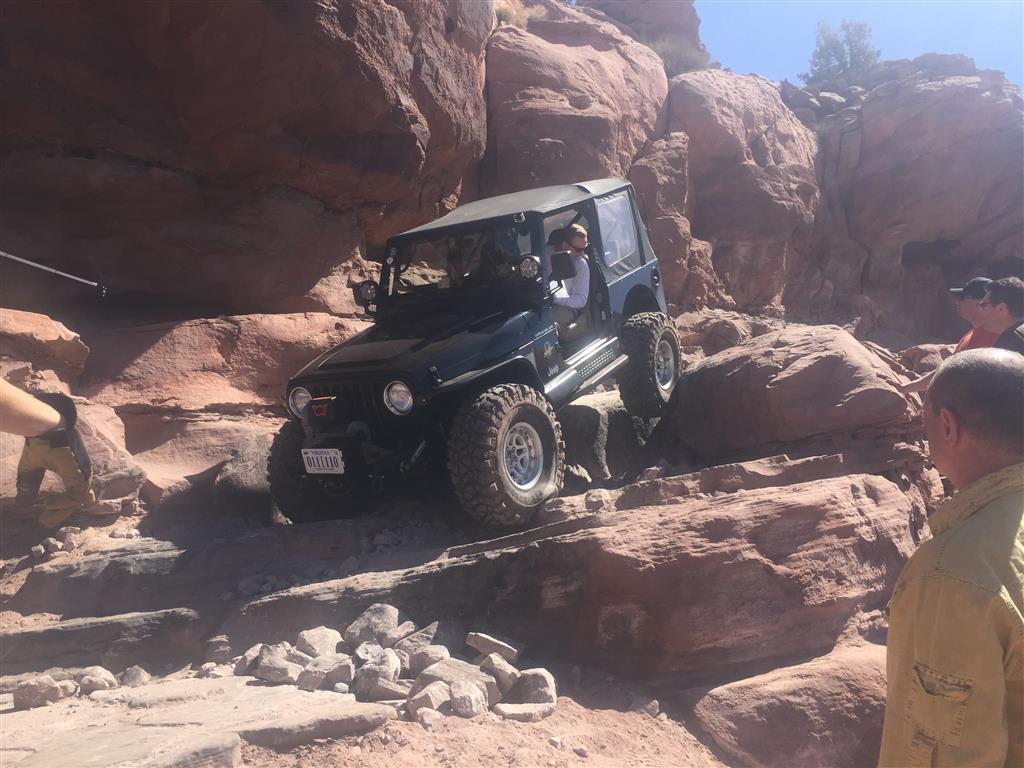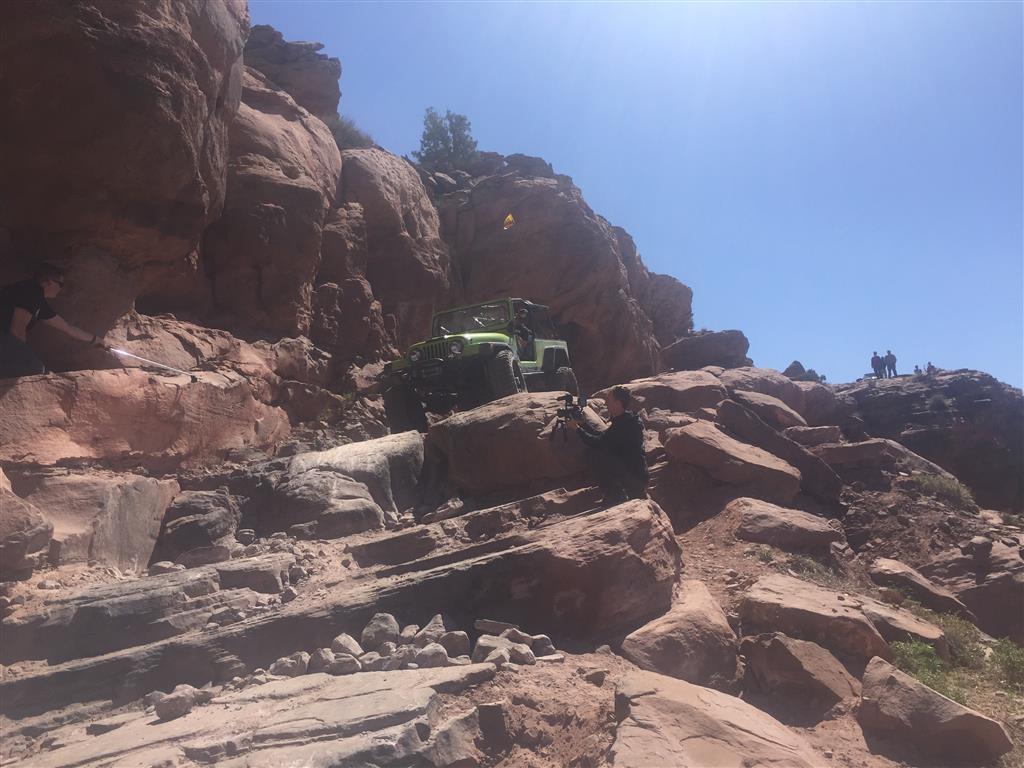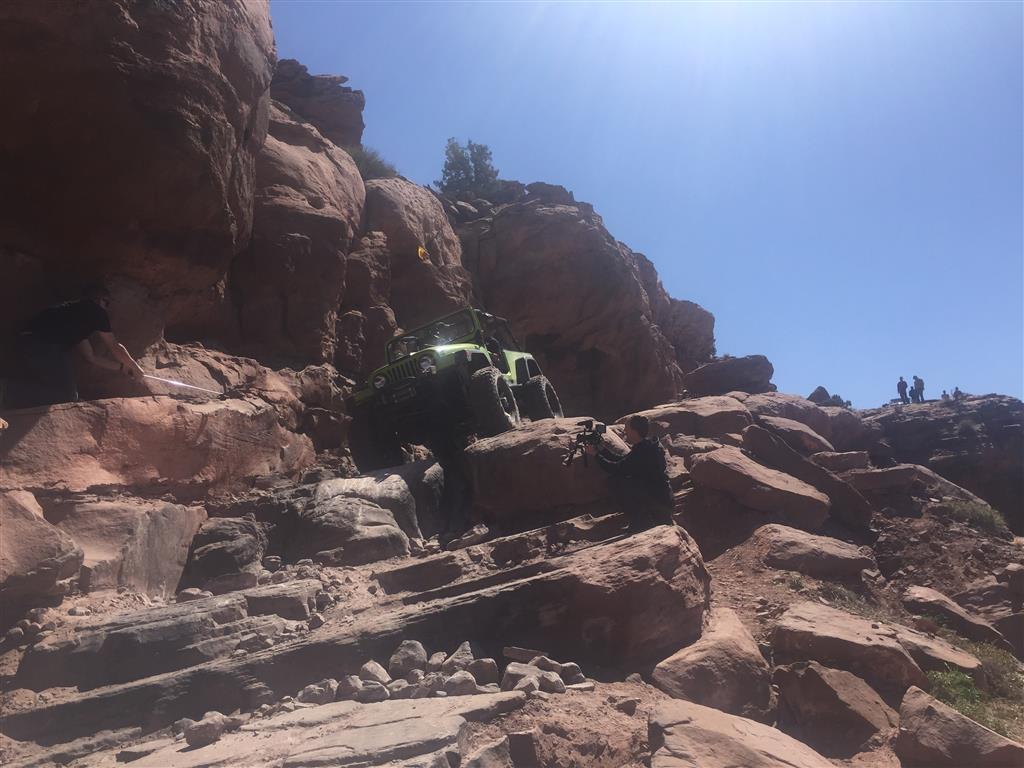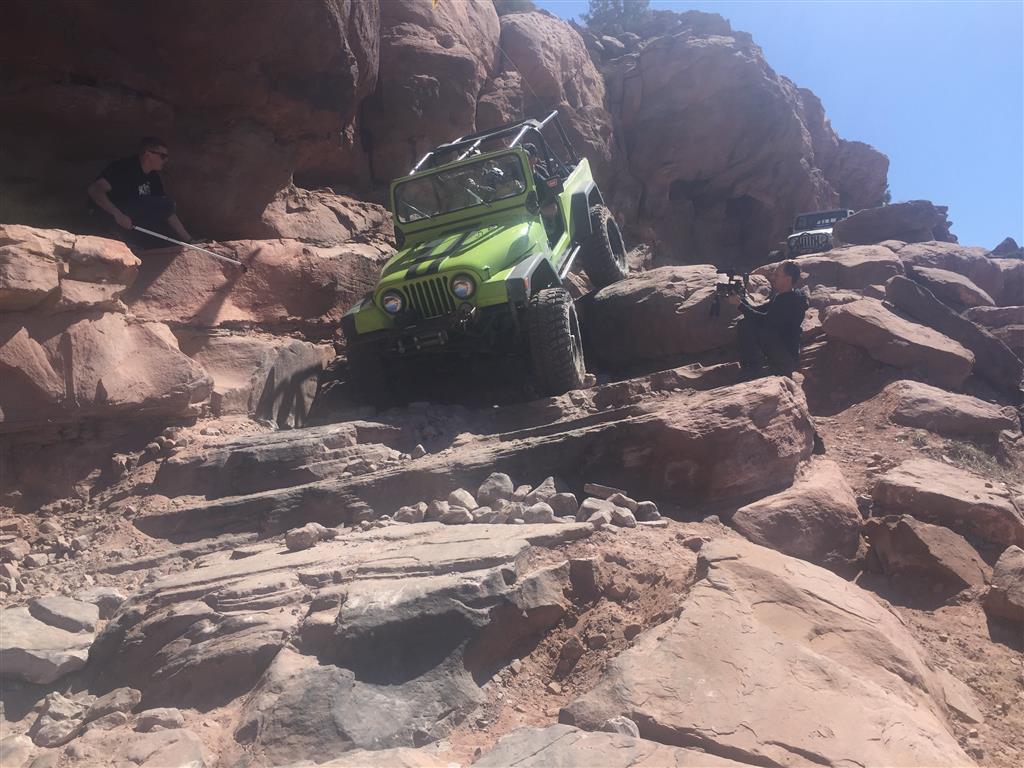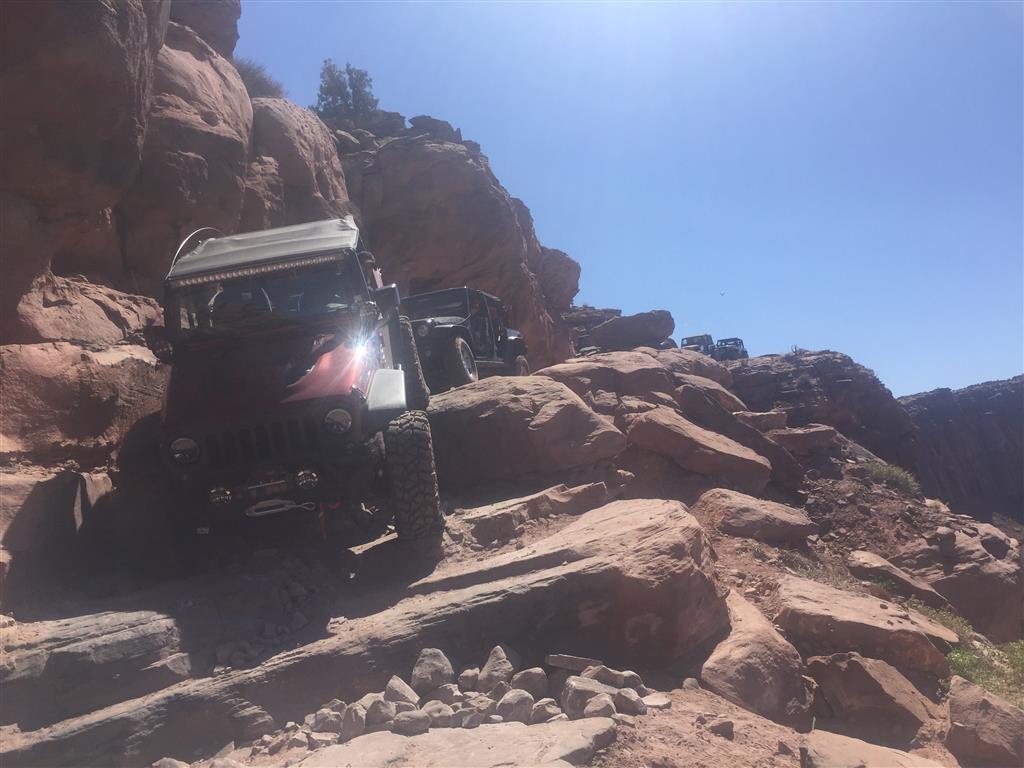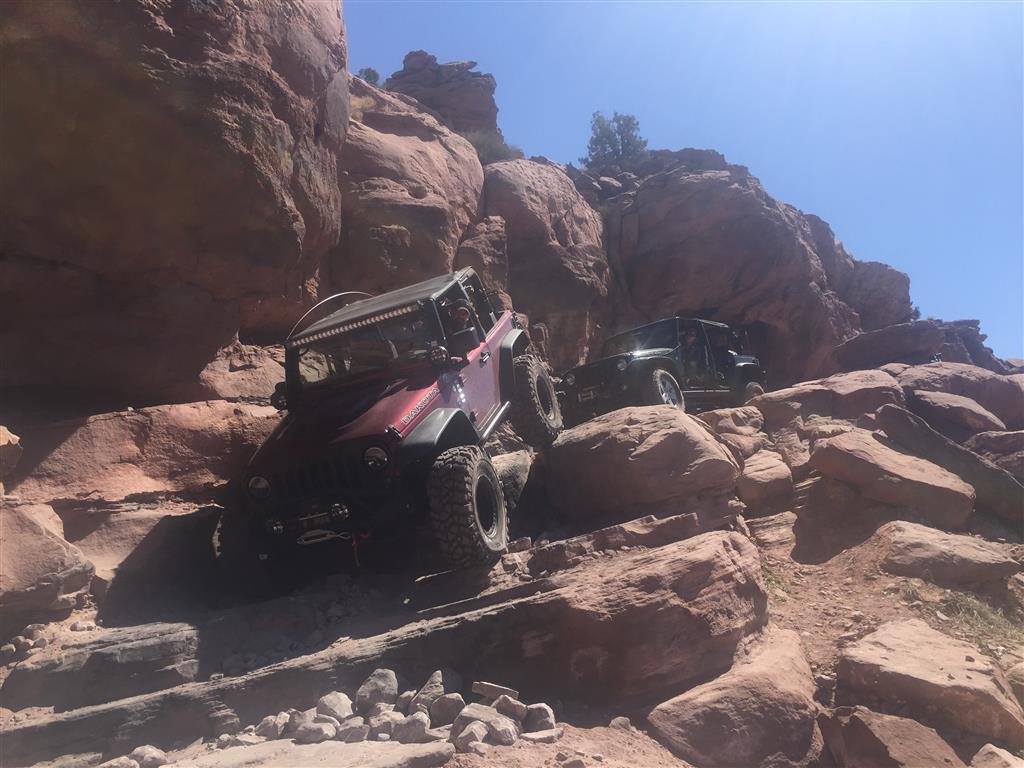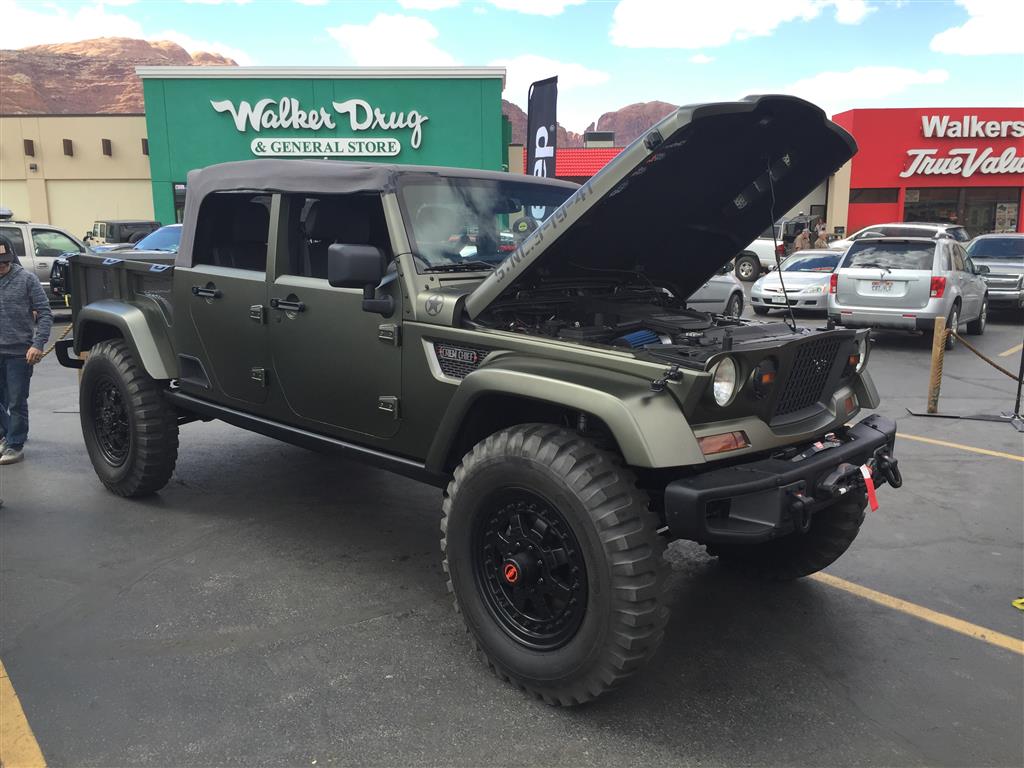 ...and I REALLY hope they build this. Big axles with locking hubs, kind of a cool truck bed and such. Love how it looks and the burlier parts underneath it.