Rubicon Trail Foundation Map if you're planning your trip to the Rubicon, rubicontrail.org is a great place to start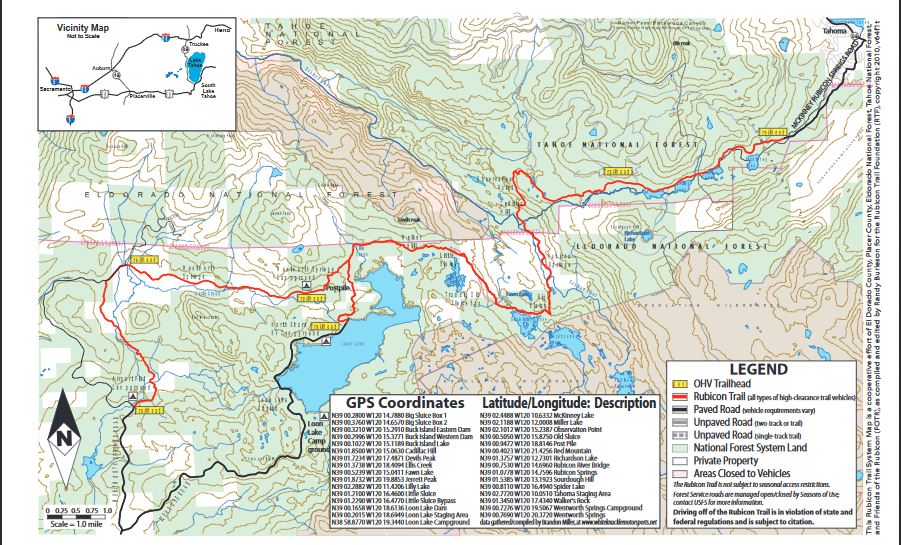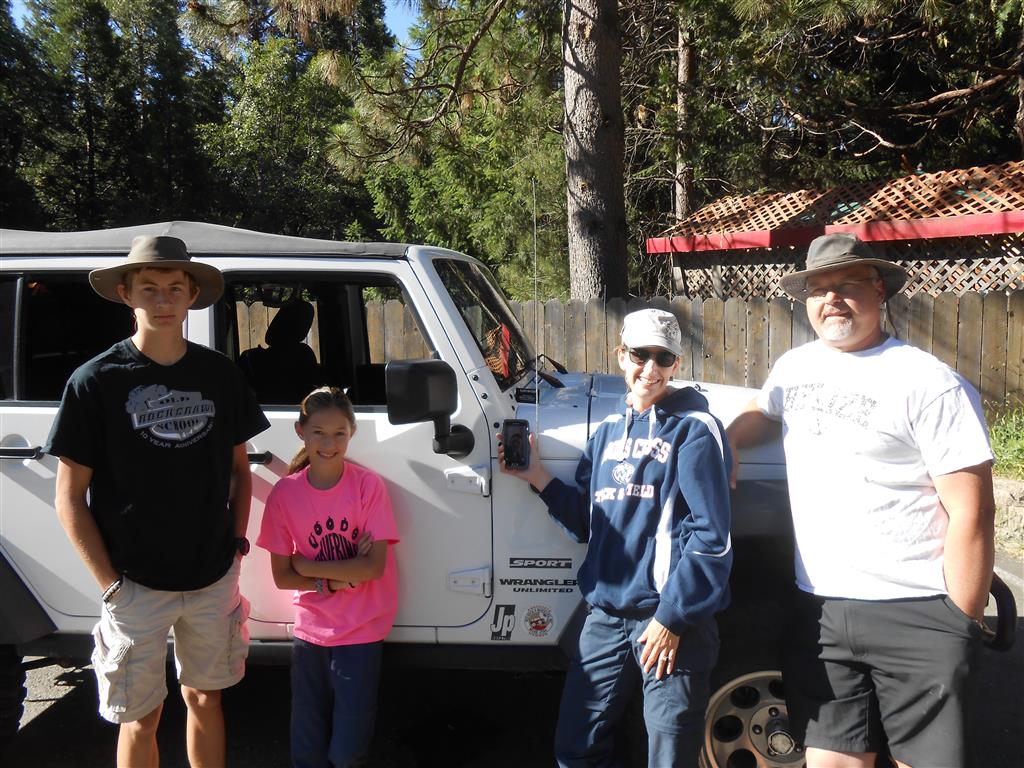 Odd group here for a trail run. We have a trail rookie along with us as Marnie decided to tag along on with us on a Jeep trip. I think she's holding up a picture of Corbin so we have our whole family here. If you look closely, you can see an LDS missionary name badge on the cowl of the Jeep. Corbin is serving an LDS mission in the Salem OR area. He's a good kid and we wanted to have him along somehow.
Anyway, the Rubicon is a pretty legendary trail in the Jeep world. It's kind of "the" trail to run in the west along with "Moab" (which has a LOT of trails) in the Jeep community. It's not the hardest trail in the world but definitely worthy of it's name and a fun trip. The Rubicon Trail Foundation and other (sorry, there a lot of you and I don't know ALL the details of all the work that's been done--MASSIVE thanks to all the volunteers involved with whatever organization they are attached to) groups literally saved the trail in the past decade and it's still open for use. Cal4Wheel and other groups have a great organizational structure and have learned how to deal with a lot of the new government regulations and such. Kudos to them for showing us how things can get done to save spaces and recreational opportunities.
We had some good friends tag along with some of their friends. We had a group of 7 rigs all pretty well matched in capability and such.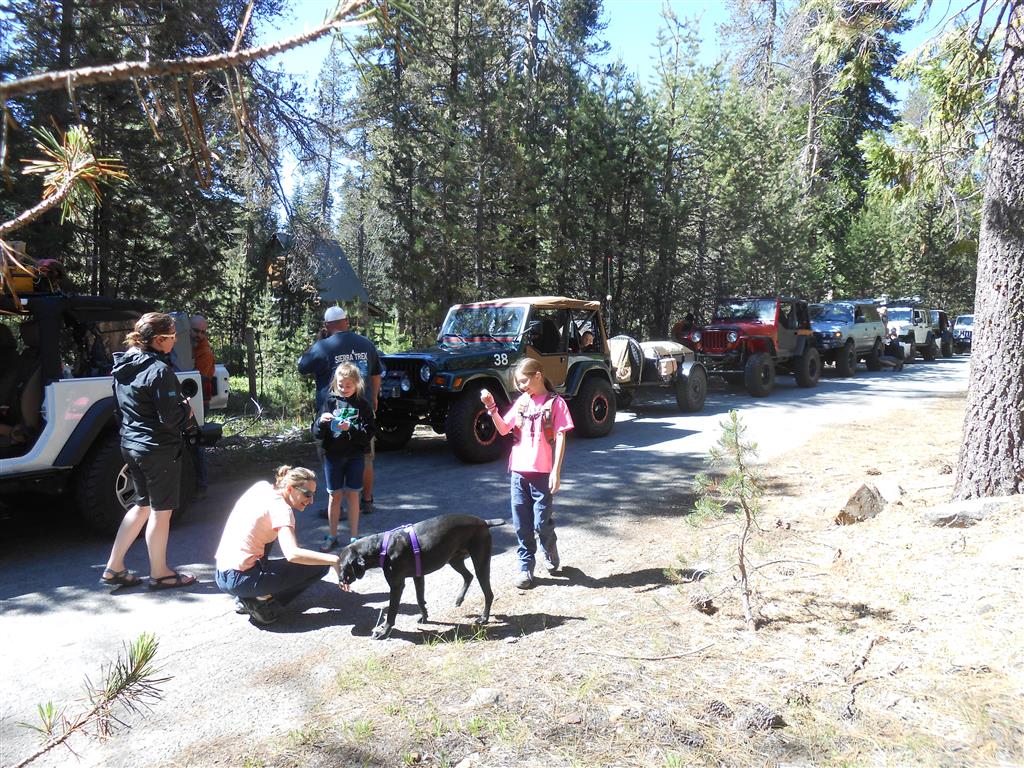 I'll run down the list here as pictured above. Jeremy Hicks has his two door Rubicon in the foreground. He brought his furry friend, Shelby along. Next in line with the trailer is Carl & Mandy Whitmore with their two kids. Davy and Jamie Houle are next in the red TJ with our burliest rig on the run. We have a token Asian 4x4 with Bryson in the FZJ80. Greg and Catherine Gardner are next in the white JKU, Todd comes next as a friend from Las Vegas of Jeremy Hicks and my JKU brings up the rear. Most of our rigs have basic bolt-on modifications and lifts. Most of us drove our rigs from SLC area (Greg and Catherine coming from the Grand Junction area of CO) while Davy and Carl towed out as this was the first leg of their trips.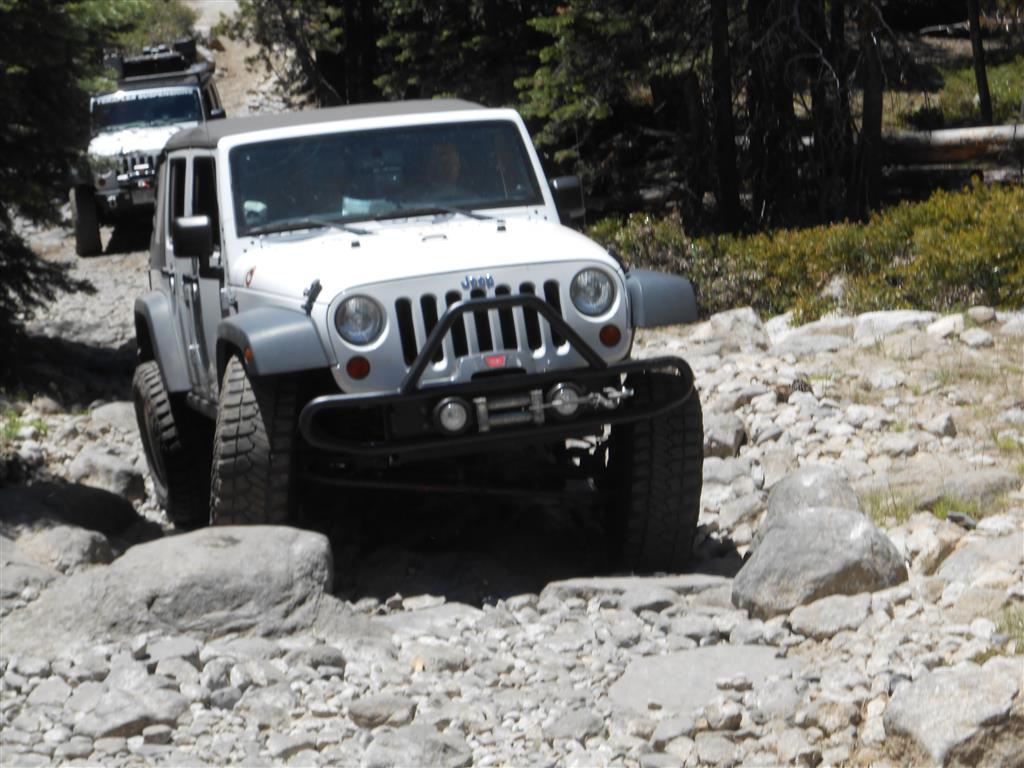 Just getting started on the trail. How I got up front, I don't know
The below pics were taken on what I know as the "Post Pile" area of the Wentworth Springs entrance to the Rubicon. I haven't run in from Loon but really liked this entrance.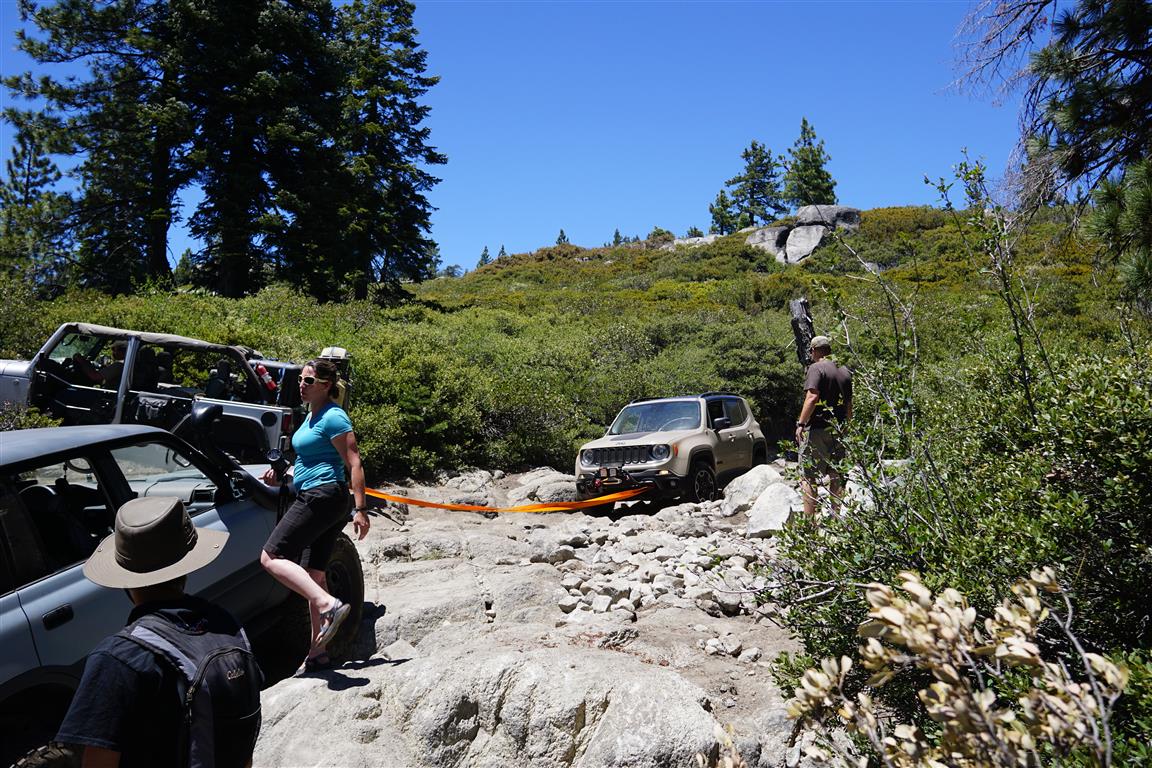 Bryson took the easier route here and ran into a Jeep a little out of it's element.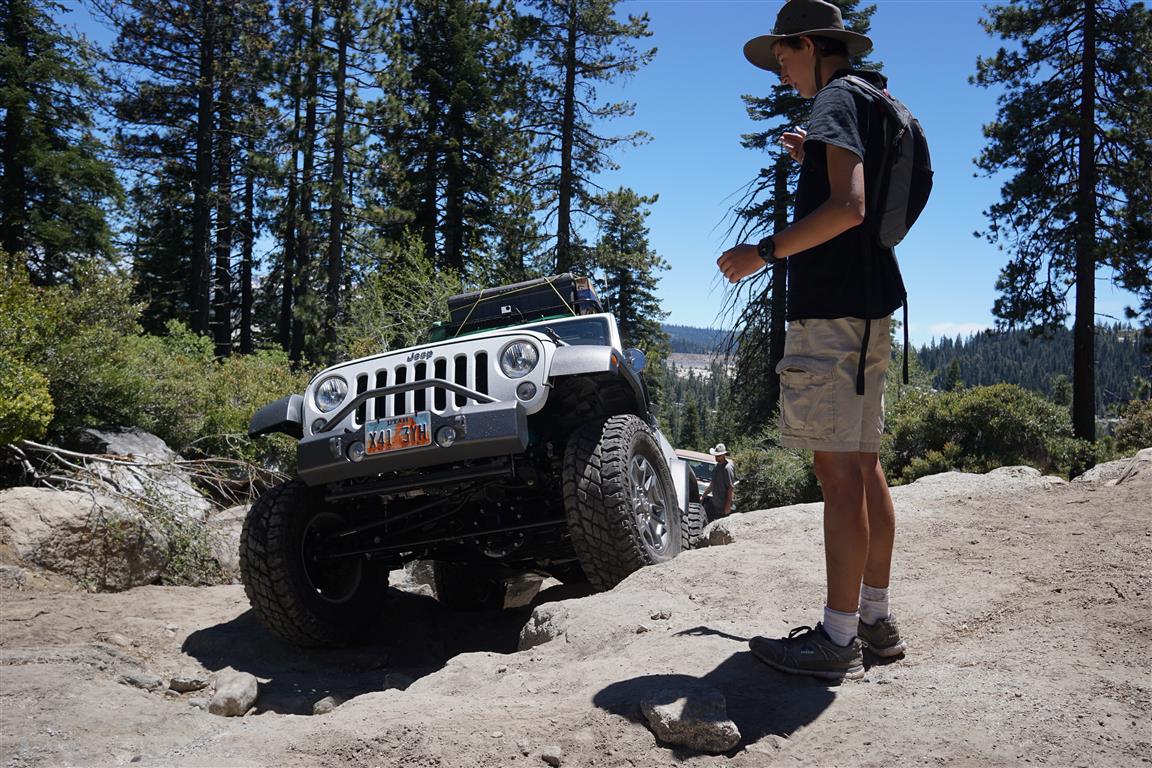 Here's Eric helping Jeremy along. Eric is working on his trail guide certification.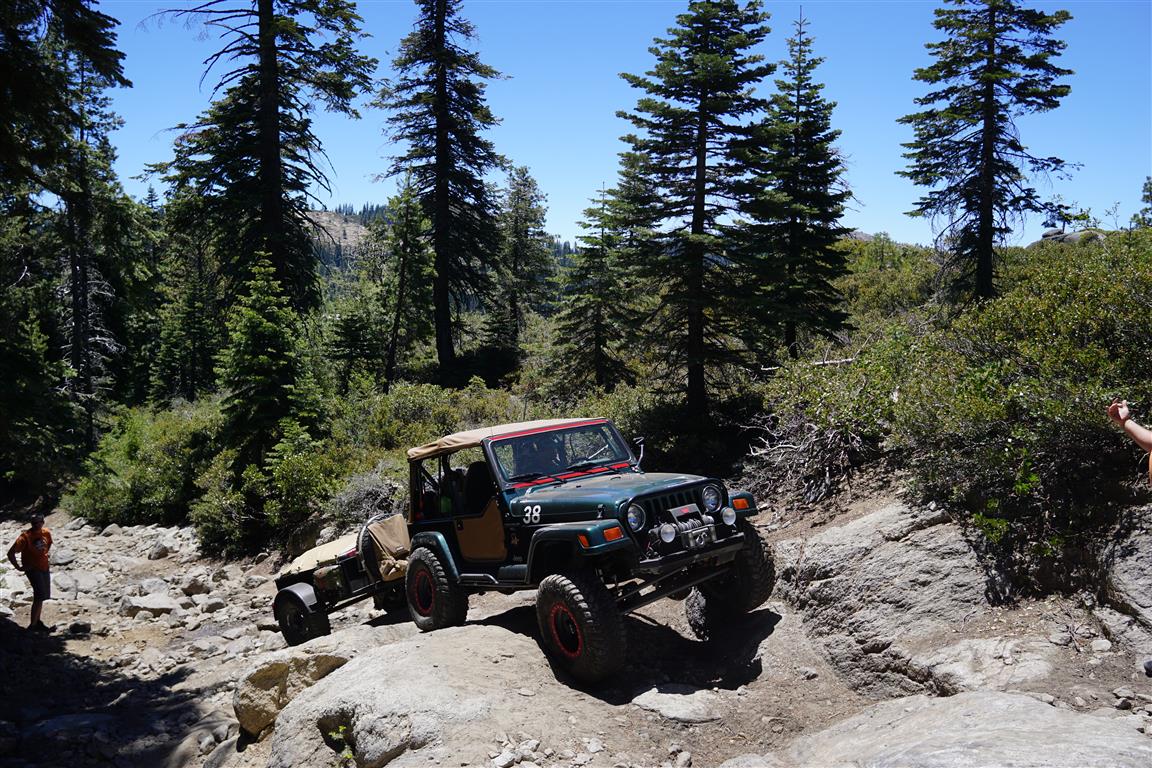 Carl nonchalantly cruising through with his accompanying trailer.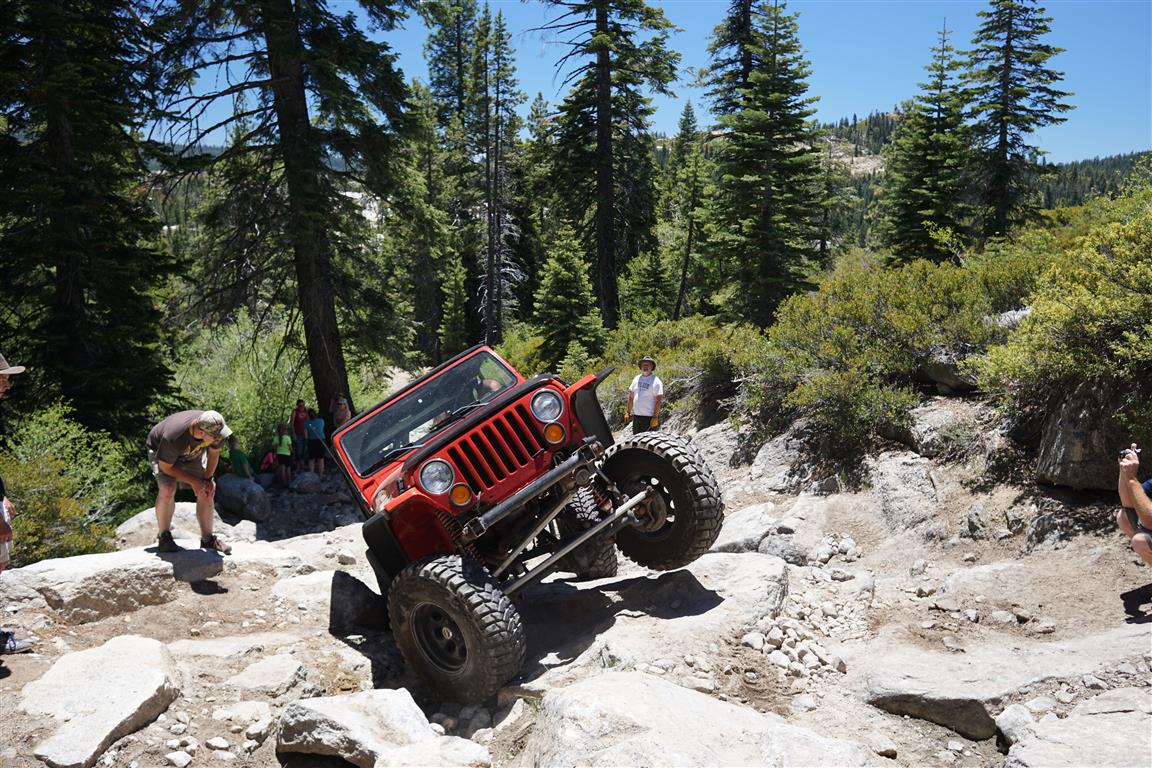 Davy making things look as interesting as possible here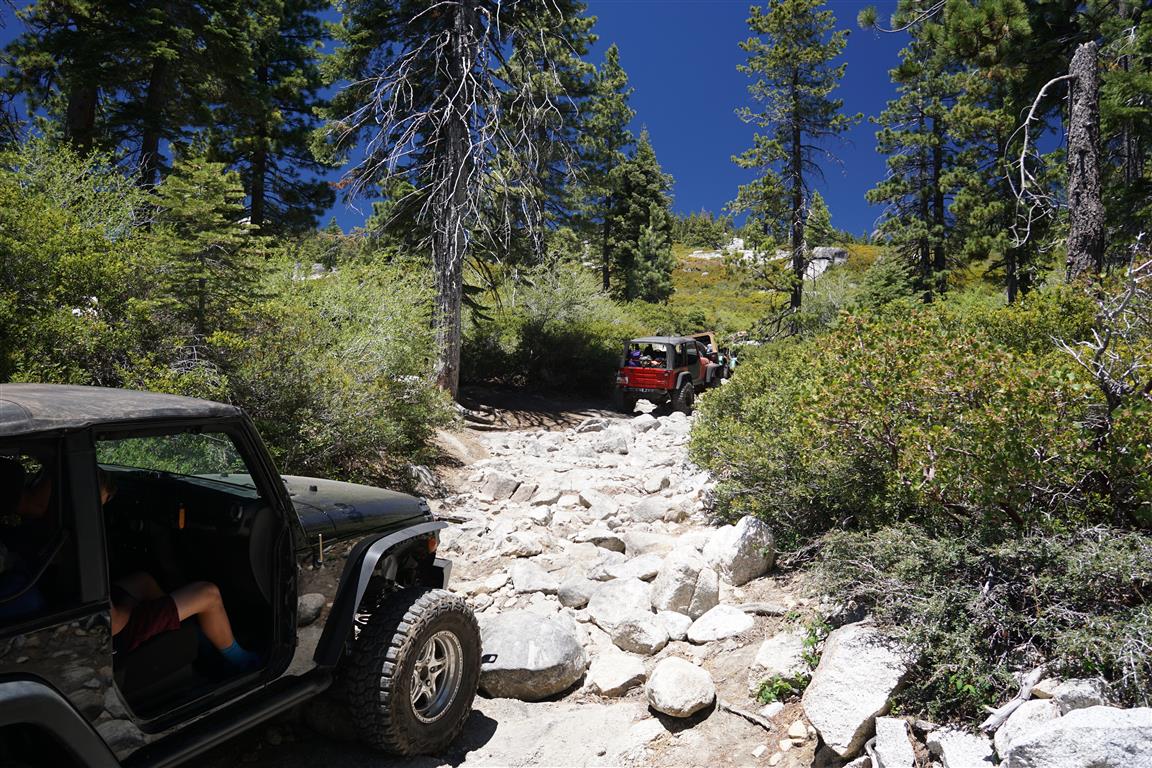 Todd following Davy. Jeremy and Todd with their shorter wheelbase made easy work of most of this trail. Greg and I with our mini-vans, had to work a little harder in most places.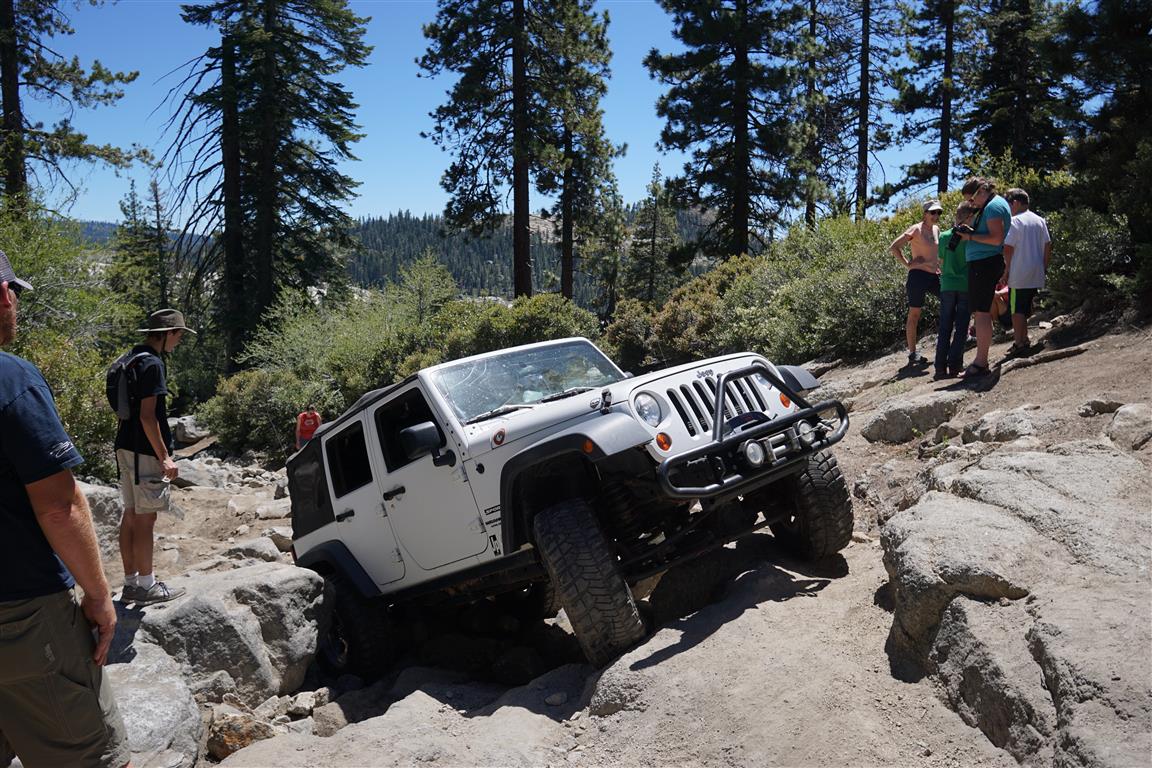 Greg and had to take pretty different lines than everyone else through the whole trail. The wheelbase difference was very evident on parts of this trail.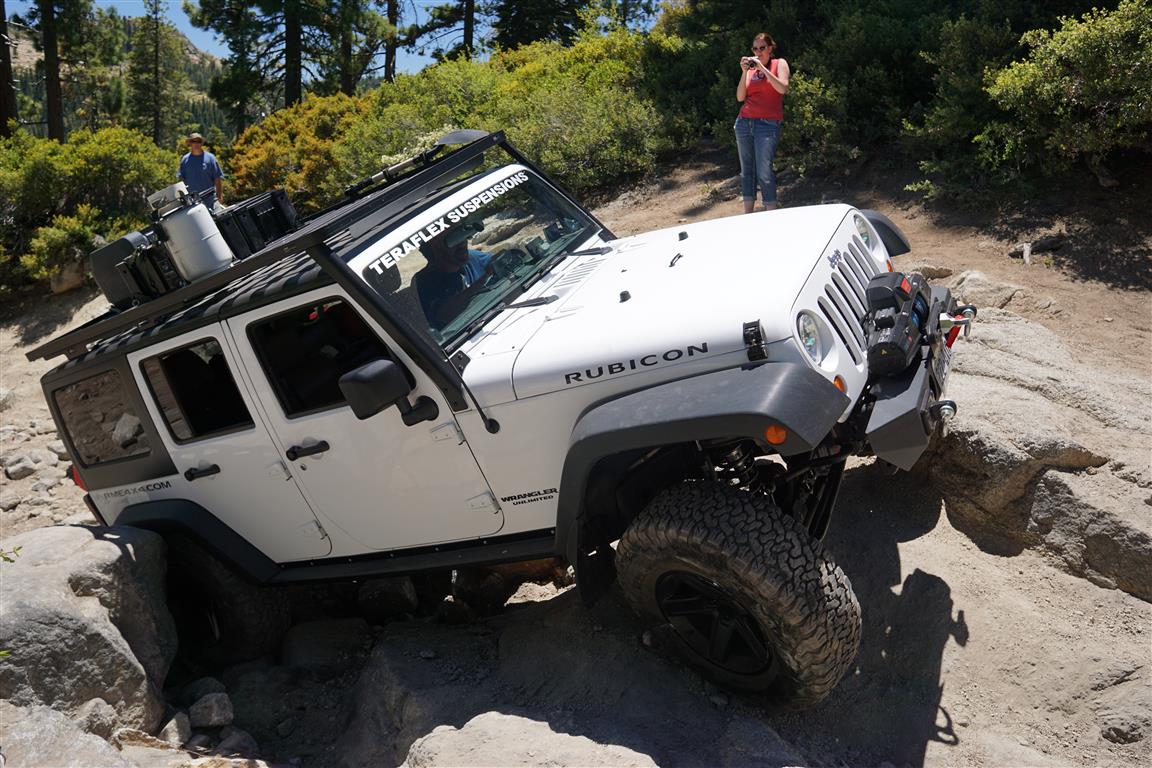 Greg picking his way through.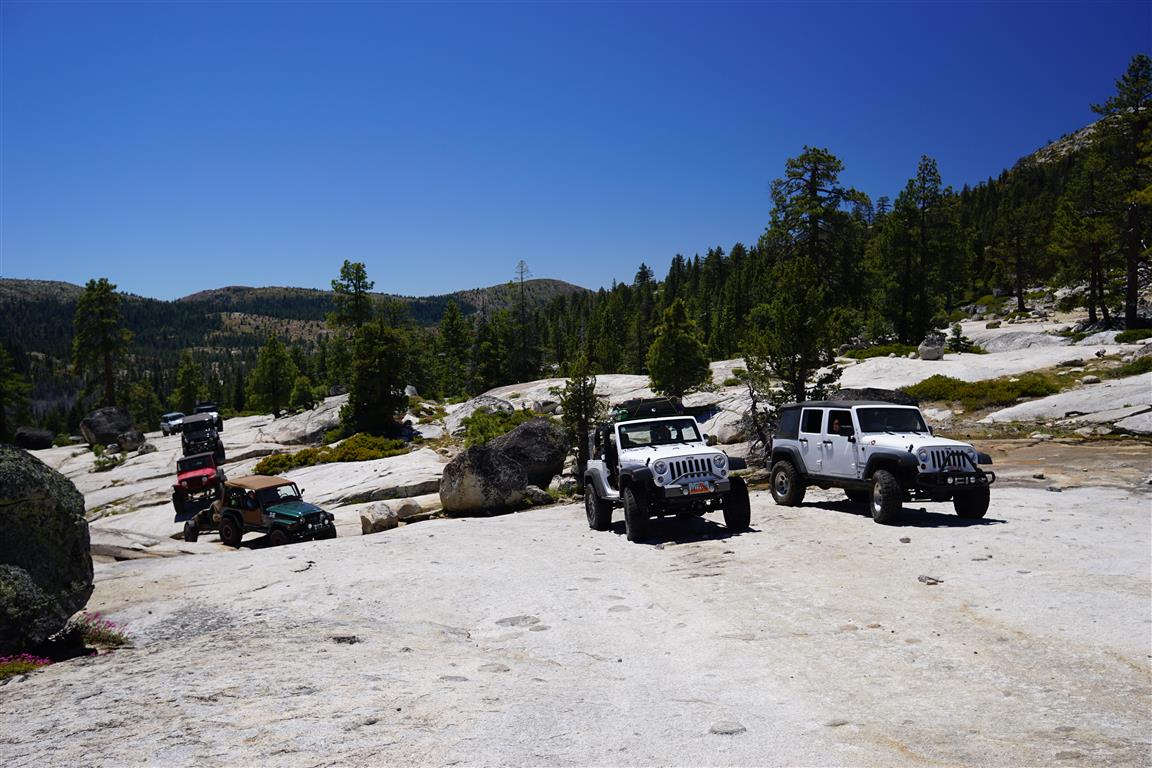 Not sure what to say but this is just an awesome photo to me.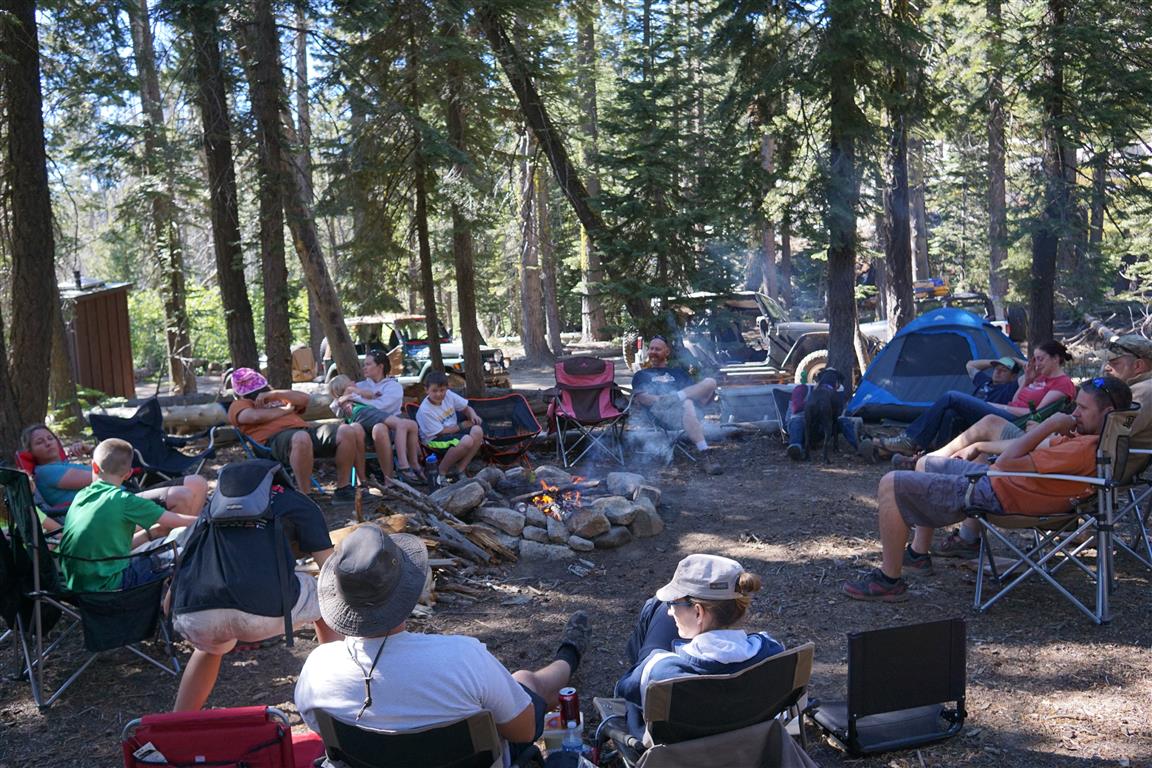 We found a good spot about 3-4 pm just below Walker Hill to stay the night. A few of our folks had a fire permit and built a smallish fire. I think we all turned in relatively early, 11 pmish and crashed in our tents and such.
TRAIL DAY 2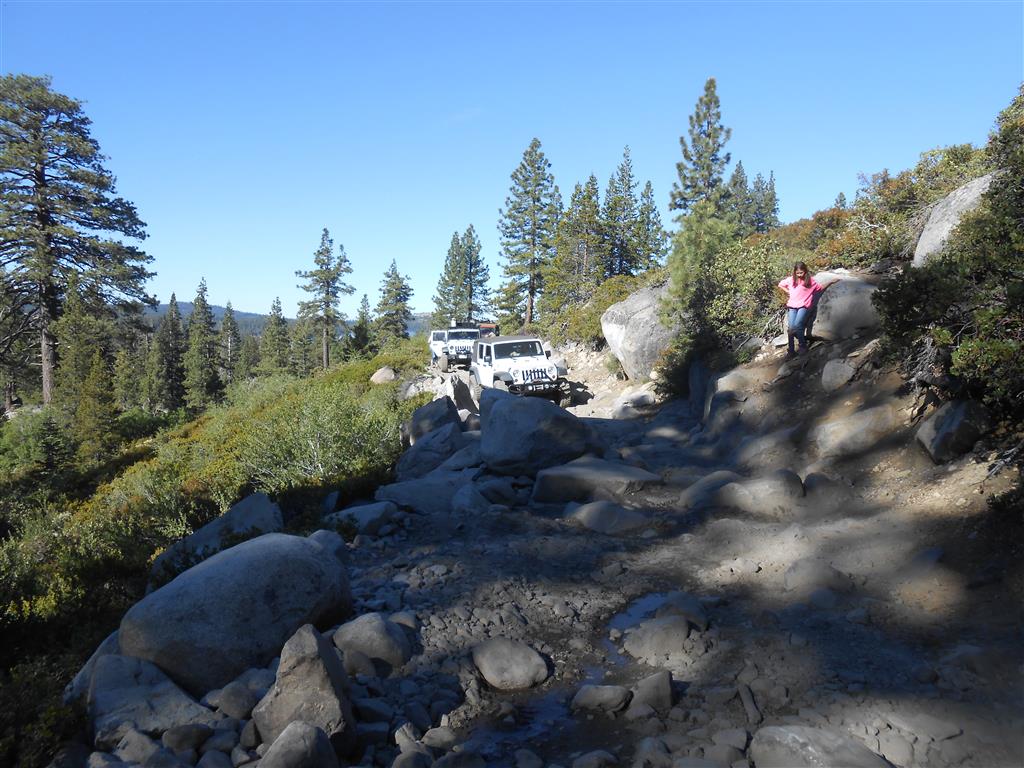 We went up Walker Hill without much incident and ran along the trail a bit towards Soup Can and Little Sluice. I had told my wife before we came out I would not take my JKU in the Little Sluice. I didn't but it was pretty disappointing as it was quite filled in from even when I was there in 2013. I kept my word but everyone else ran Little Sluice. No matter though as the trail was pretty technical from Walker Hill even up to the turn off to the "slabs" before you get to Buck Island Lake. I ran this part of the trail in the total dark in 2013 just following tail lights of other guys ahead at about 1 am.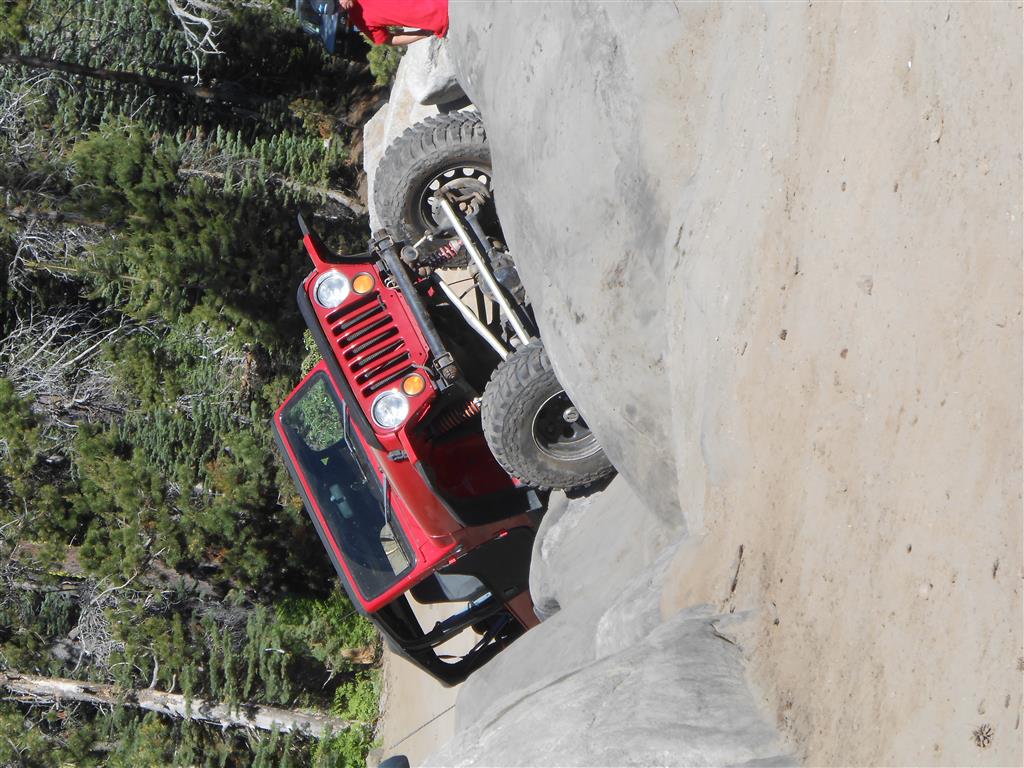 No one wanted to test Soup Bowl with our smallish rigs but Davy gave it a bit of time. They tried a lot of lines but when I pointed out the line I used with my trail Jeep they went right up without issue. It was good fun and made me wish for my other Jeep again. There's not a strong possibility we could have hauled gear for 4 of us in that Jeep, though.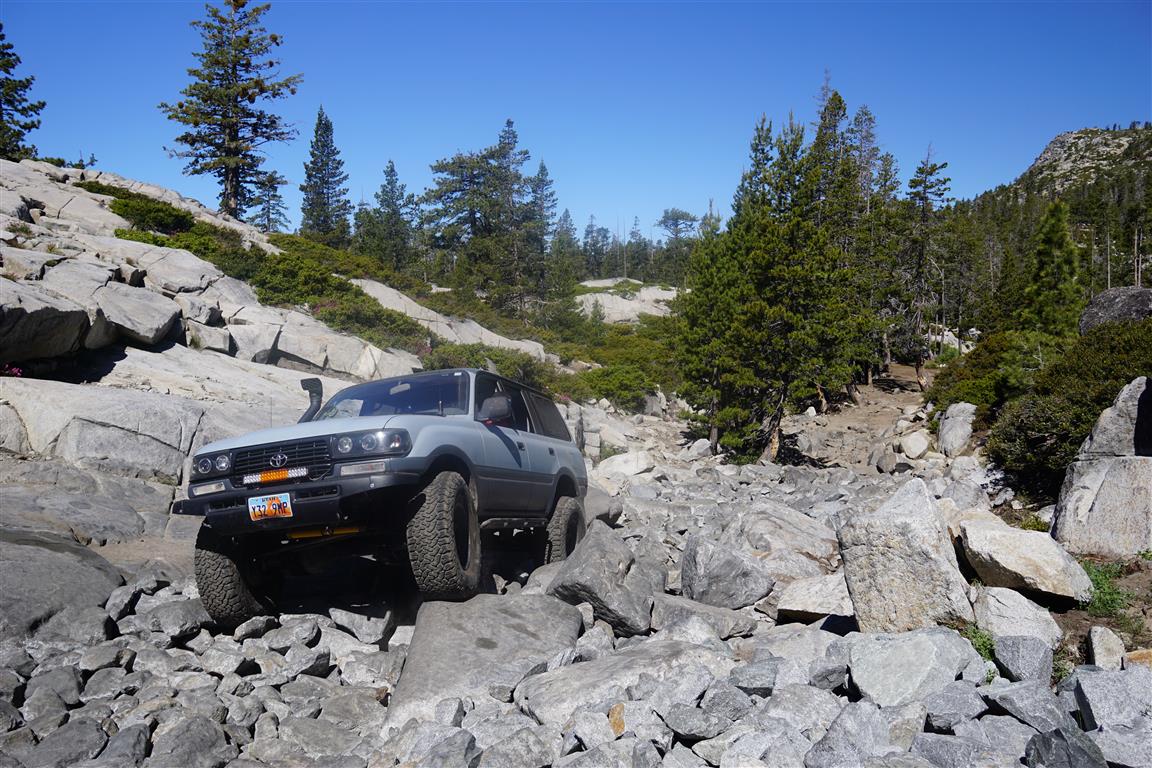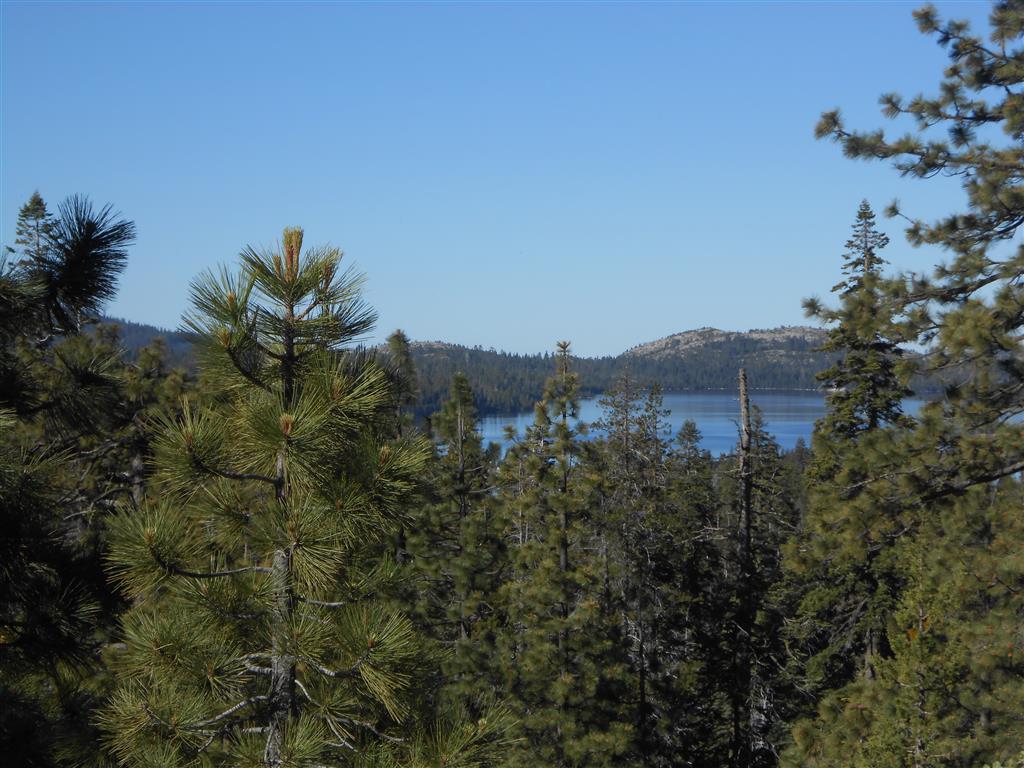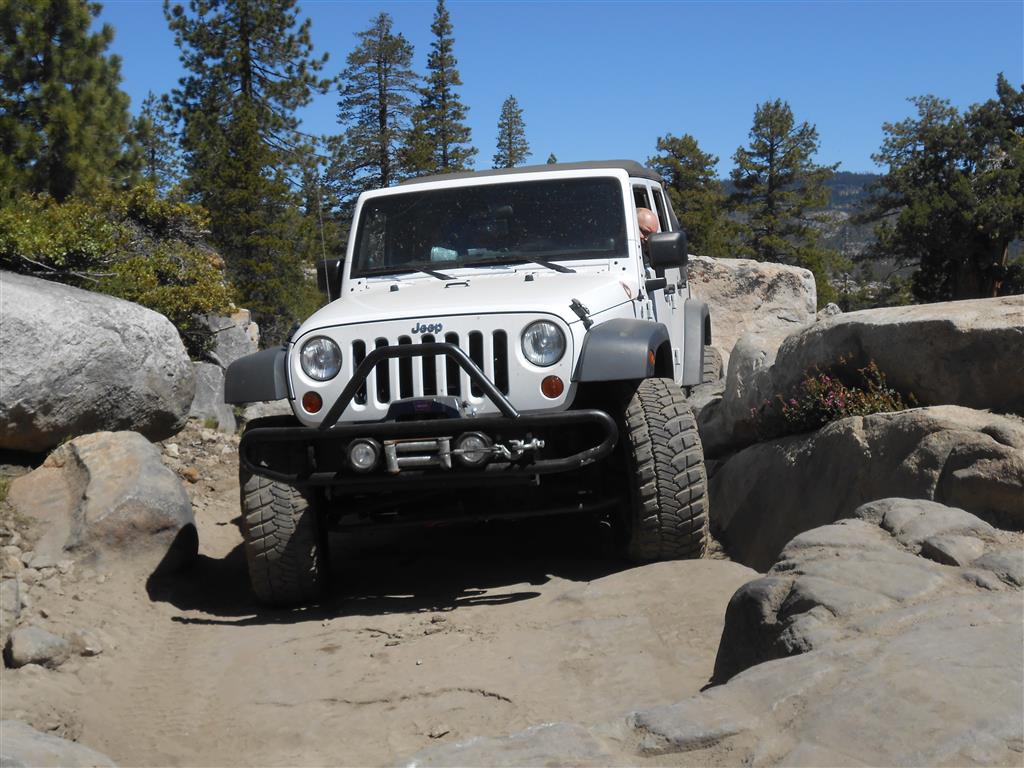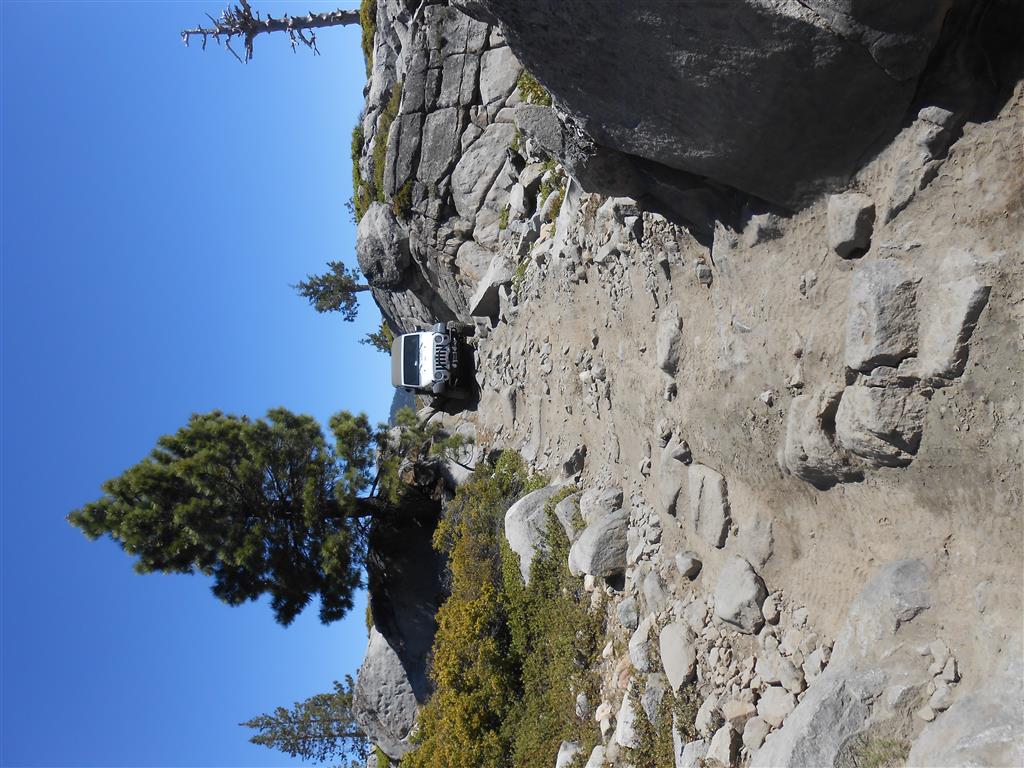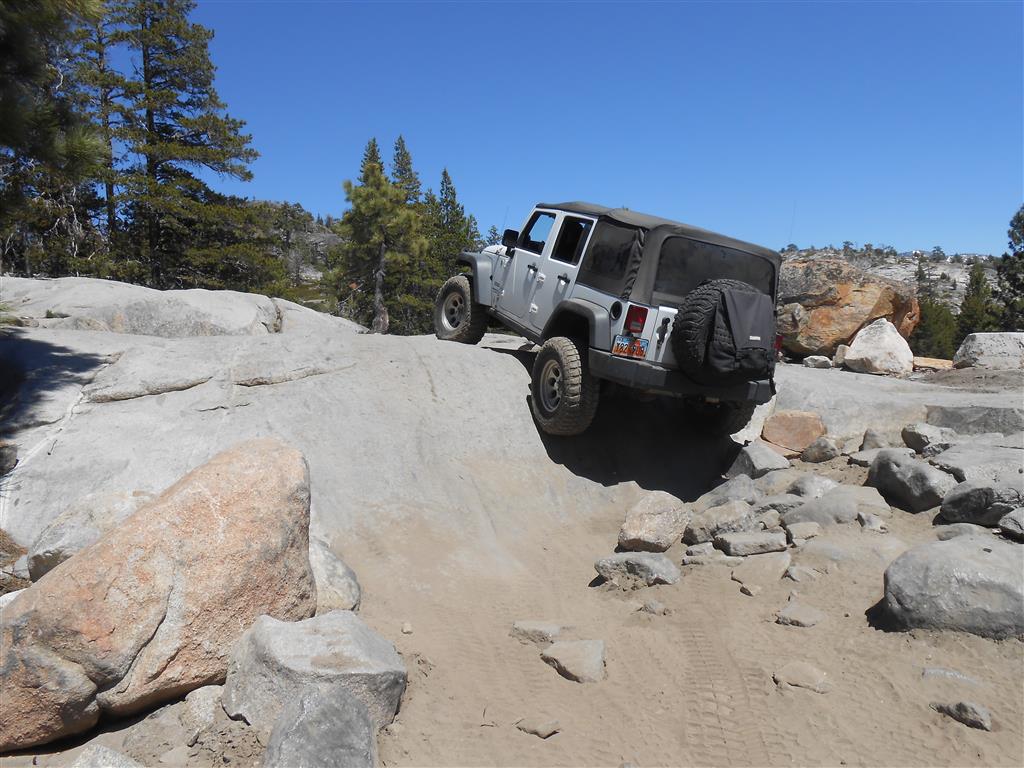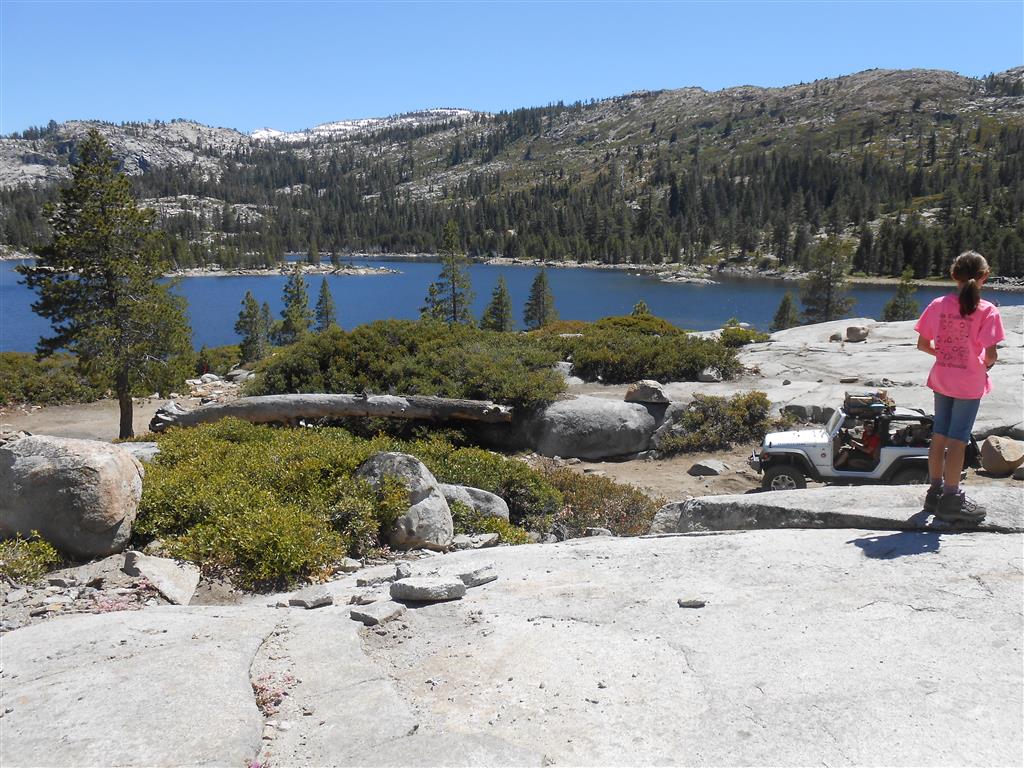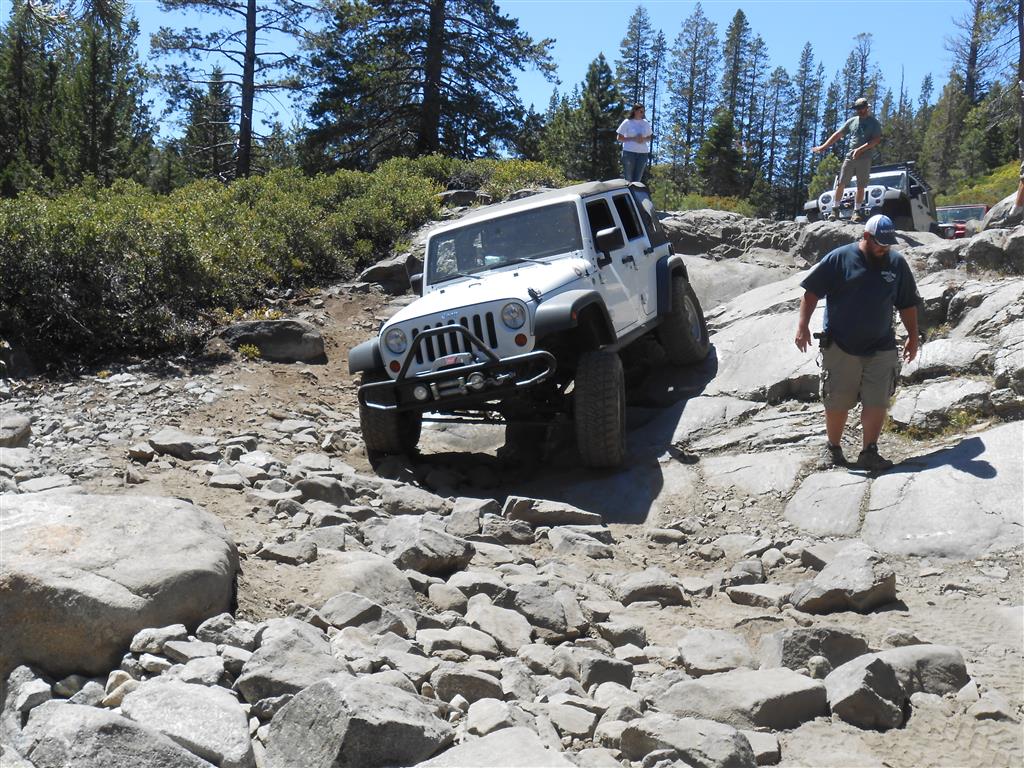 Picking our way along Buck Island Lake. My passenger rear flare wasn't long for this world from here.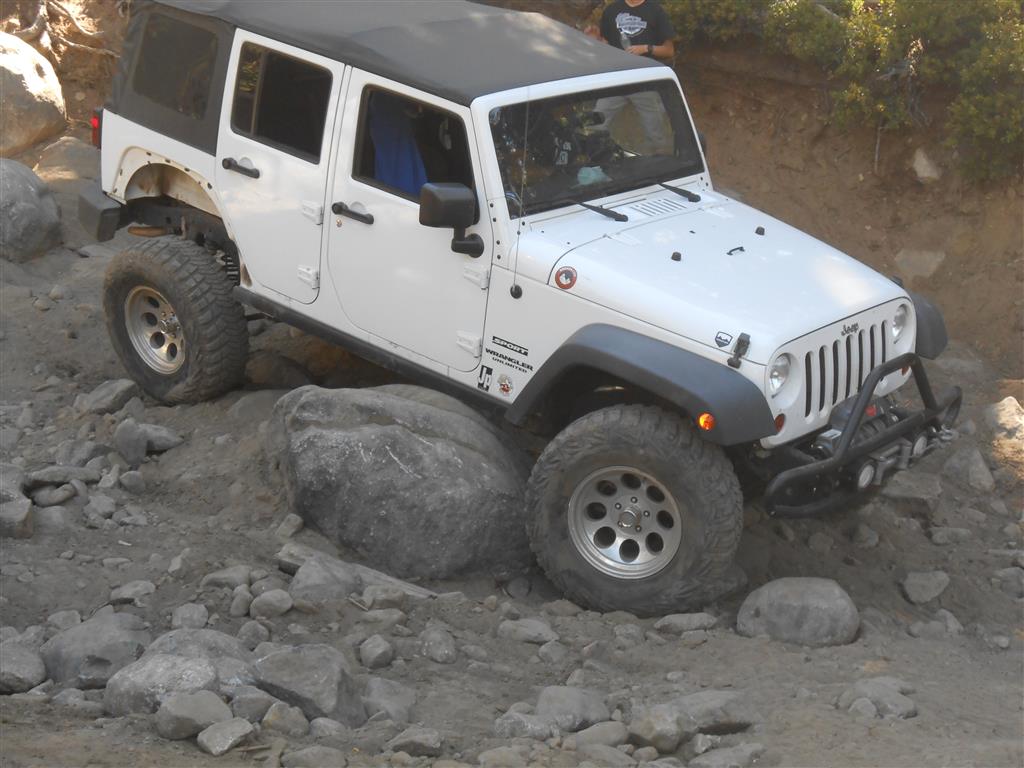 Rubicon sliders were used a LOT during this trip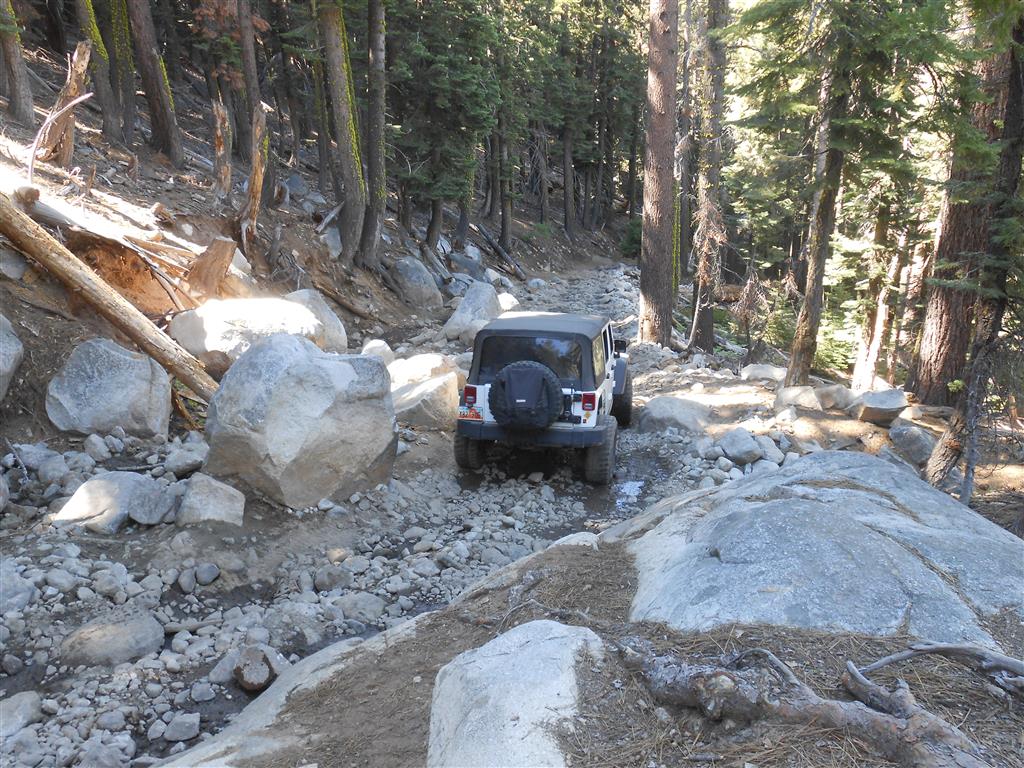 This is just an awesome part of the trail. I think this is just past the switchback with some semi-gnarly rocks.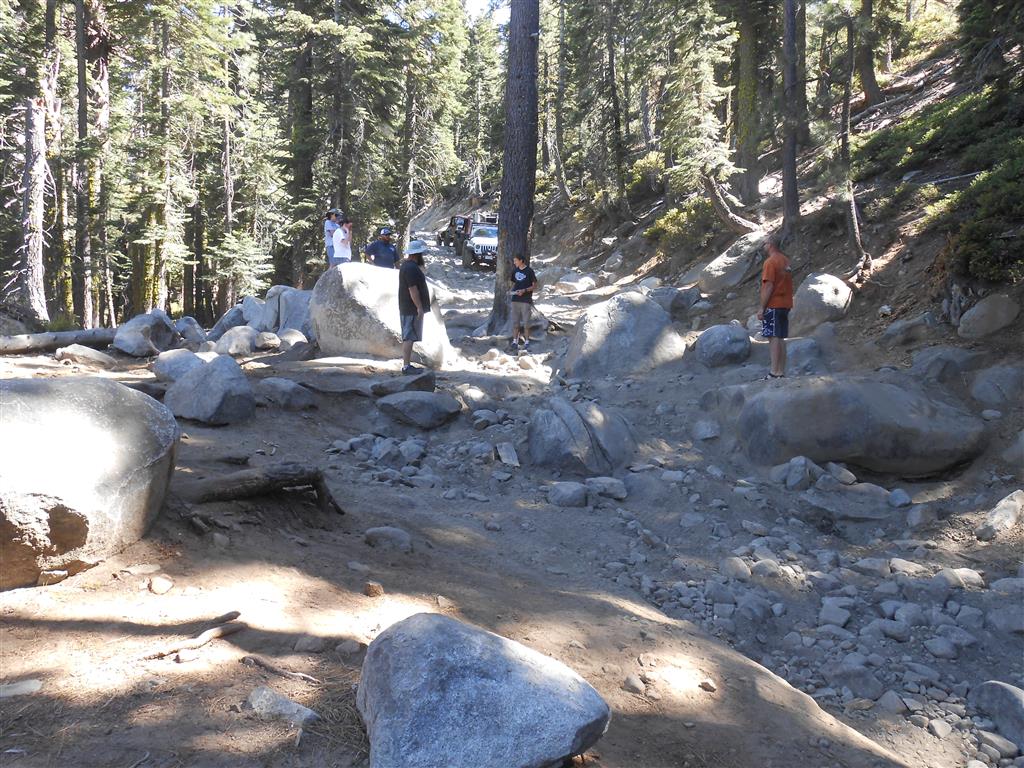 Fun spot on the way down "Big Sluice"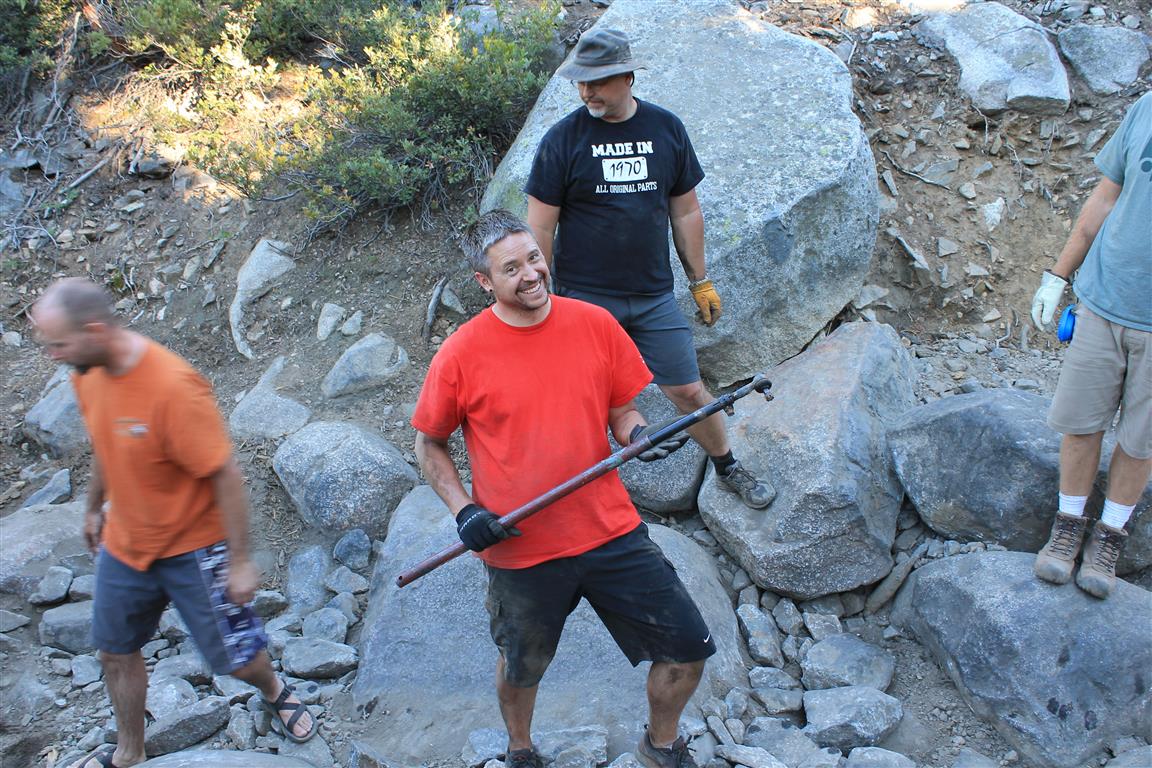 Well, if this is our trail fix, I'm thrilled with this trip. The high-lift jack handle sleeved drag link trick even works on FZJ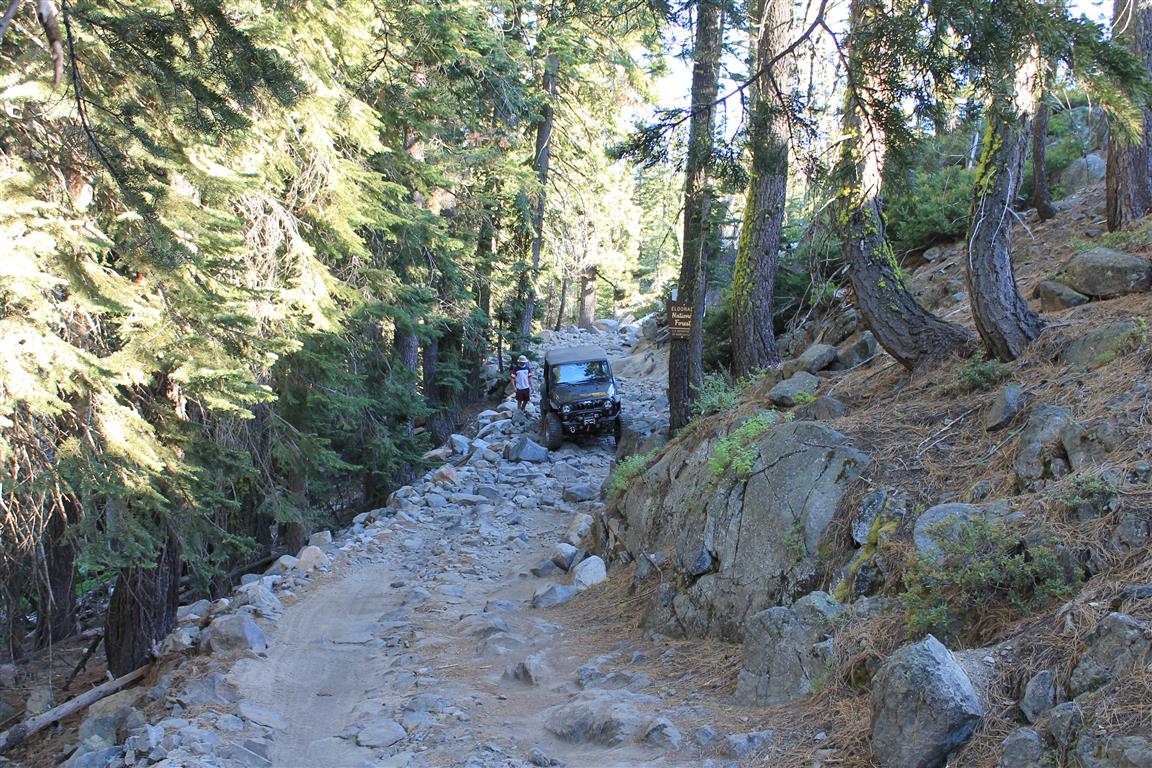 Todd coming down the last part of "Big Sluice" to towards the Rubicon River bridge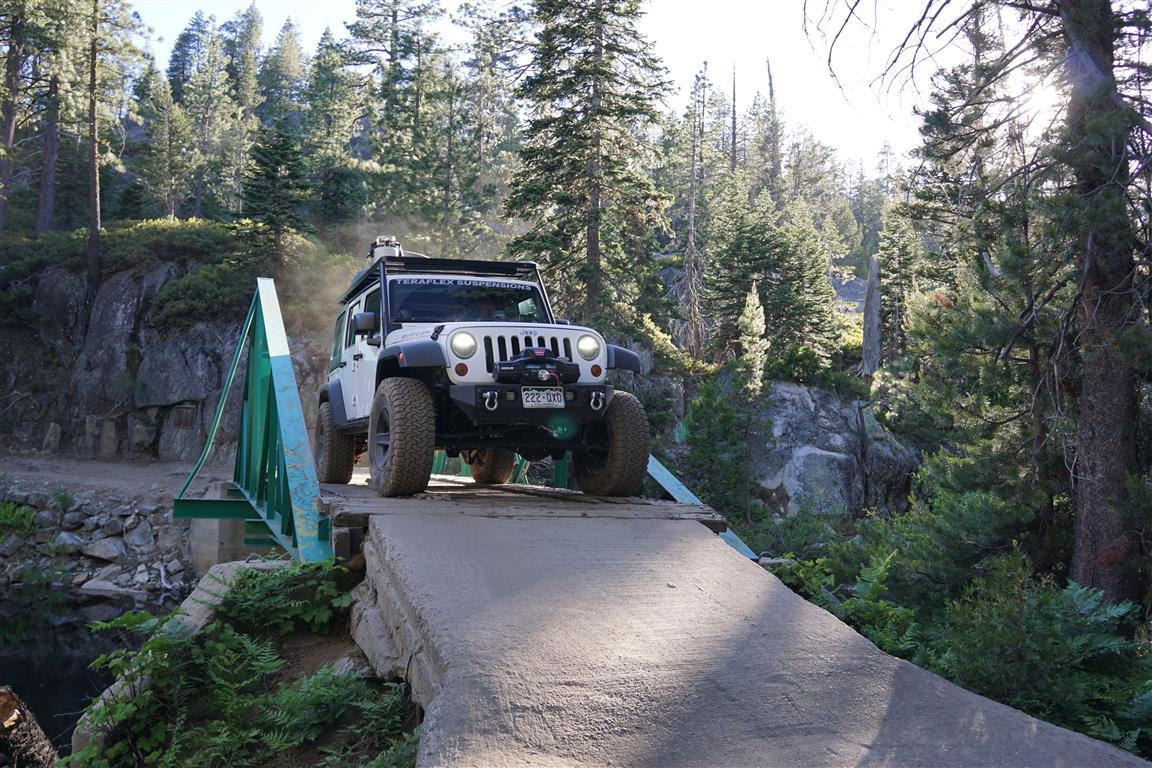 Greg & Catherine crossing the famous Rubicon Bridge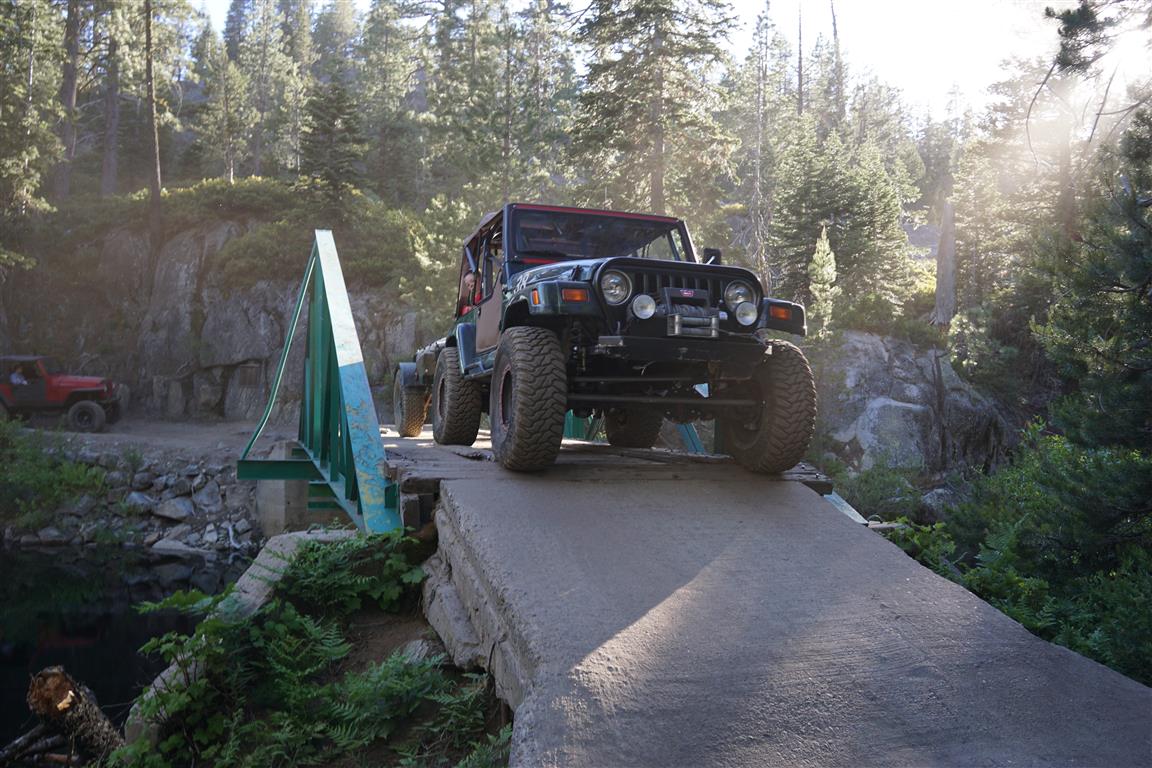 Carl & Mandy crossing the bridge after helping Bryson with his steering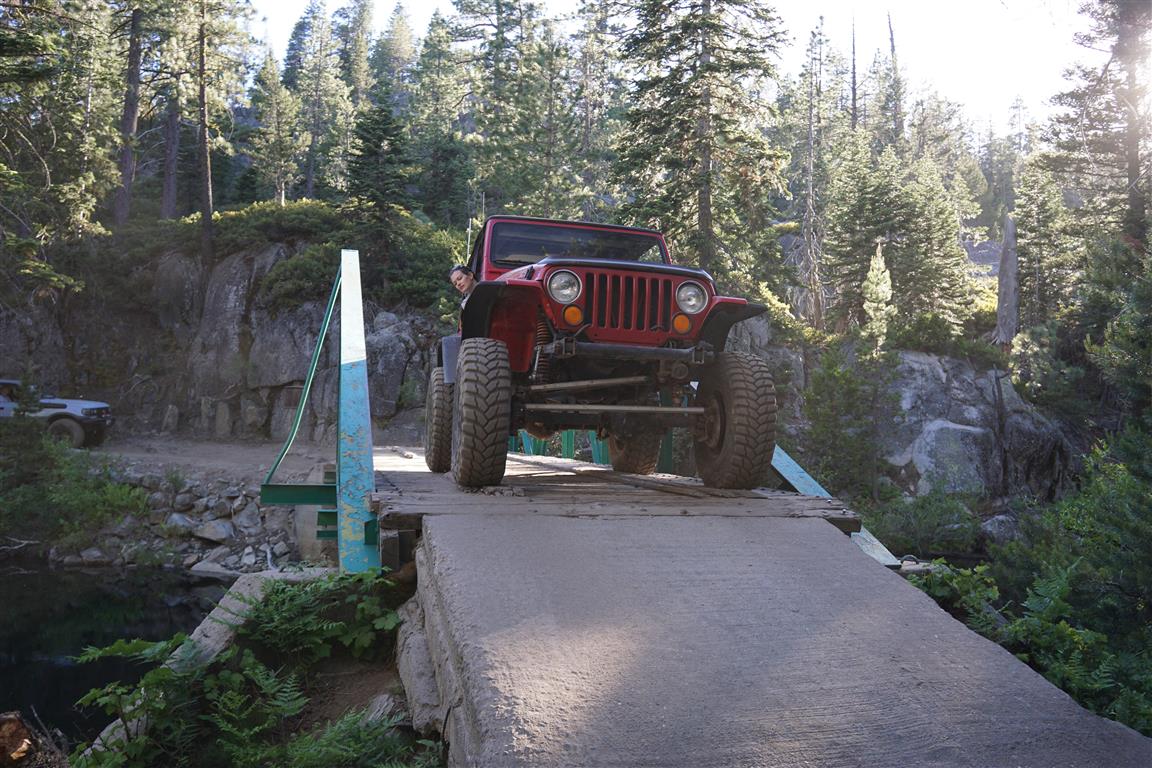 Davy & Jamie coming across the bridge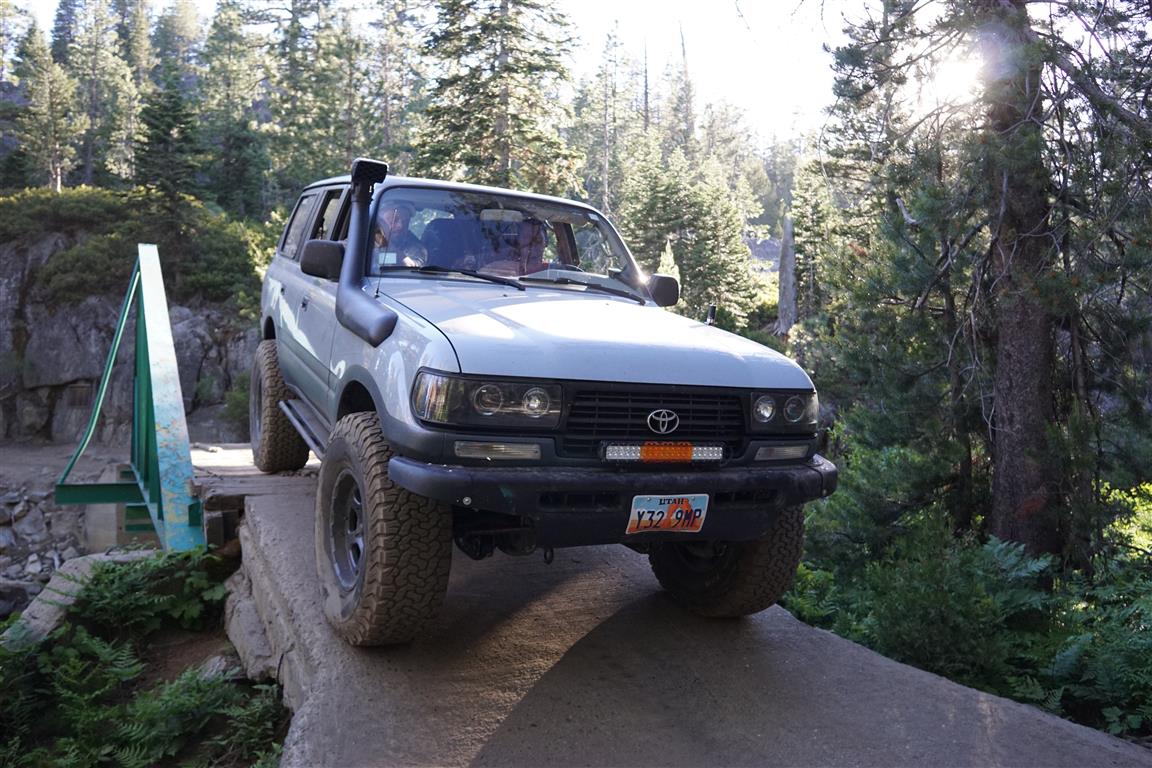 Bryson crossing the bridge with his repaired steering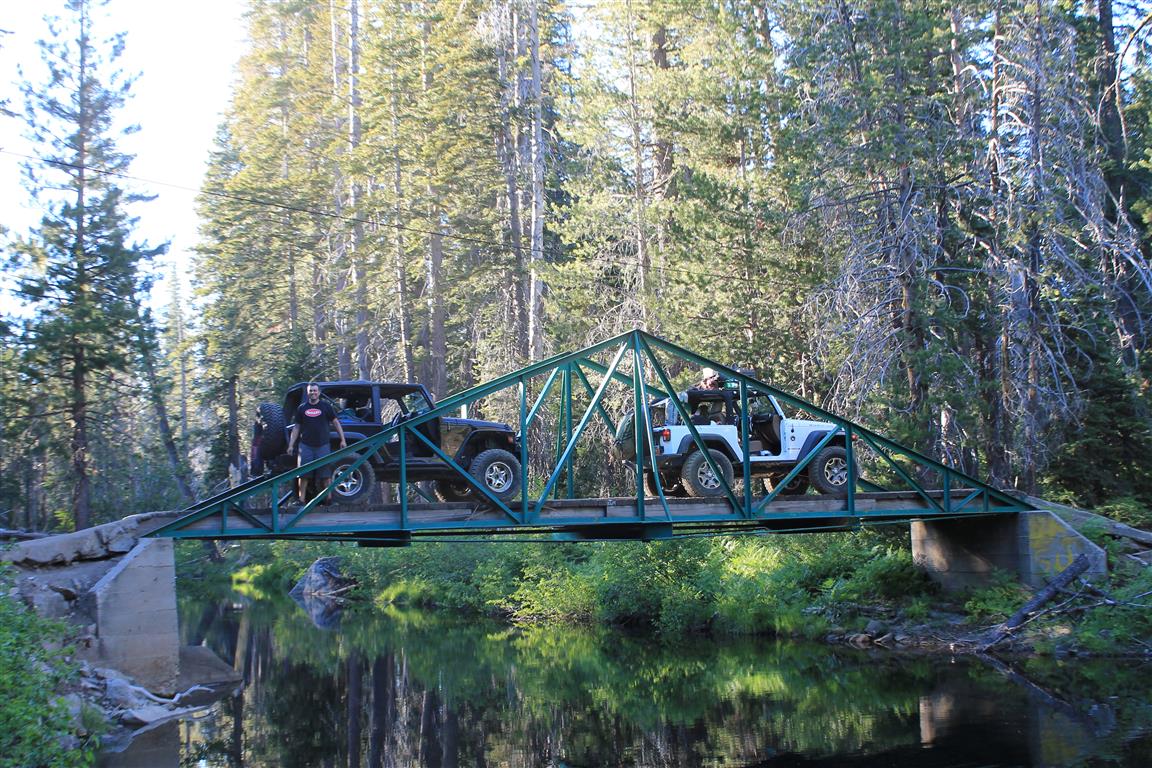 Just an awesome pic by Jeremy for Todd and Jeremy
We arrived at Rubicon Springs campground and had missed our reservation somehow. We found them very acommodating and they were able to find us a place to stay. Good people there at the campground! THANKS
TRAIL DAY 3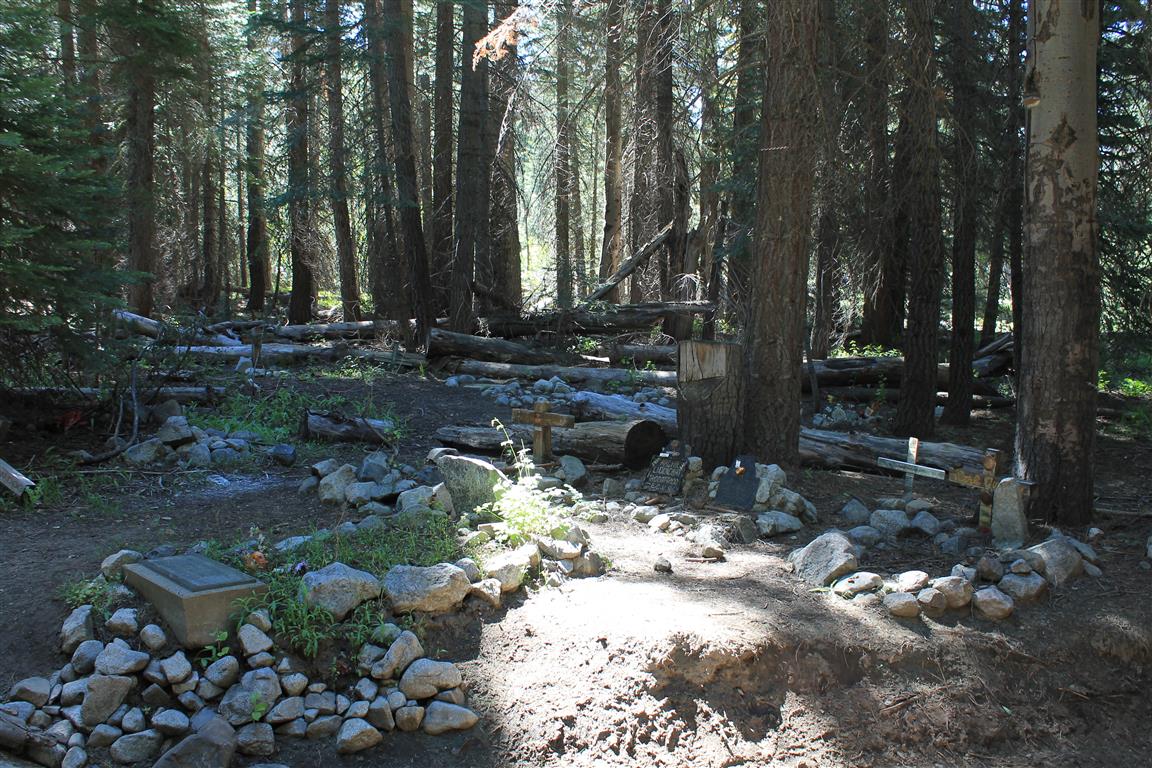 The cemetary section before Cadillac starts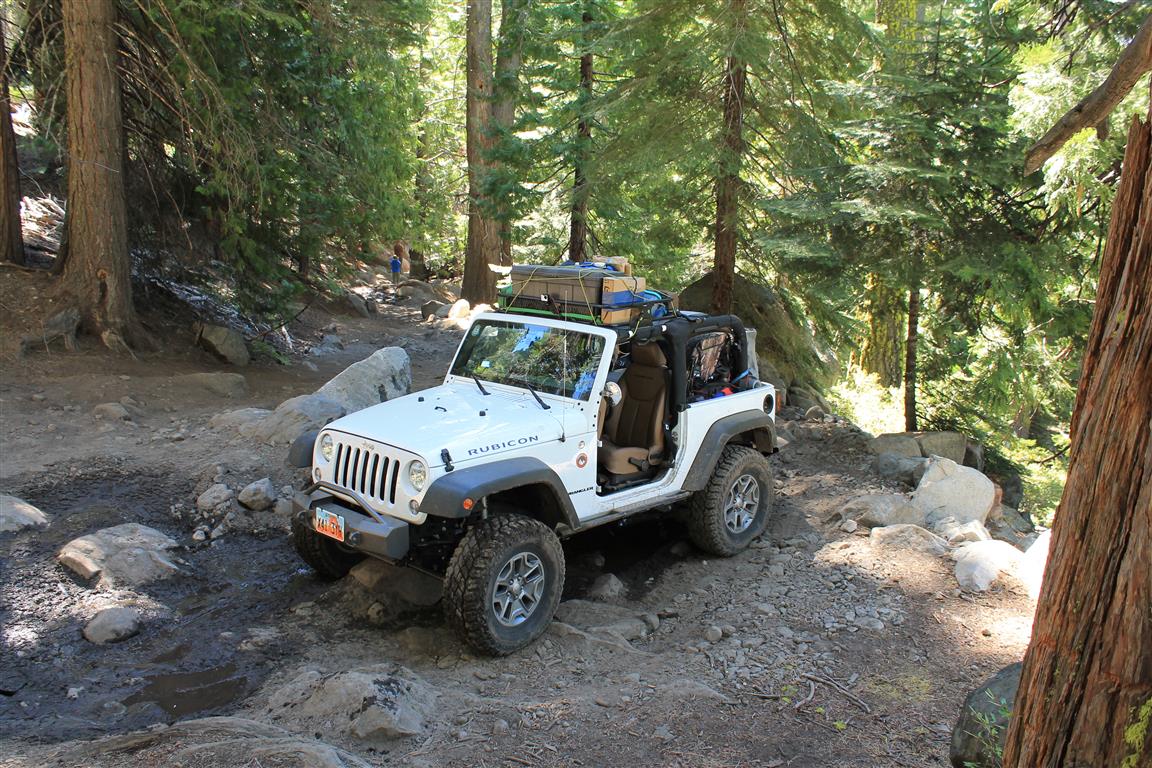 Jeremy waiting for me to pass so he can film my mad driving skills with his GoPro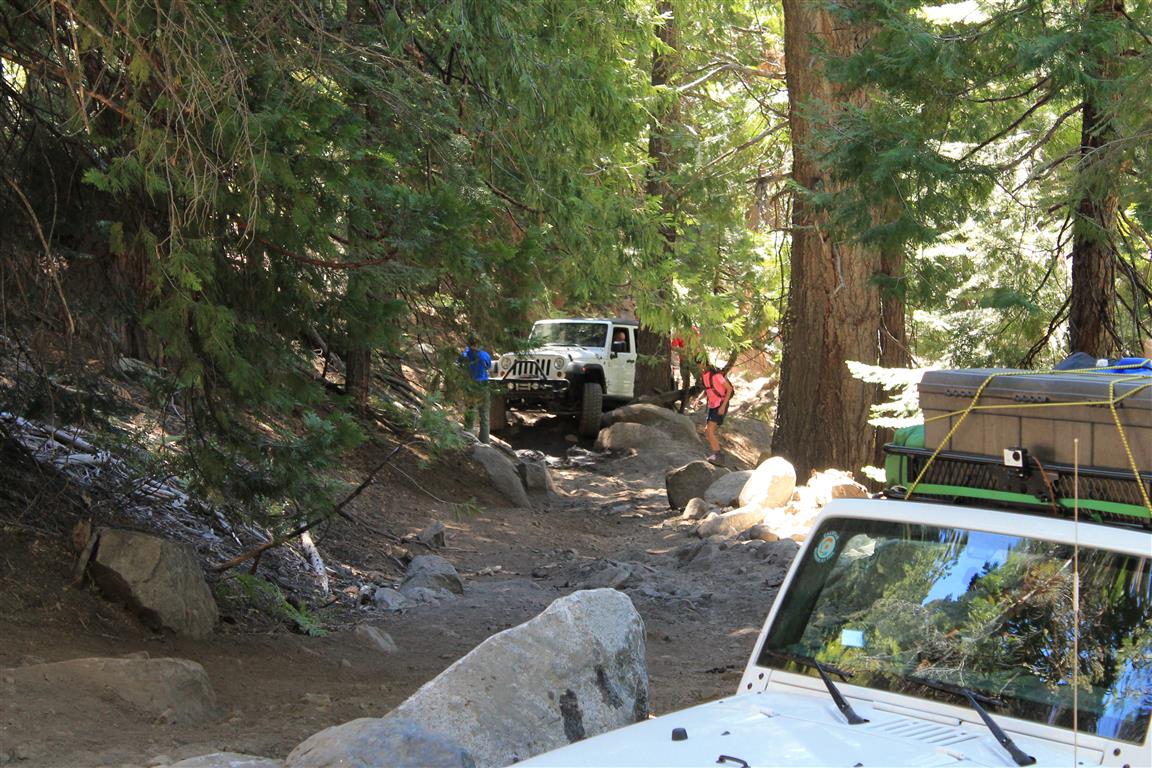 I think I made this a little tighter than it should have been. Sneaking in between a rock on the passenger fron and smacking my soft top on a tree (that's been hit before) I made it through without any damage. I did watch the whole length of the top vs. the tree. It was really close, but never did hit.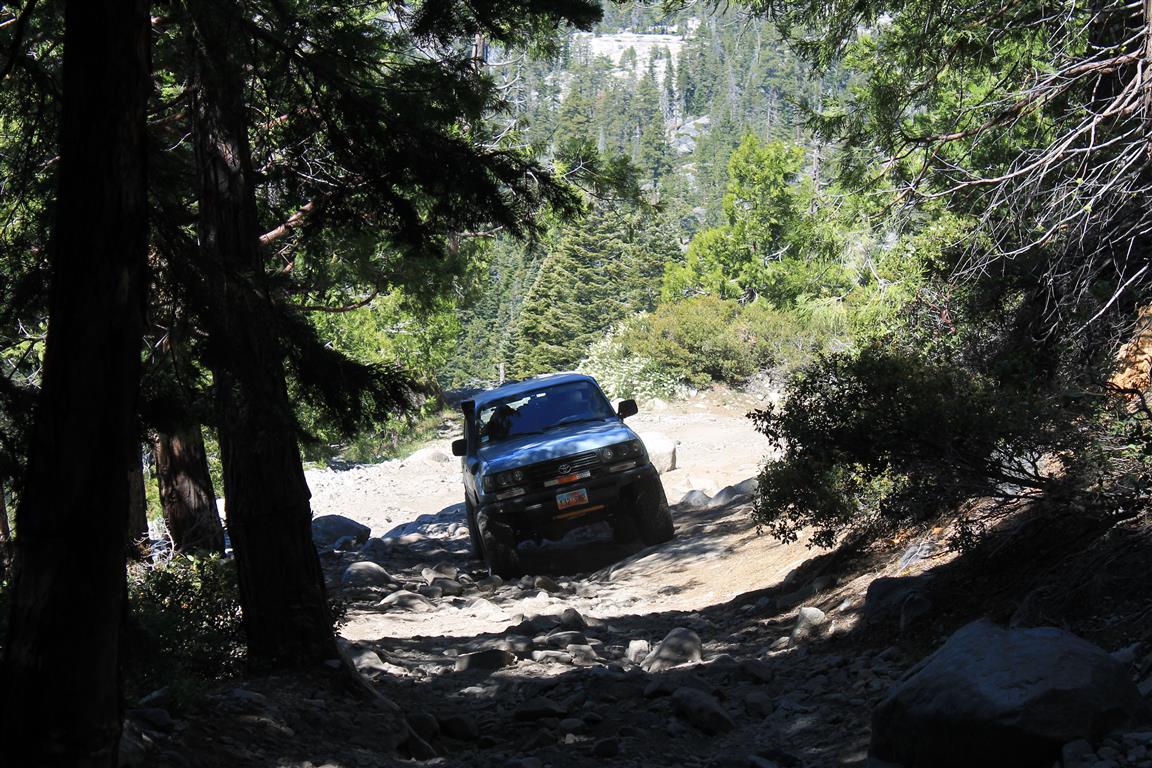 Bryson making his way up a switchback on Cadillac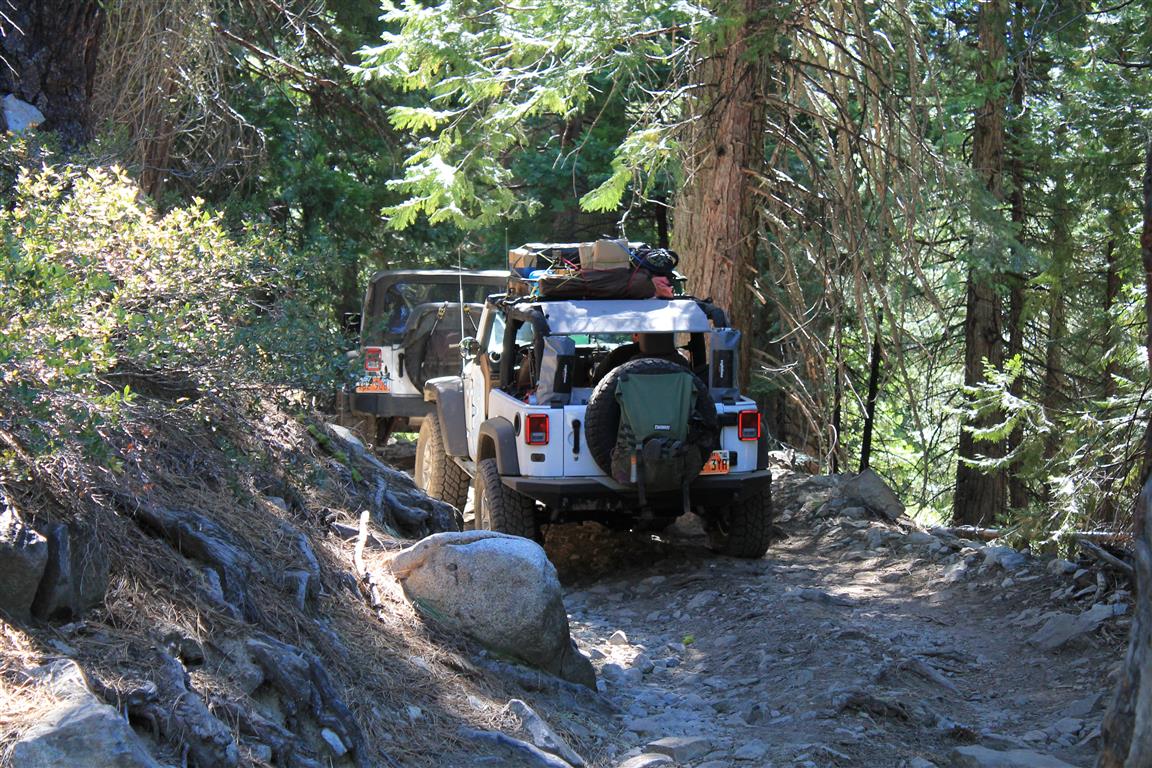 Kind of tight up Cadillac. This in NO WAY shows the slope of the hill.