St. George-Oct. 2010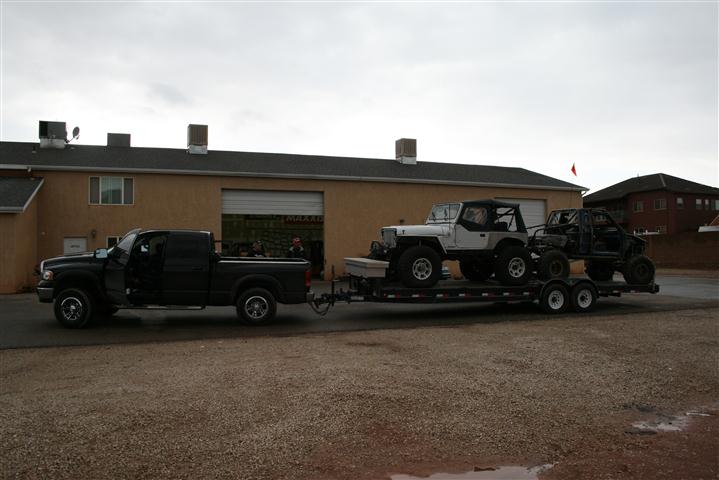 I grabbed Olly's Toyota on my 26' trailer at Steve's house. It fit pretty good on there. It's times like this that I realize I need some airbags on the rear of the Dodge. The "leveling kit" isn't helping at this point either.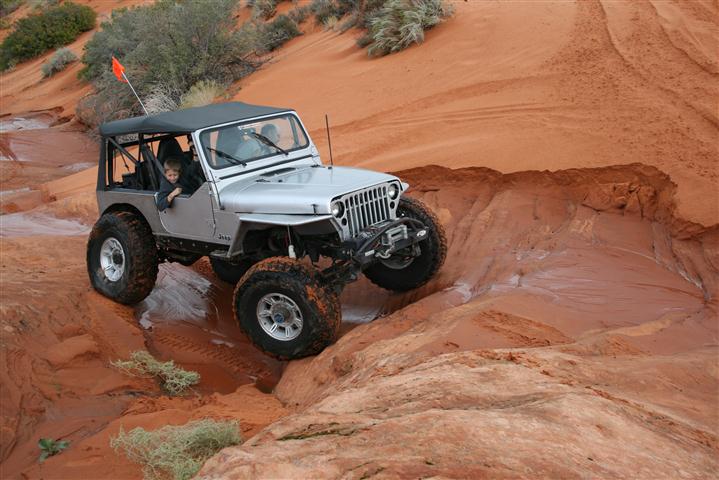 Fun trail with Tracy and Olly. Tracy's been working hard to document trails in the Sand Hollow area.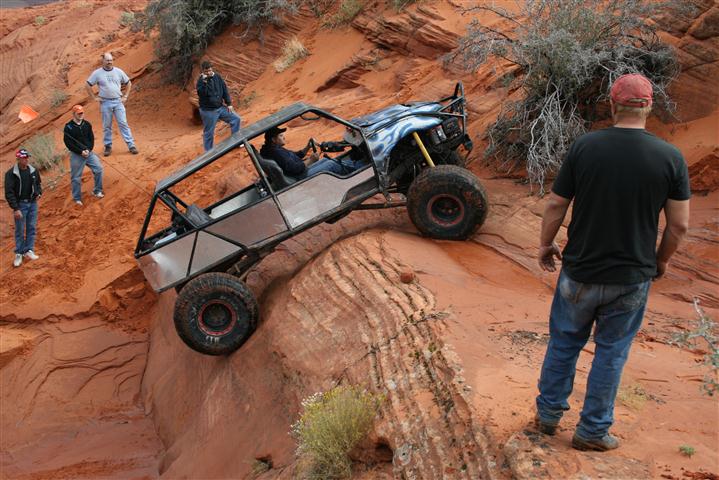 Tracy is on the first waterfall in this trail. He conquered it fairly quickly with the long Toyota wheelbase.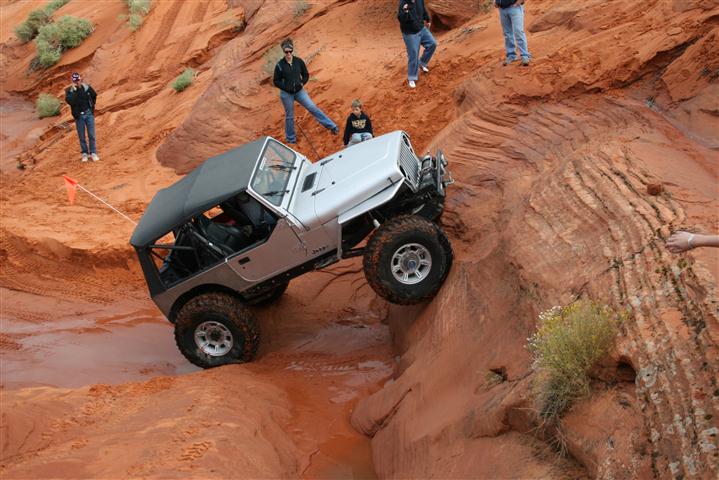 Here I am on the same climb. This is steep enough that as I got on the face of the climb I still had a about 6-8 inches down to go before the back tires hit the wall. The picture was taken before I felt that, but my Jeep is just not long enough to take this obstacle (at least with a softop on). I took the bypass to keep my rig in "clean" shape.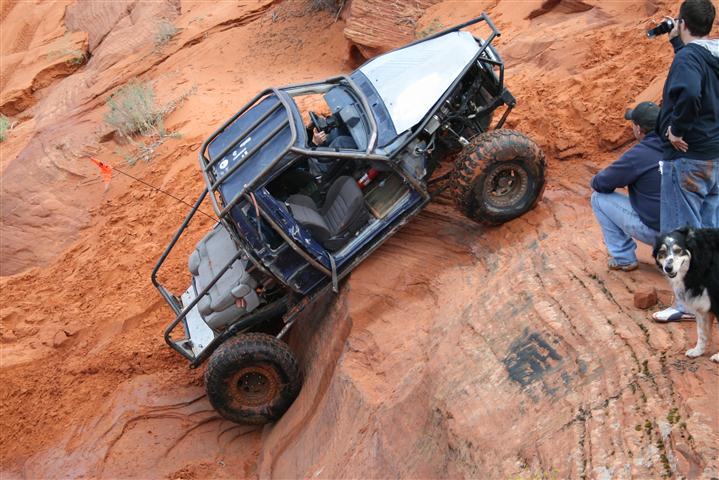 Here's Olly on the same obstacle. Again, long wheelbase, but slick conditions, and the height/angle of the rock made him work to find a line that'd work.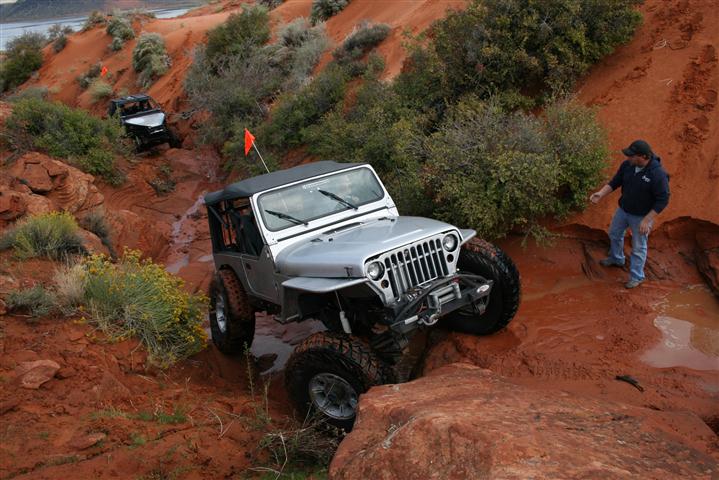 Kind of a fun little ledge. I think I "missed" with this line and had to back up and take a more passenger oriented line to make the turn.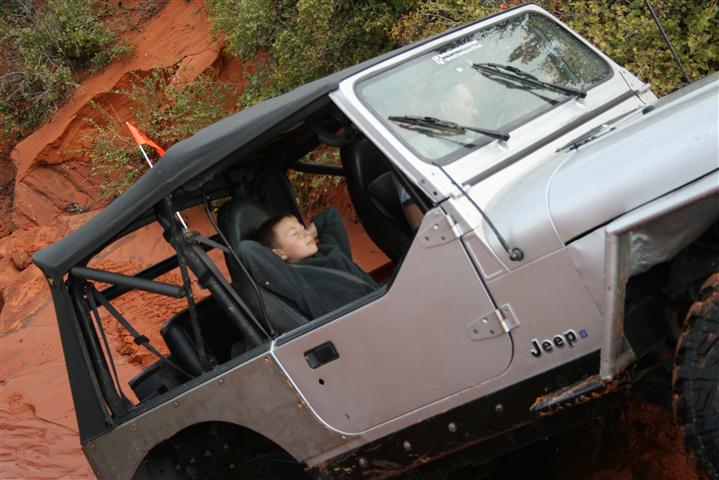 You can tell how intense this climb is from the way Eric is reacting?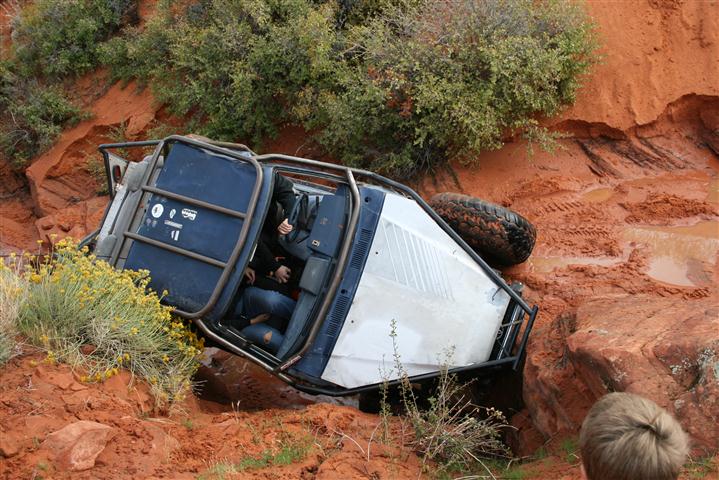 Olly did succeed in making that little climb interesting. I'm not sure if Eric would have still been asleep there?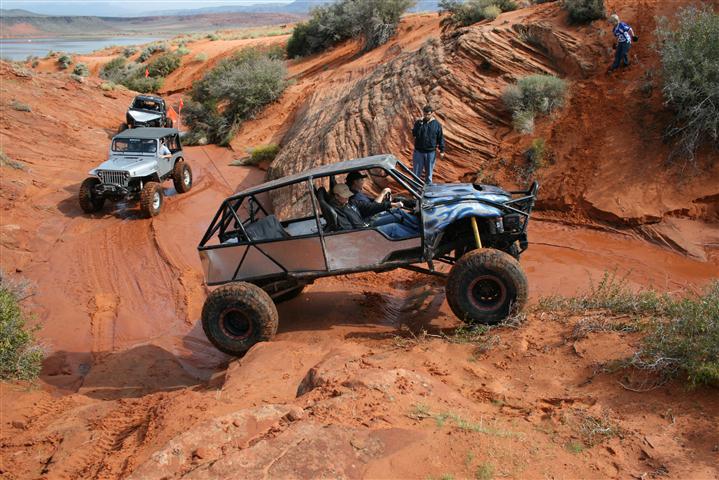 Kind of a nice shot with the Sand Hollow Res. in the background. You can tell how wet the wash is from the overnight storm.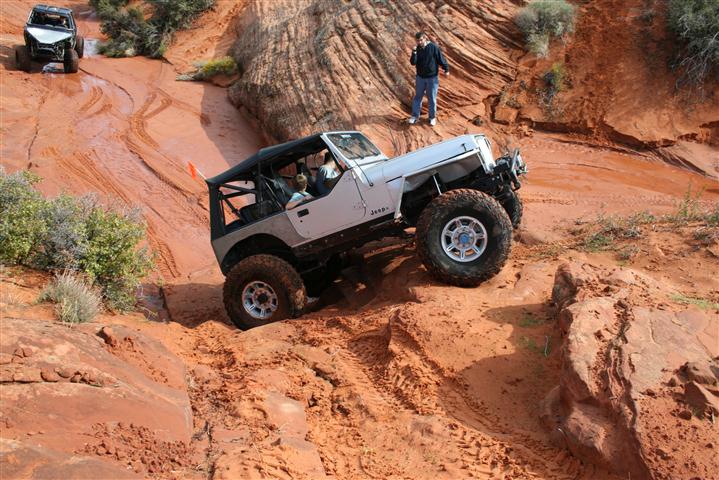 Just a quick little throttle climb. I guess this climb is normally a little harder, but there's a LOT of sand in it at the moment.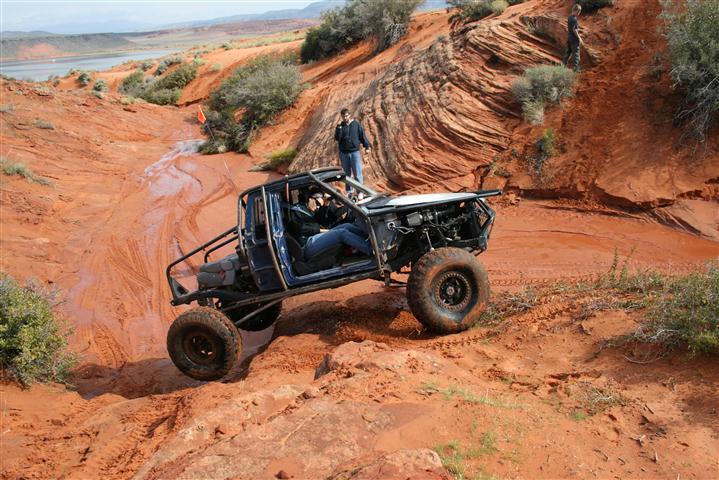 You can tell Olly hit this one with some speed (well, what a little 4 cyl can give you ;) ) with the position of both rear wheels.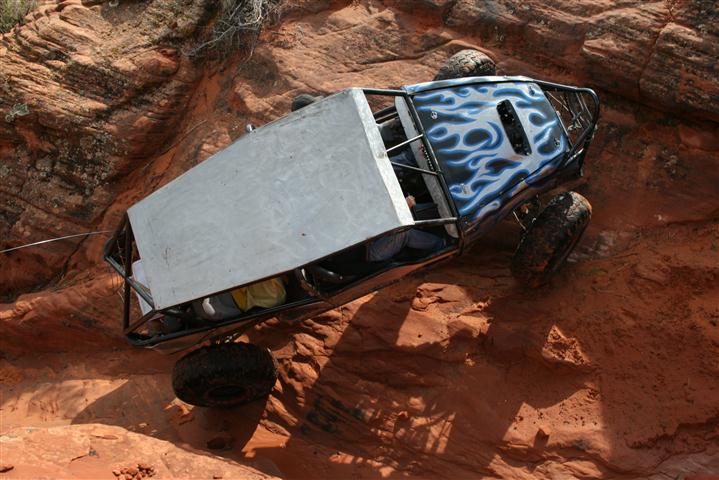 Kind of a funky off-camber for Tracy. This obstacle is one you've got to climb off camber and cut back down in reverse to make a slight off-camber climb to the drivers side. Not super nasty, but somewhat uncomfortable.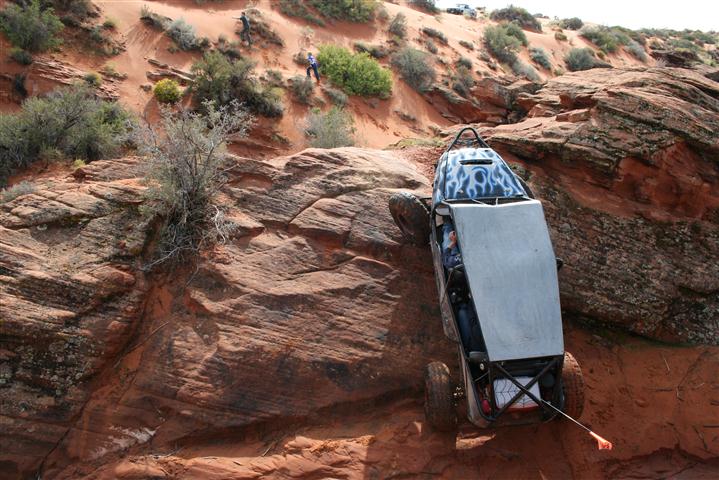 Here's Tracy lined up for the second part of the climb.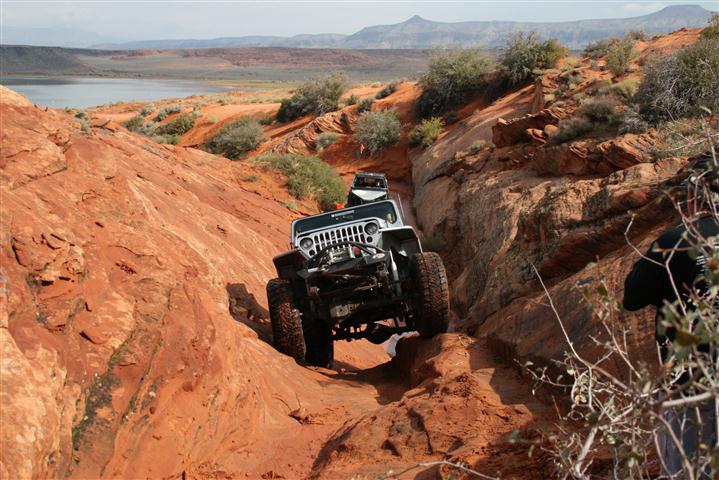 Here I am climbing up the slot to get in position to climb the other off camber.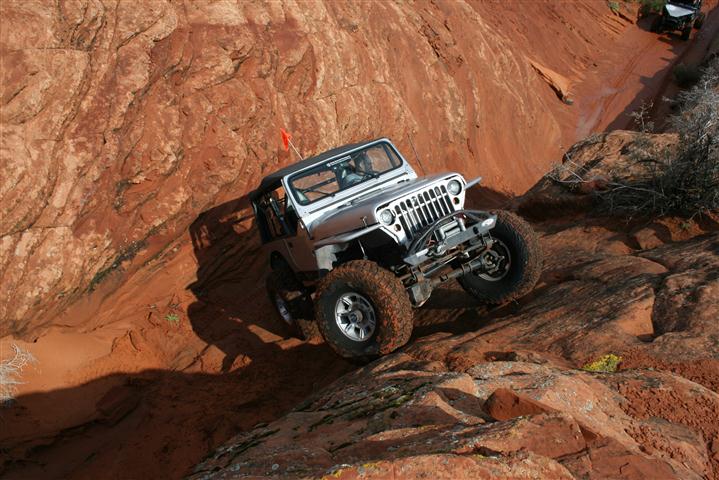 ...backing back down into position to make the climb and go over the top. (seen above in Tracy's picture)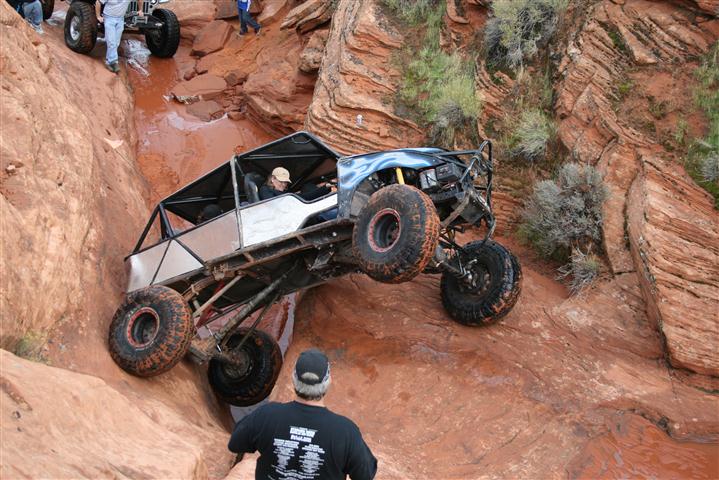 Tracy takes on the next obstacle. Makes me wonder if I want to bail on this trail? Good stuff, but I'm kind of liking my rig nowadays. :D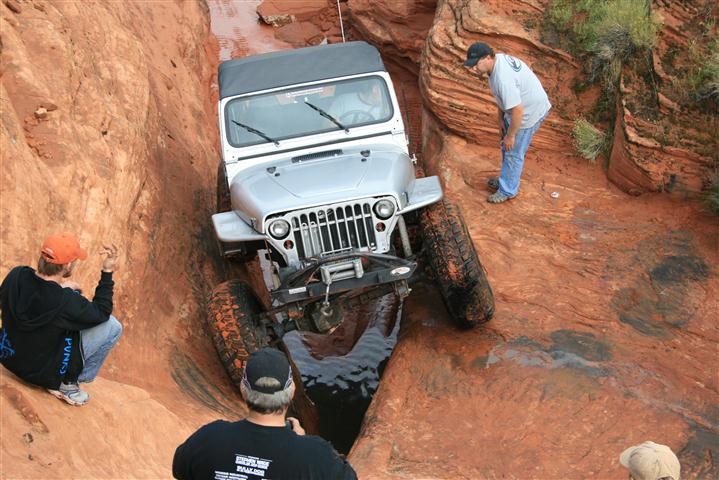 This is another tricky spot. There's a pretty good pinch to get up and then a bit of a tight spot at the top. Olly and Tracy are discussing what will happen as I start to turn out of this spot. They are trying not to put my Jeep in the same position Tracy is in above.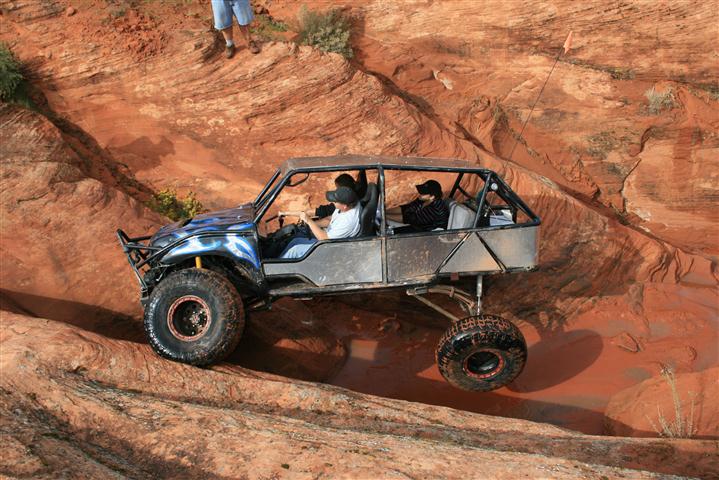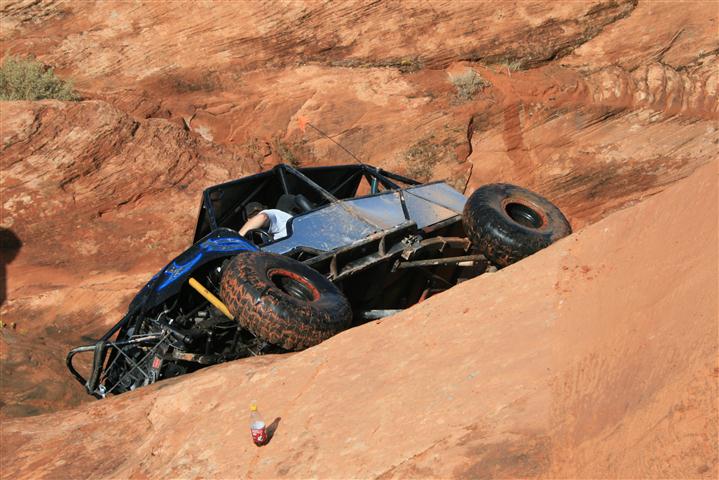 Here's our last obstacle of the day. We were making excellent time and then Tracy ended up cutting a sidewall in the passenger rear tire. He really needed it on this obstacle. I had PLENTY of time to try to figure how I'm going to climb this spot. There are TWO slots you have to navigate in here. Neither one of them are to nasty, but the combination of both and the waterfall that Tracy's drivers side tires are on make things pretty interesting. I MAY have done better in here due to shorter wheelbase, but it might have bit me just as easily. Unfortunately it was time for me to head off to my appointment after we got Tracy out of here. Olly had lost his brakes and done a great job driving with minimal brakes to this point and Tracy needed a tire. We headed back to the trucks to try this one another day.