U4WDA Winter convention 2009-Saturday Jan. 24, 2009
We run The Maze trail with a huge group. Another great trail! I highly recommend the St. George crew. Excellent trail and a fun group. Most pictures by Corbin Bryson (my 11 year old). There were some vehicle mishaps. A GM alternator and TJ water pump. I blew a bead on a big rock. Here's the pics... The rain held out for us for the most part. Definitely not as slick as yesterday.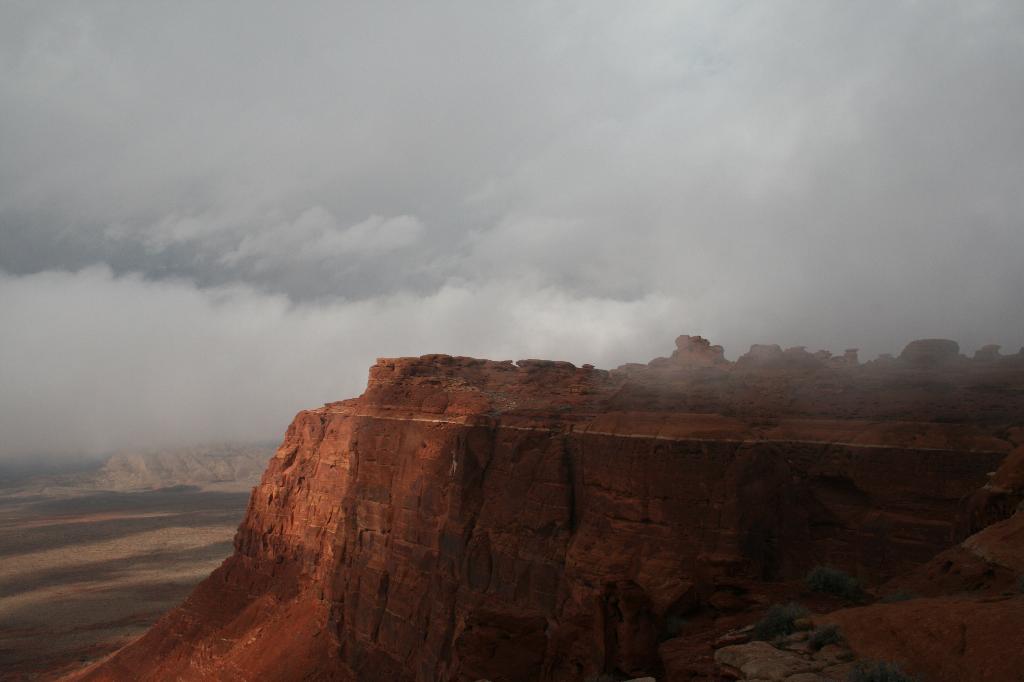 A little fog. Really pretty.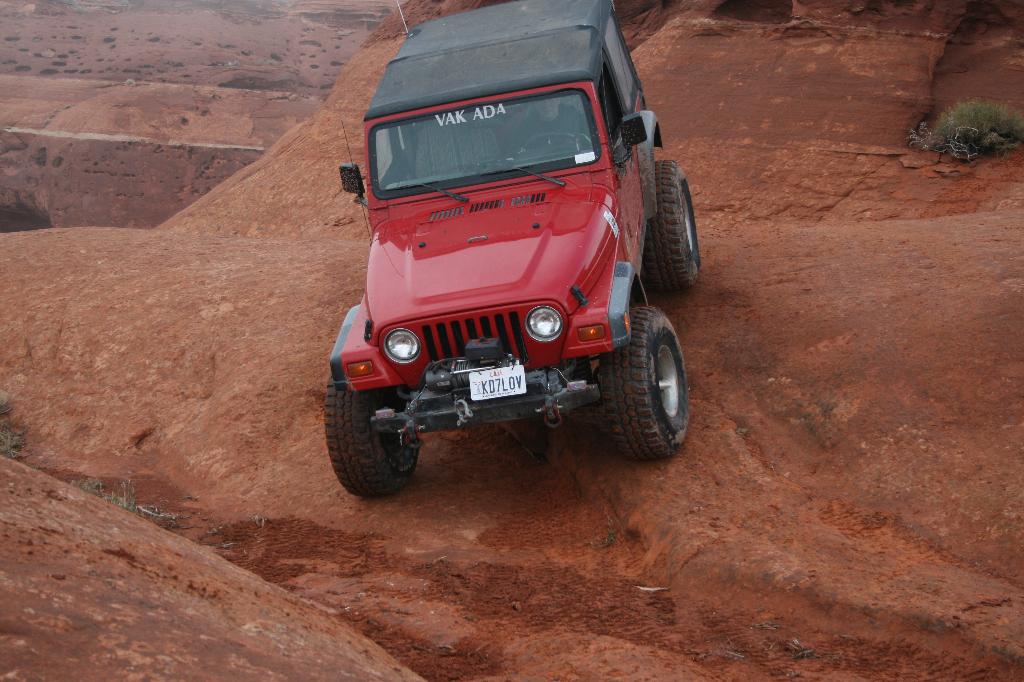 Hey, it's Crazy Larry on a trail with me. :D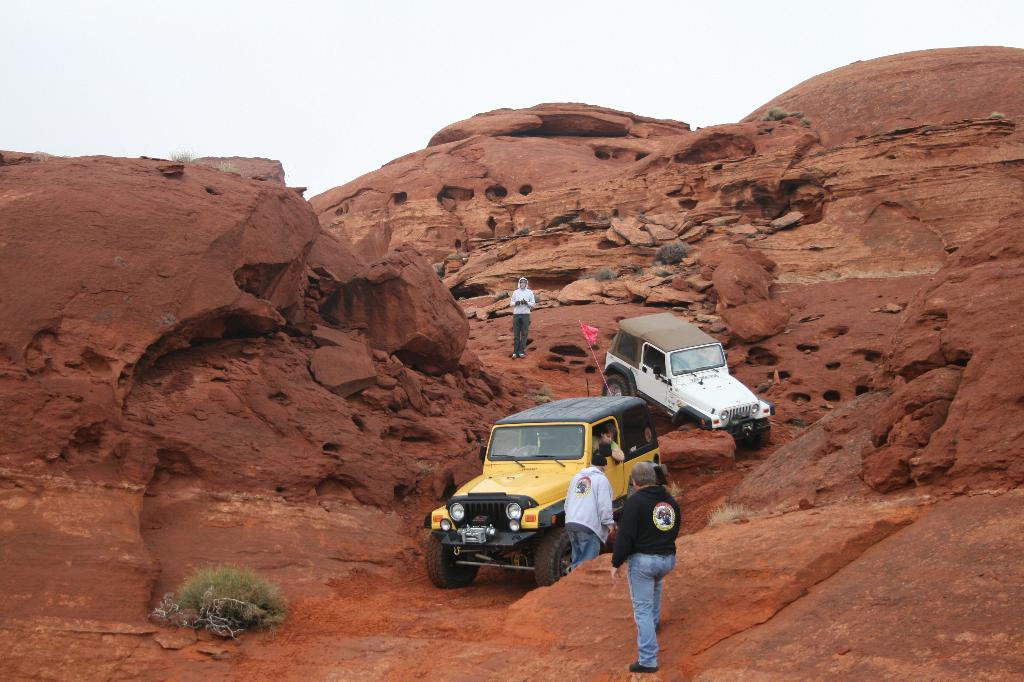 This is a not so good shot of the "first obstacle" that I remember. You pull down this hill and have to avoid that BIG rock as you come down.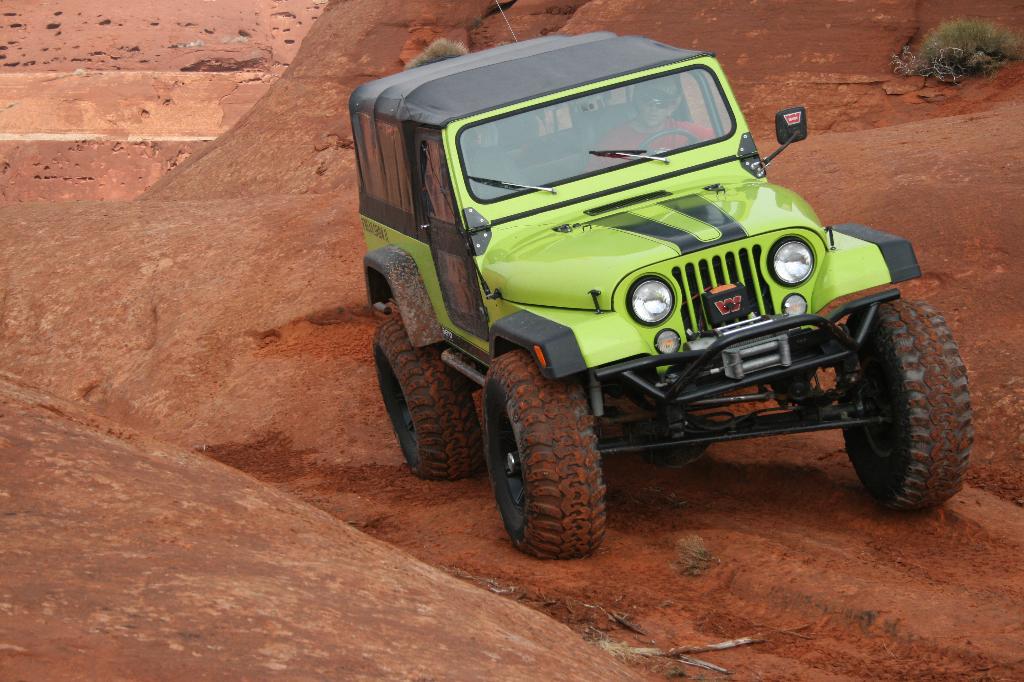 Hey, it's Freakshow II. :D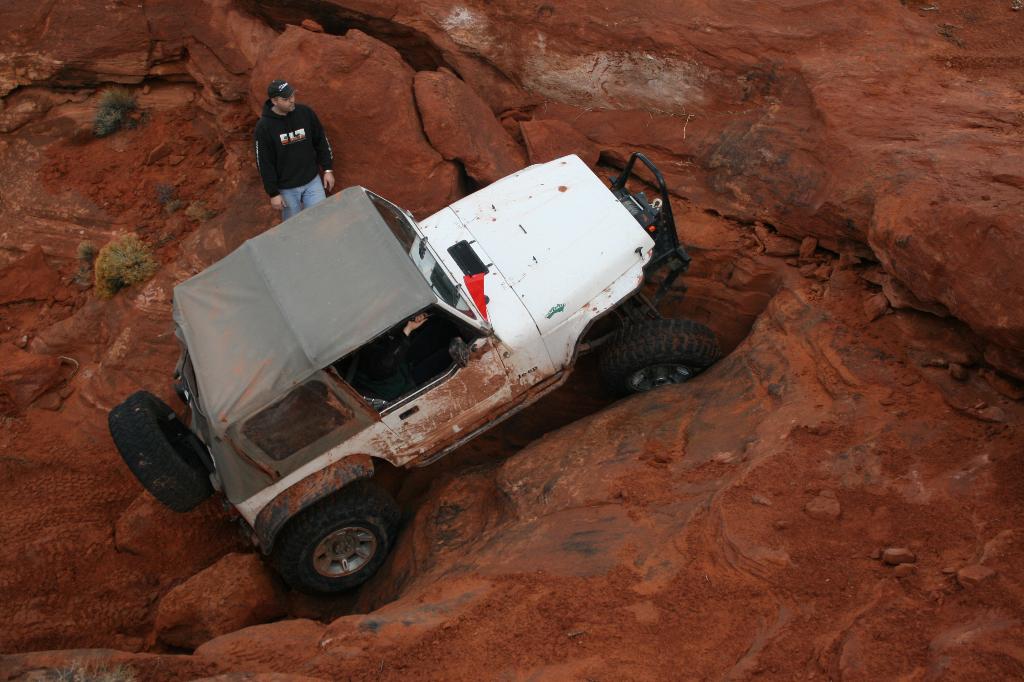 This is an optional obstacle.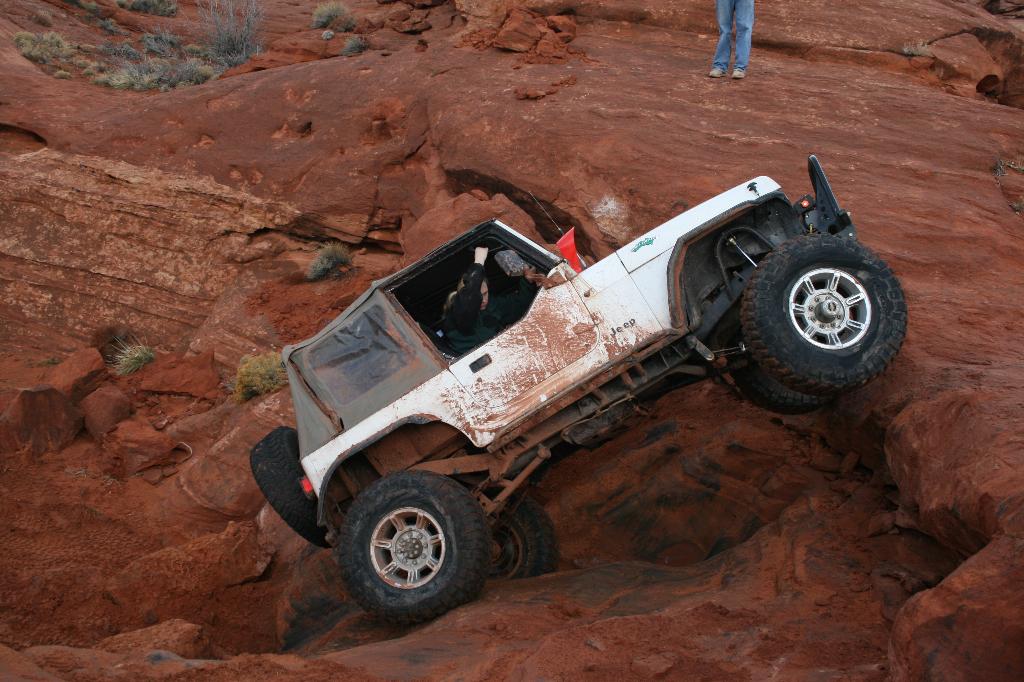 We almost got this rig up but his passenger front was just getting a little light for my taste. I was next and took a VERY similar line that he was on and I put him on and pretty much drove it. He's running a 4 cyl. but I don't think that hurt him there at all. Really fun climb. I was SUPER stoked to get up it but kind of sad this Jeep didn't make it up it. He seemed like a nice guy.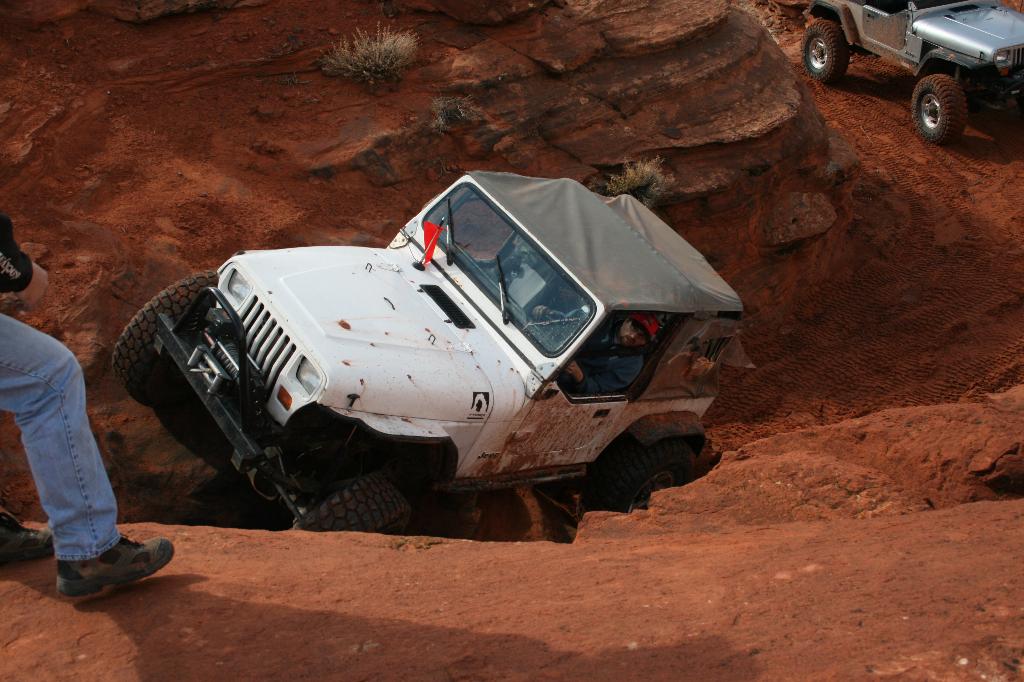 Corbin must have been a little intrigued by this climb as he took a few shots. Good angle IMHO.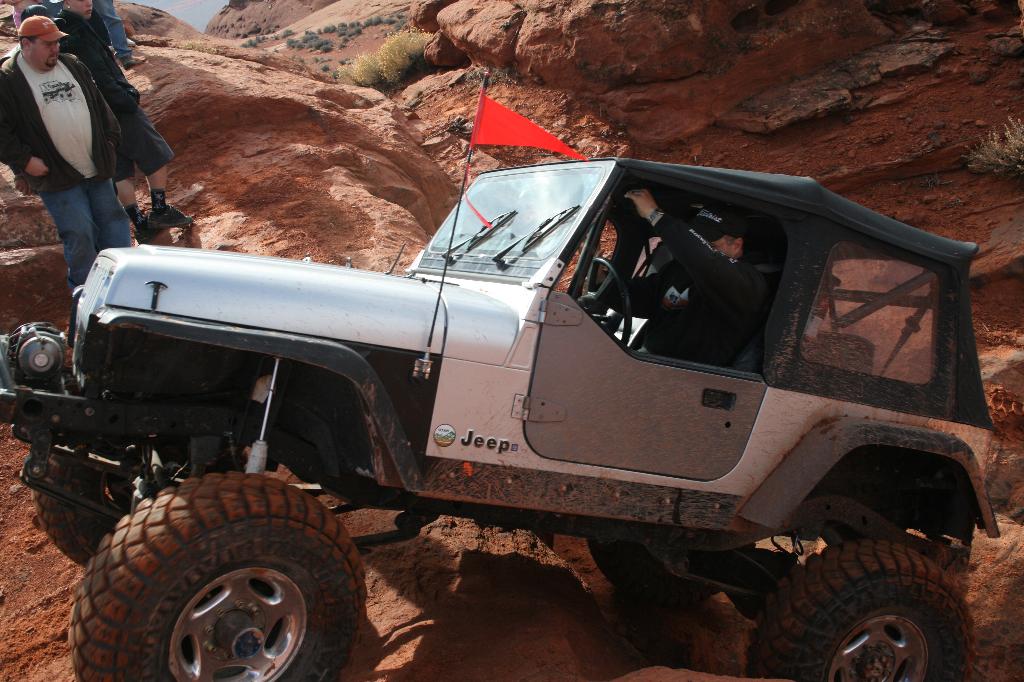 Wow, this is me just coming over the top. REALLY fun climb and a good adreniline rush to get the day going. I had at least three more climbs to make and on scared me pretty good. :D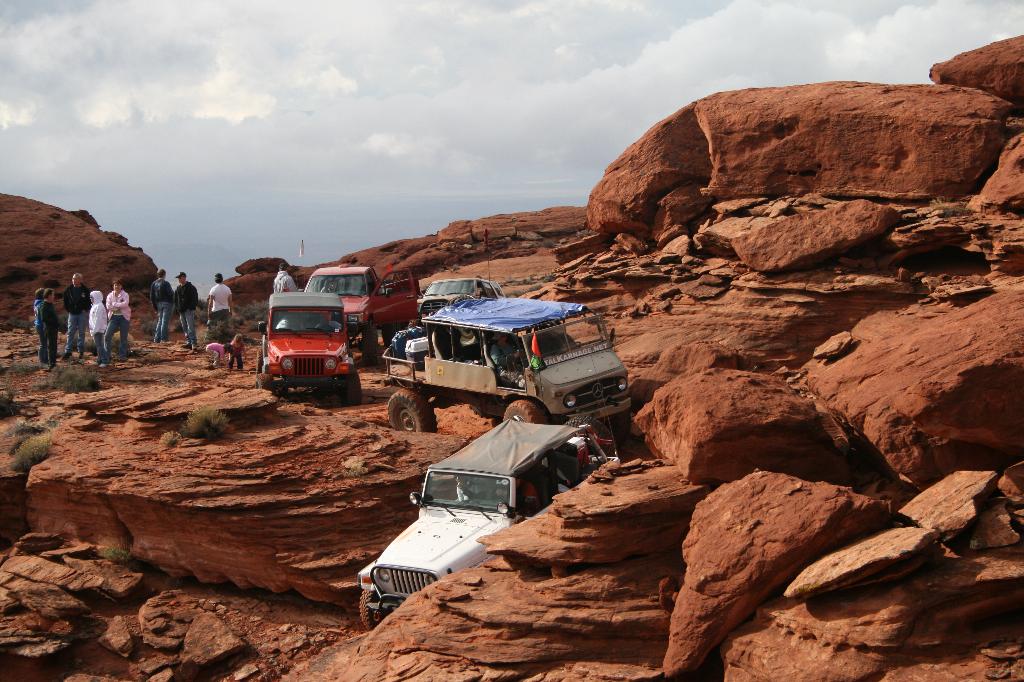 Great shot of the variety of rigs and the type of trail we were on. I loved this trail. I spent two days in St. George and would love to spend a week or two. Can't say enough about the trails or the hosts. GREAT event.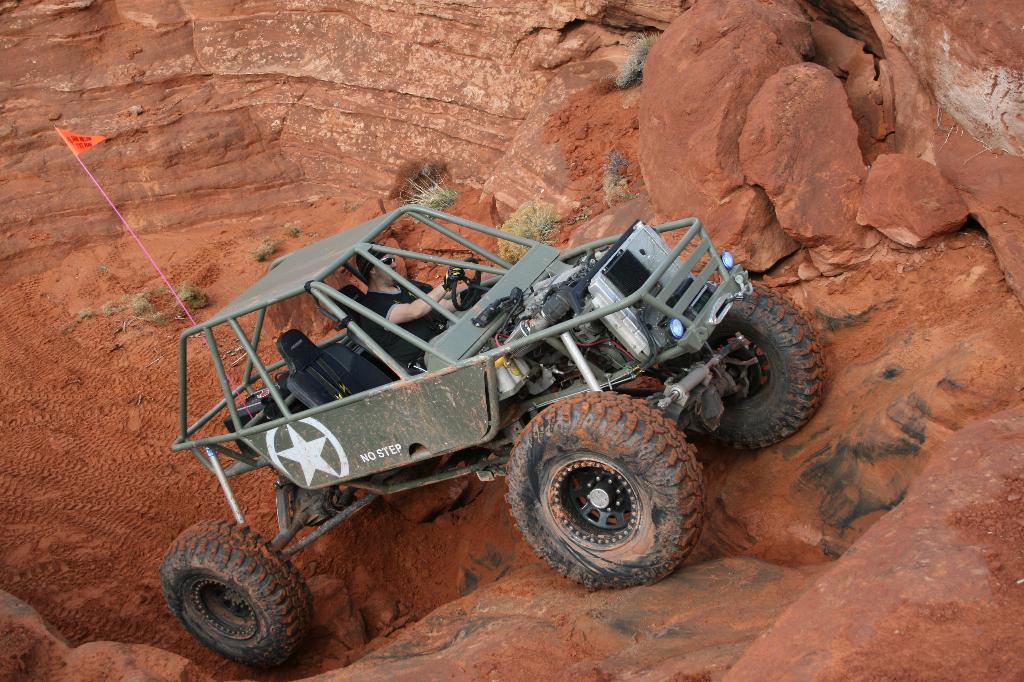 Here's Steve in the same little bowl I climbed out of. He made it look easy.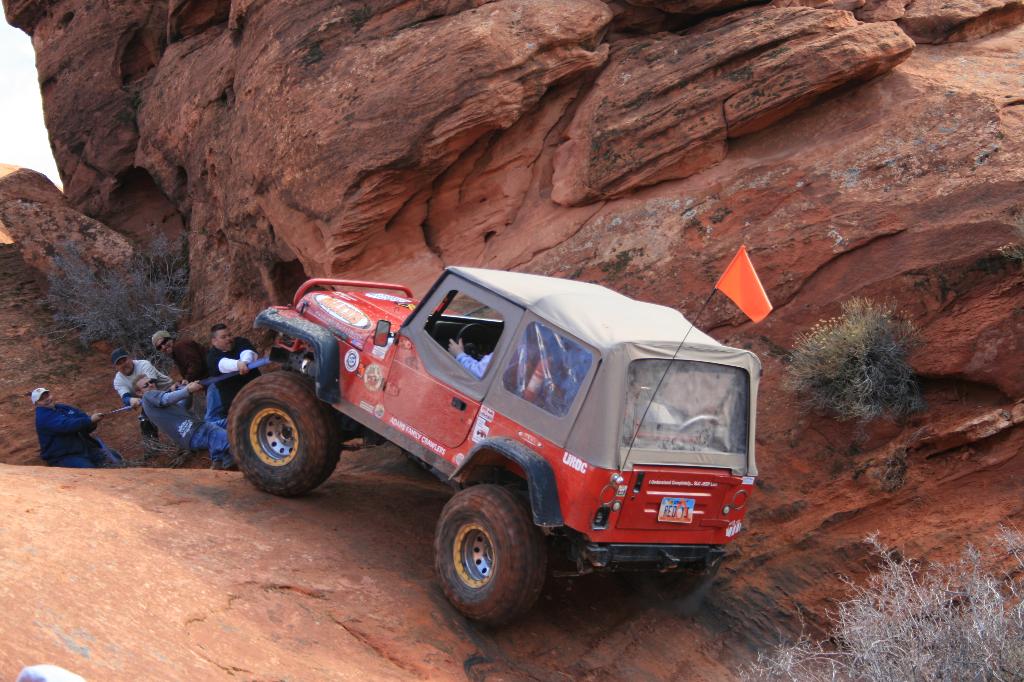 Here's Todd and Linda in a spot that we had a bunch of issues as a group. I don't seem to have any pictures of the climb just before this one, but that totally got my attention. This little climb was no slouch either. We had two rigs flop here so we started doing the spotter strap thing. There's just no room for a rig to anchor to in there.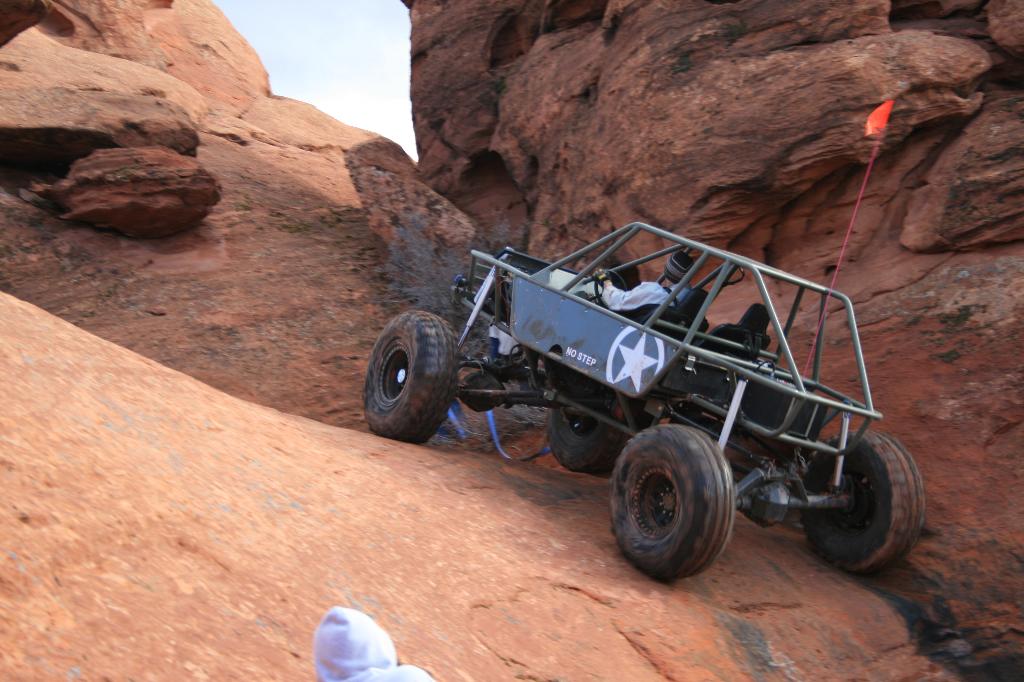 Here's Steve making climbs like this look easy.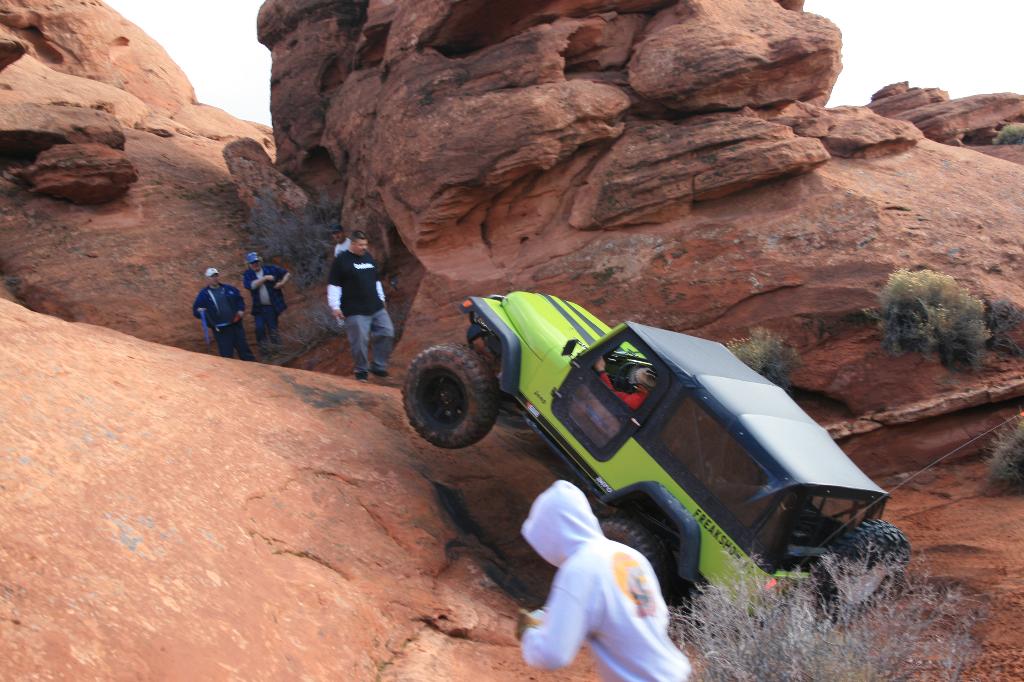 Here's Brett getting a little sketchy on that obstacle. He used a spotter strap, thankfully.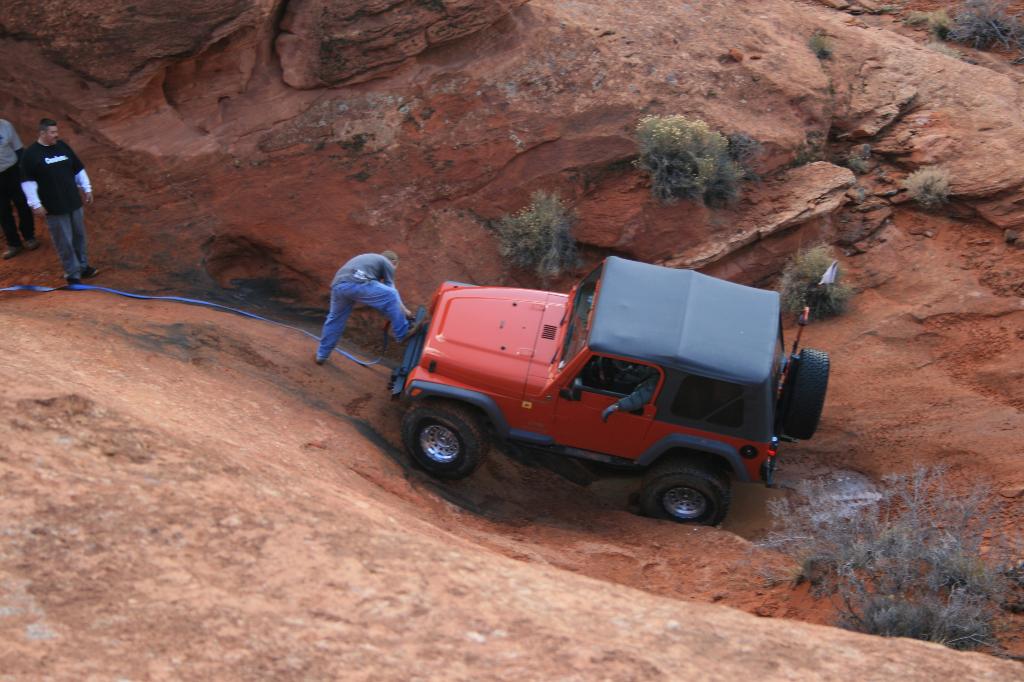 Here's a great picture of the guys hooking up to pull another guy up. I never caught this guy's name, but he seemed like a real nice guy and was out there with his wife.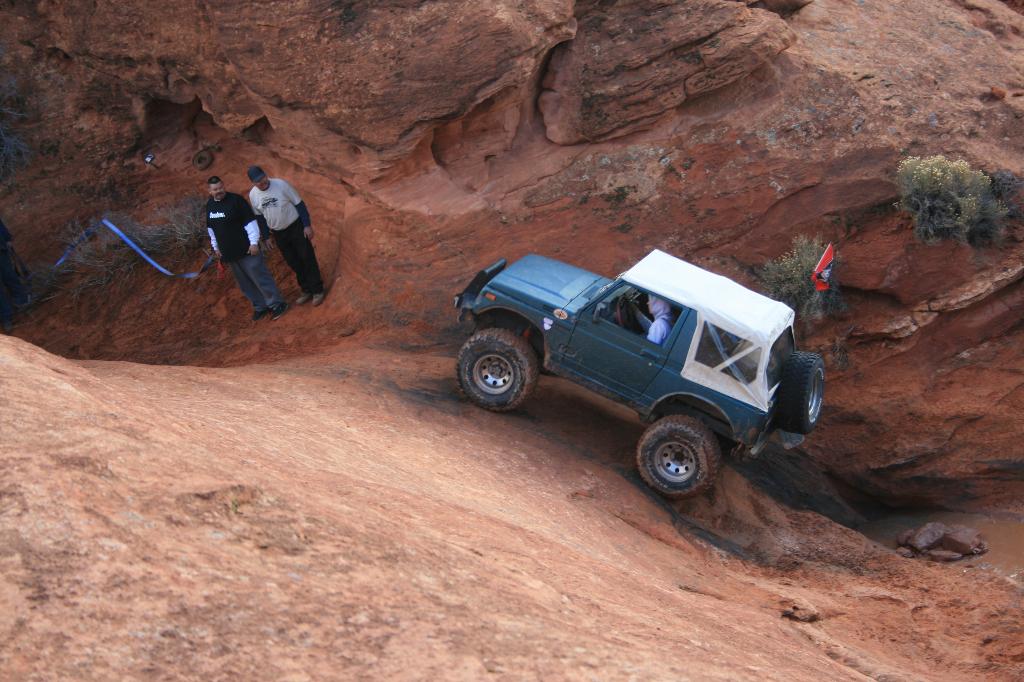 Hey, can the 'zuk make it up?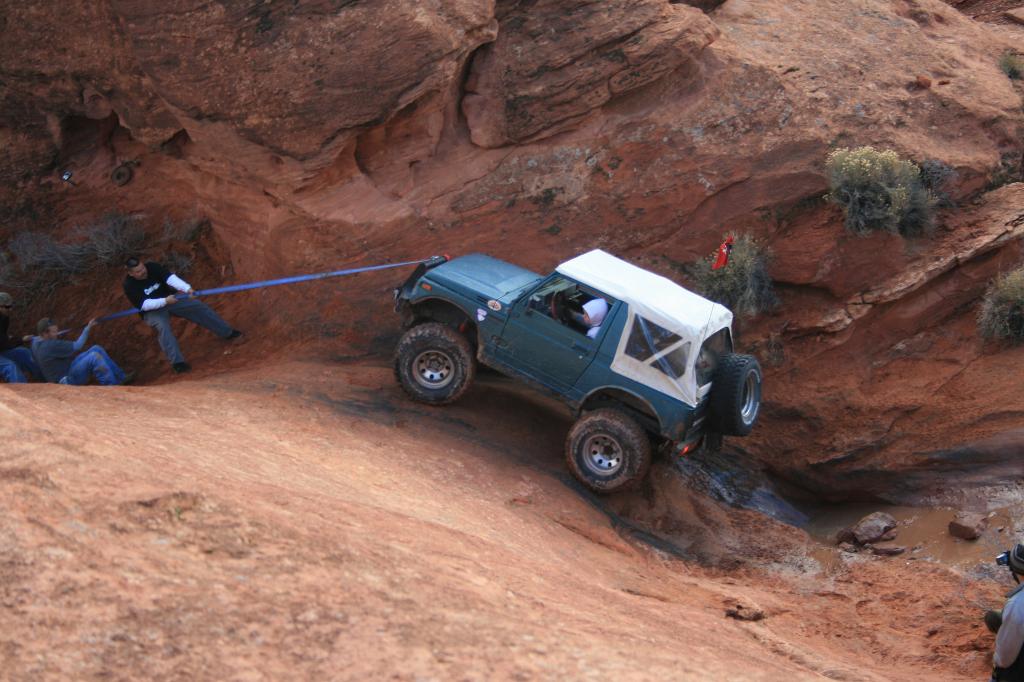 not quite. He was a smart kid. He was having fun and smart about when to take some assistance or keep trying. Guys like him are fun on the trail. I found out later he's related to Crazy Larry. Makes him a good egg in my book.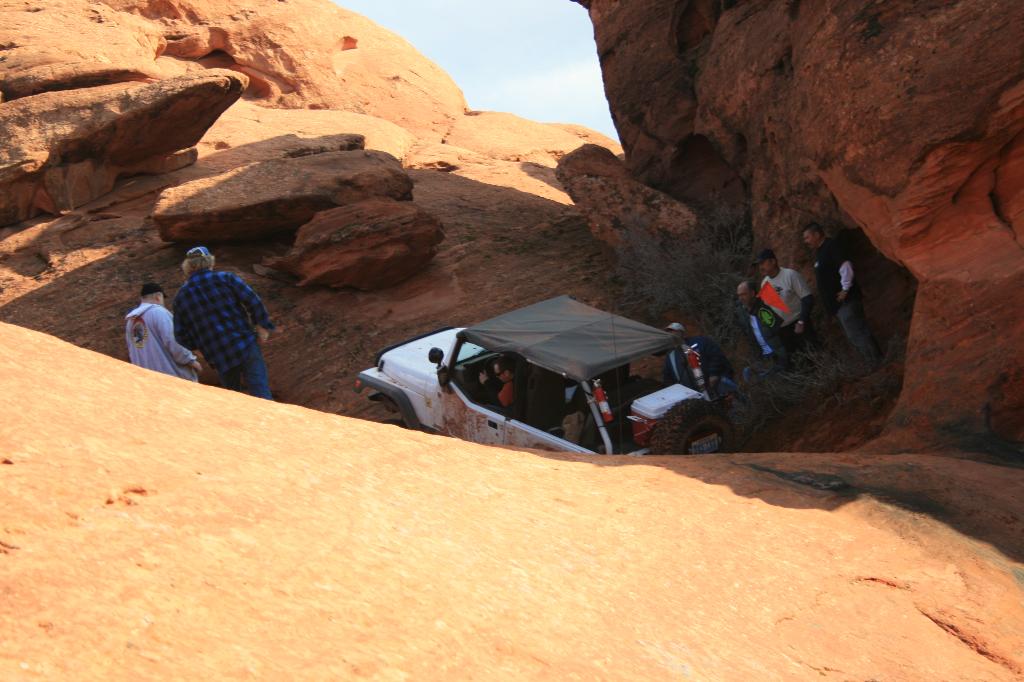 Here's an LJ jockeying around to get in position after getting pulled up.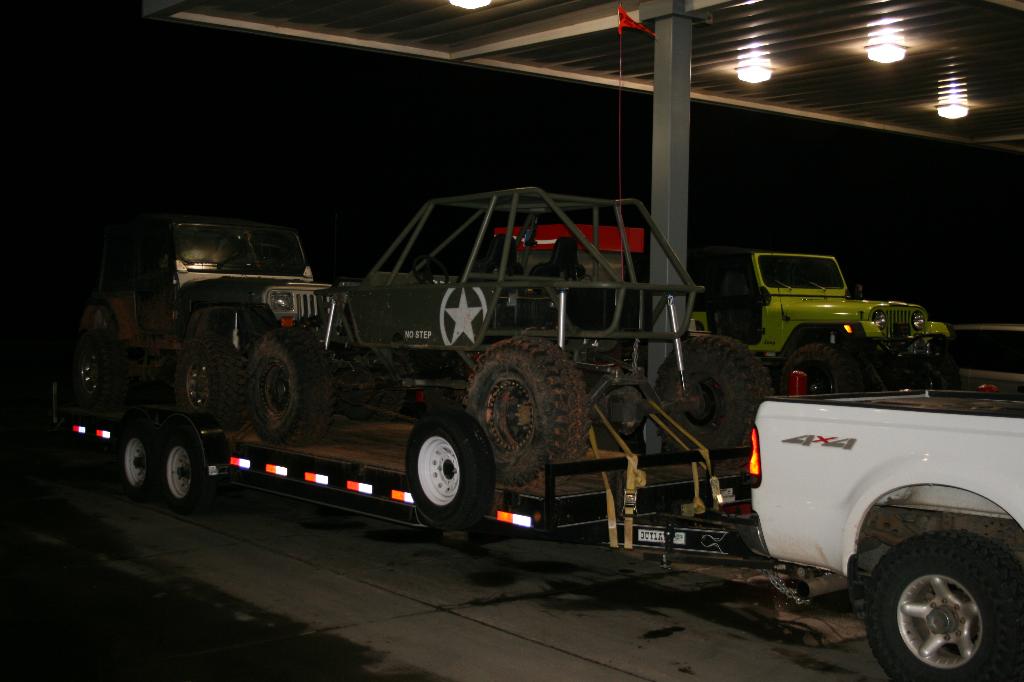 Here's my load home that night. We got to Woods Cross real close to 2 am.