Moab Easter Jeep Safari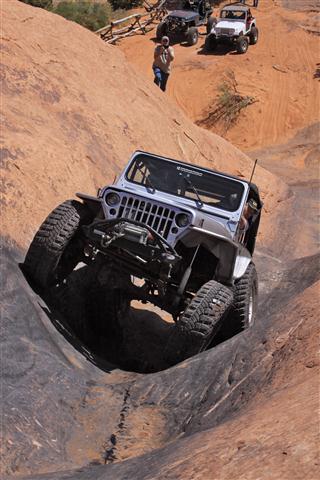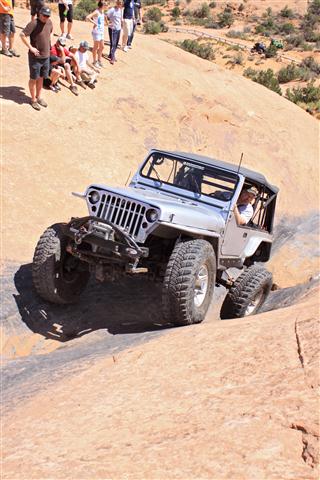 Escalator--photos courtesy of "Action Shots" in Moab, UT. I was to lazy to get out my camera for the whole trip. Relied on other people's pics. Anyway, this is my first time on Hell's Gate and Escalator in this rig. Neither were very eventful, but I'm always a little wary of both. They're not rocket science, but definitely something that should get your attention.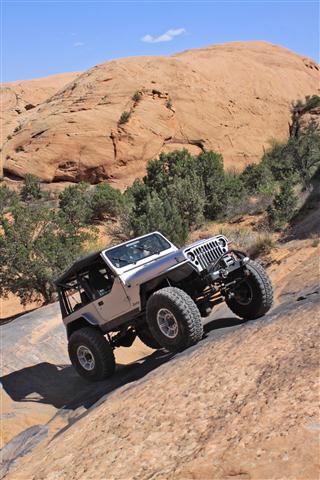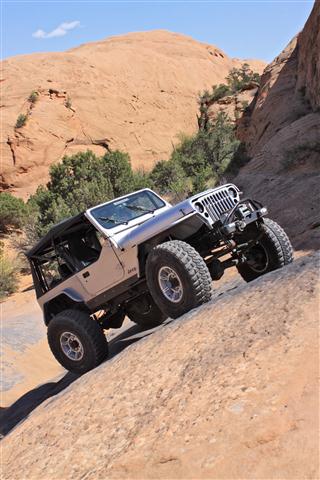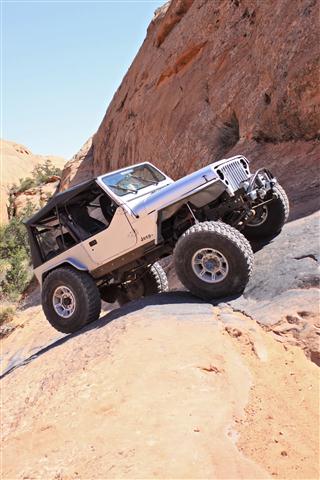 Tip Over Challenge--photos courtesy of "Action Shots" in Moab -- Steep, and slightly off camber but nothing to nasty unless you get off line.
Had a great dinner at Moab Diner with Brian & Becky Cannon then bailed in the trailer. No repairs to the Jeep thus far. My neighbor's showed up ready for trail duty at Poison Spider for Sunday. We got them situated and camp "setup" and crashed for the night.
Sunday, I'm a trail gunner with Dave Adams on Poison Spider. Fun trail. Not my favorite, but definitely entertaining. There's something for everyone here. Photos are courtesy of Jason Olsen's iPhone and Jason Olsen.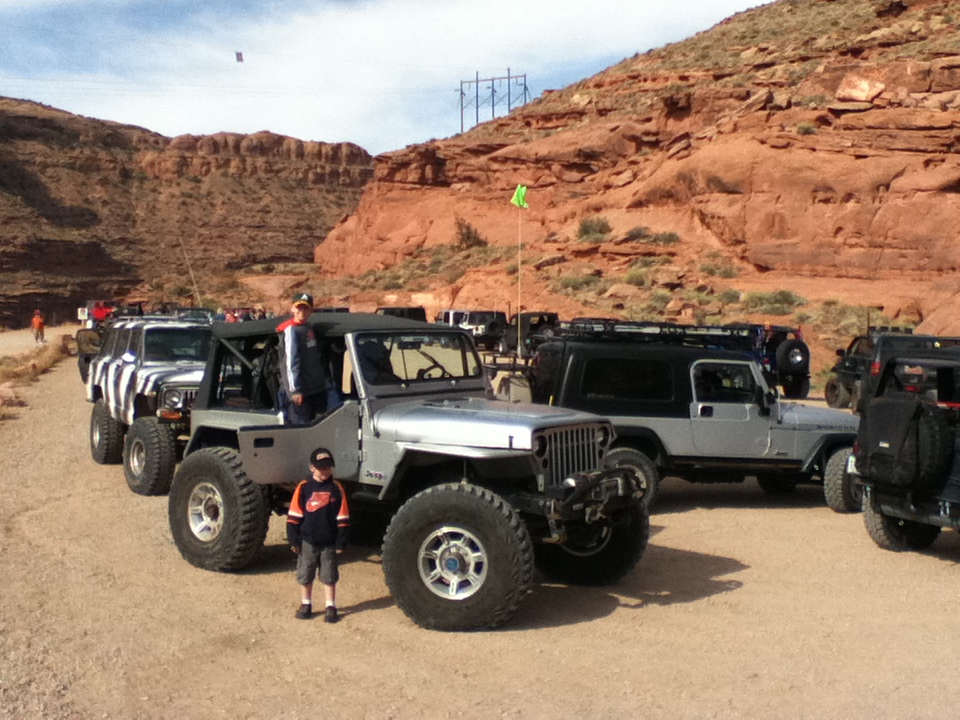 Staging and airing down at the Poison Spider trailhead parking lot. Our group used up ALL the parking lot had. I'm about 10-12 from the end as we start. Kind of a "mid-gunner". Excellent group and an entertaining drivers meeting. One of my favorite things Dave said was "You guys have driven hundreds and thousands of miles to get here to drive on our rocks. Sometimes it's bumpy, but get your money's worth by staying on the trail."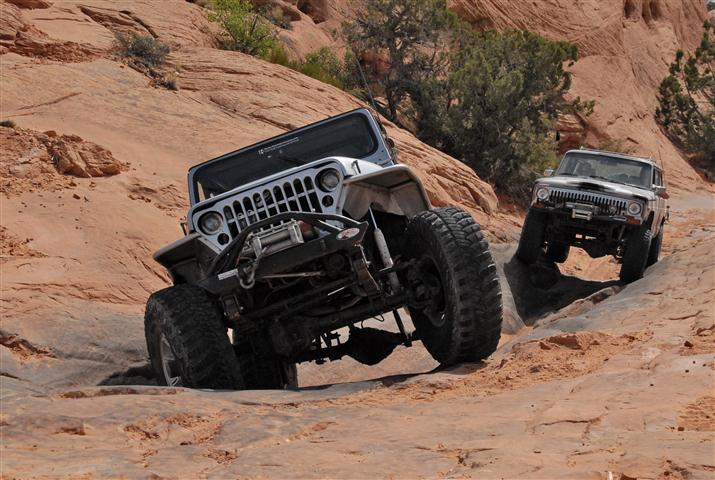 I don't have any pics until the "wedgie". Here's one from Action Shots. FSJ behind me was on Hell's Revenge with me the day before.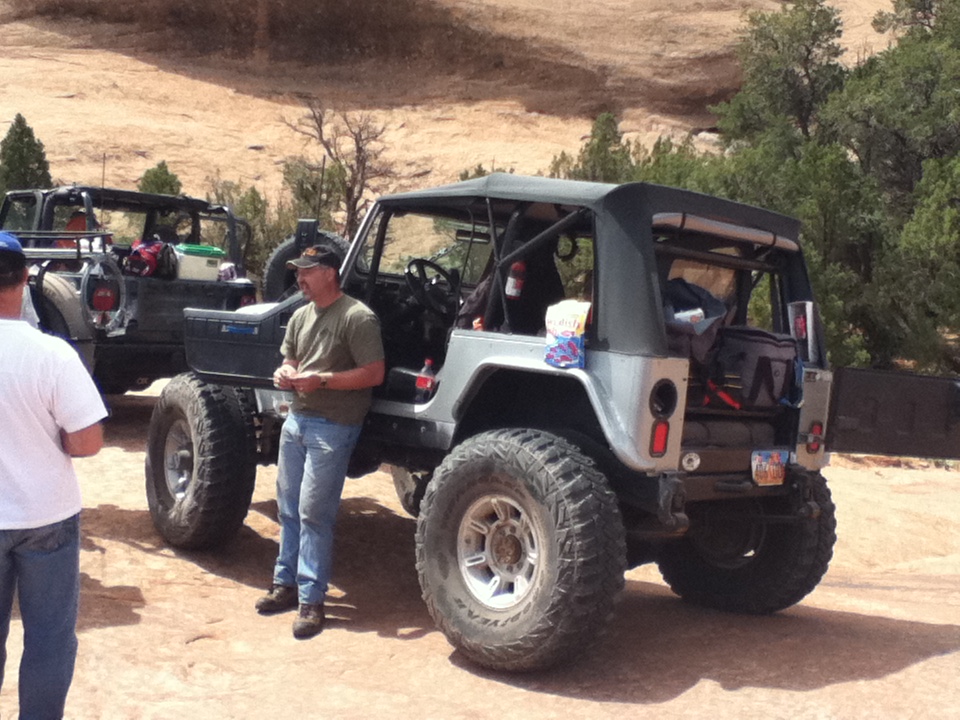 Here's our lunch stop. I definitely dress up for these events. :-) I'm kind of a simple lunch guy. There are great restaraunts in Moab. Why spoil your dinner with a big lunch? Some crackers, Swedish Fish and some beverage and you're good to go.
Hrmmm....Sand?!?!?! Small block, 40" tires... sounds pretty fun to me. Let's see what this pile can do.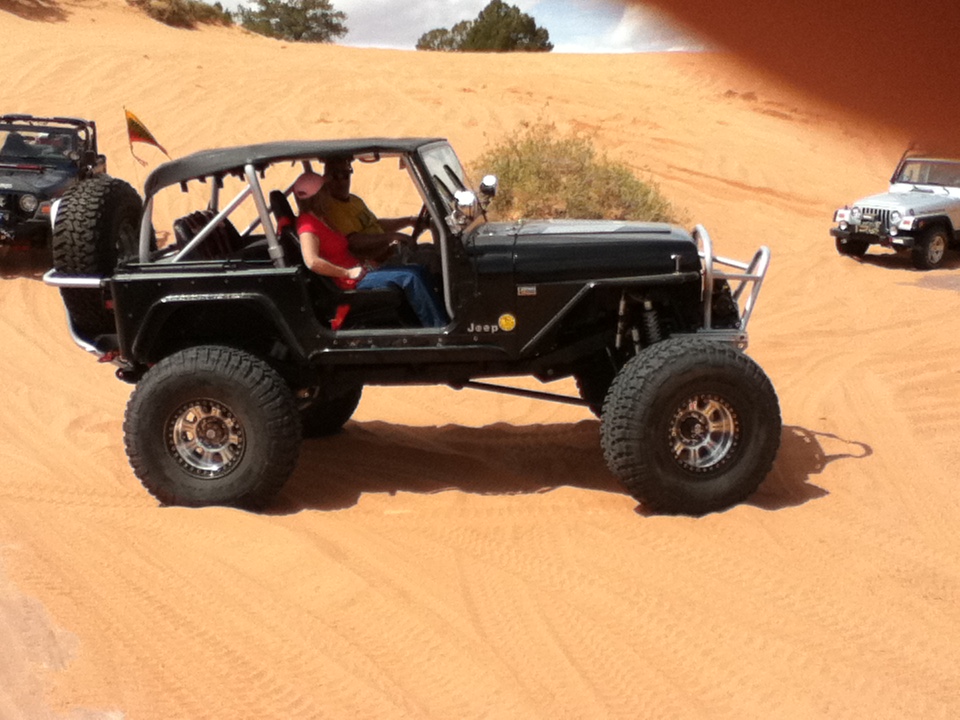 A very nicely built Jeep that was our tail gunner. Guy could wheel and had a very well executed rig.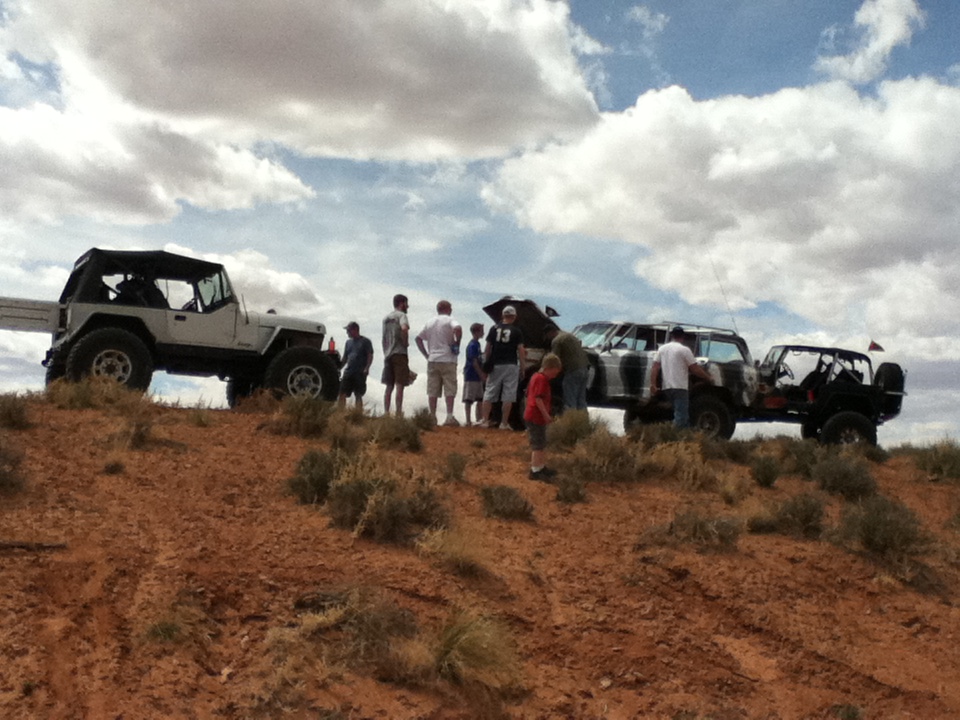 Well, here we have a bit of a mishap. Not exactly as bad as it could have been, but I was surprised how prepared we were for the worst. I got a call on the CB that said the vehicle in back of me had a fire. I flipped my Jeep around without trampling any plants (4 point turn) and within seconds was about 10 yards away from the vehicle. I was out of the Jeep with the fire extinguisher about the same time he got stopped and out with his. We opened the hood ready for the worst and it happened to be a power steering pressure hose that had rocked loose and was spraying ATF on the exhaust header. Whew.... We tightened up the fitting, cleaned up the dirt that got contaminated under the rig and moved on. I was very impressed how prepared we all were and how we all pitched in to do whatever was required to get the group moving again. Good stuff.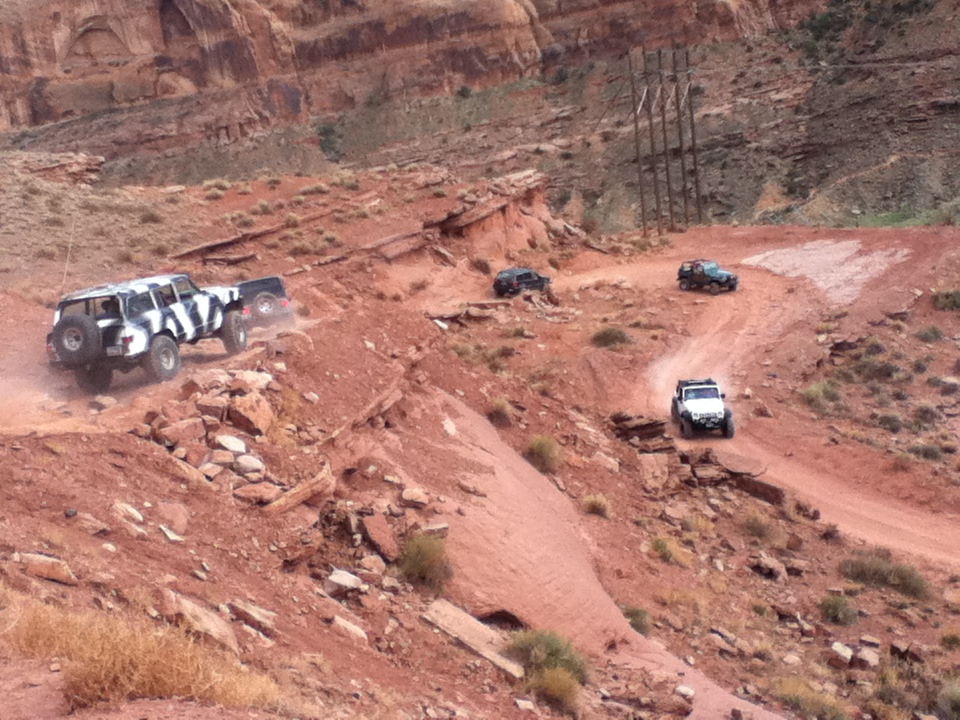 And here we are at the end about 4 pm. Just in time to hit Jayz pizzaria thingy. Good stuff
Monday we head to BFE on the trailer to give Minor Threat and Green Day a try. Good trails with some tough lines. We were out there as guests of the Superior guys. Nice parts and if I need to upgrade, I'll be checking them out. While I out there, I ran into this....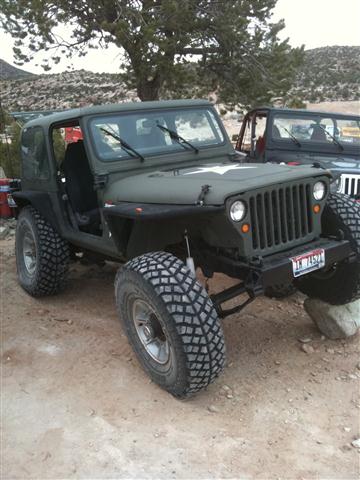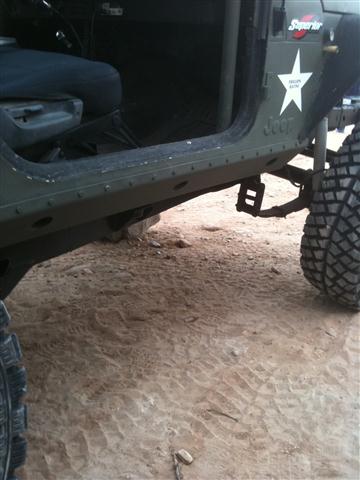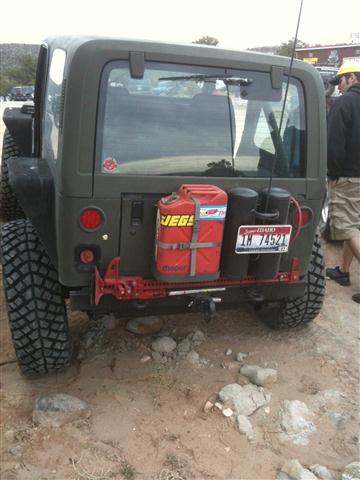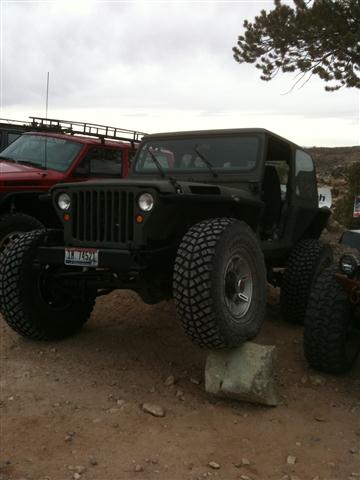 Hrrmmm....same rims, similar axles (14 bolt and a D60 front), GPW grille with a modded YJ hood, 40" tires....leaf springs, .... Very interesting. We compared notes and decided we should hook up later to take some photos of our cousin Jeeps (brother from another mother type of thing). Very clean, well executed, budget college kid build. Nicer than mine, IMHO. I like the hardtop and love the paint. We never did hook up. He seemed to have some sponsor things he needed to get done and the last day he was in town, I had a CV failure on Pickle. Some other time, maybe. He's still running most of his YJ gear. I'm not very YJ at all. (well, a frame and tub)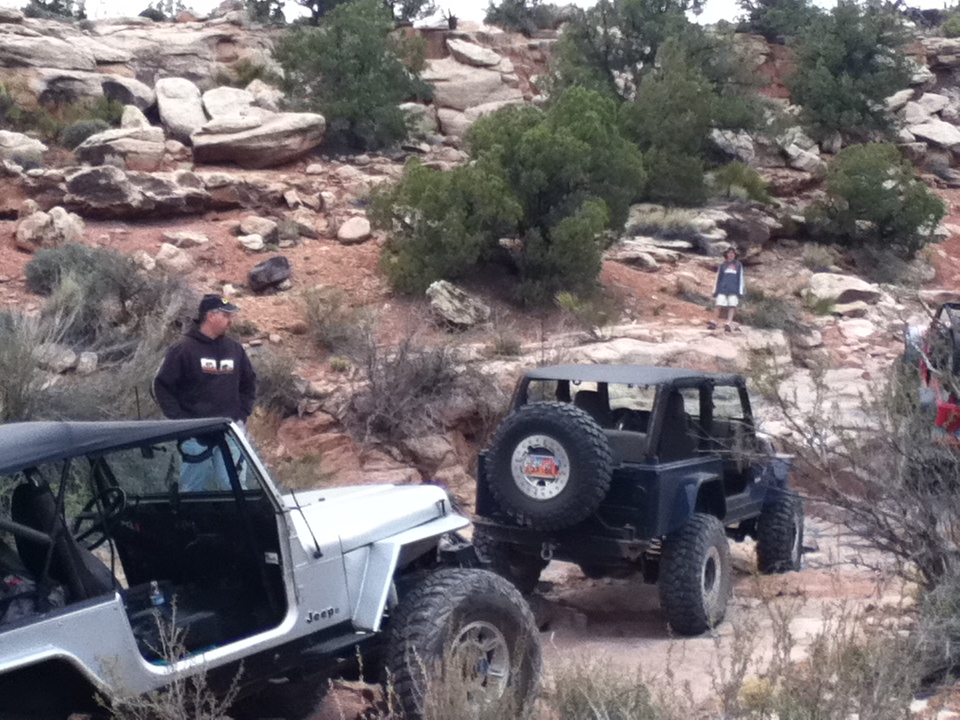 Well, we're finally on the trail. Here's a fair representation of Minor Threat. I'm following Brian Paige again. Six speed Rubicon with 37" tires. He's entertaining to watch drive the stick. My MB buddy had to hang with some of his guys about 10 back from us. Would have been cool to have him along.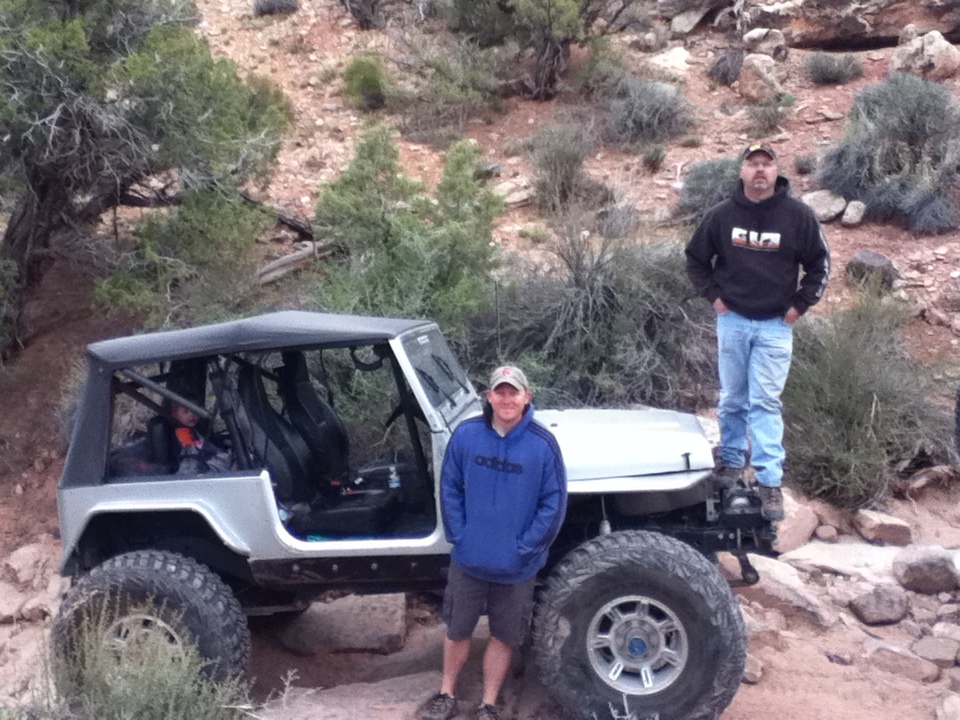 Jason found it quite funny that I was perched on my winch/bumper trying to get a good look at what was taking so long on a "minor" trail. We soon found out there was a broken D35 on an XJ up ahead. Those are always fun. We motored around him and Olywrestle in another XJ showed up with a spare shaft. Sounds like a $500 delivery to me? The guy was in good shape with the spare part and we were ushered on ahead to find Brian .....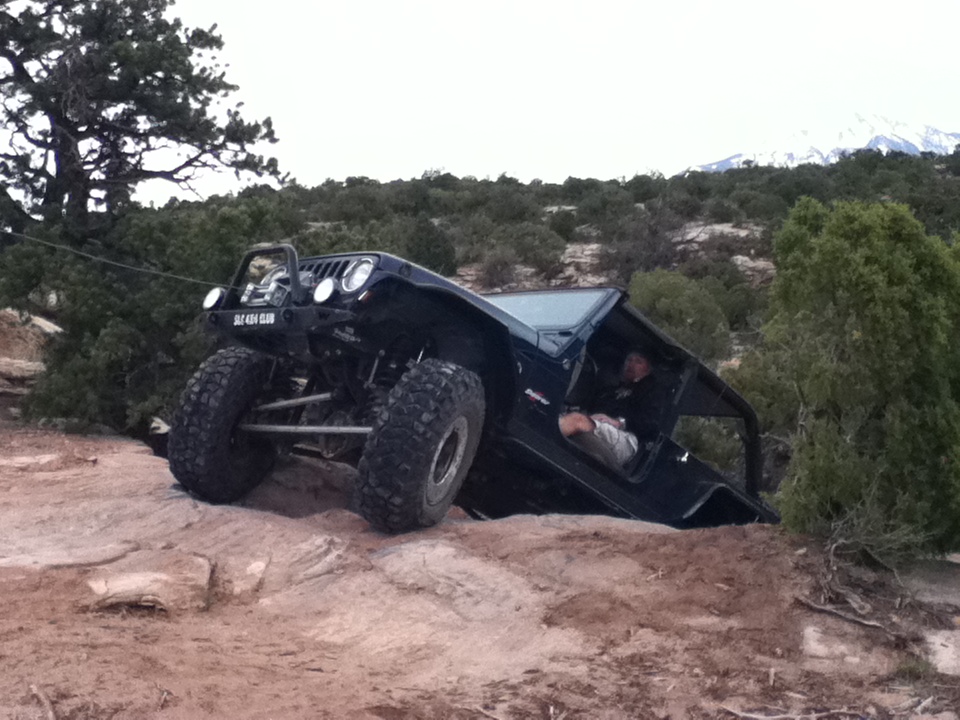 here. He's in a bit of a pickle as that's a fairly steep slope and he's not going up, or he's not going down. I drove the winch rig around to see if I could put another notch in the TMax winch mount. (I really should do that....that winch has helped other peeps way more than me.)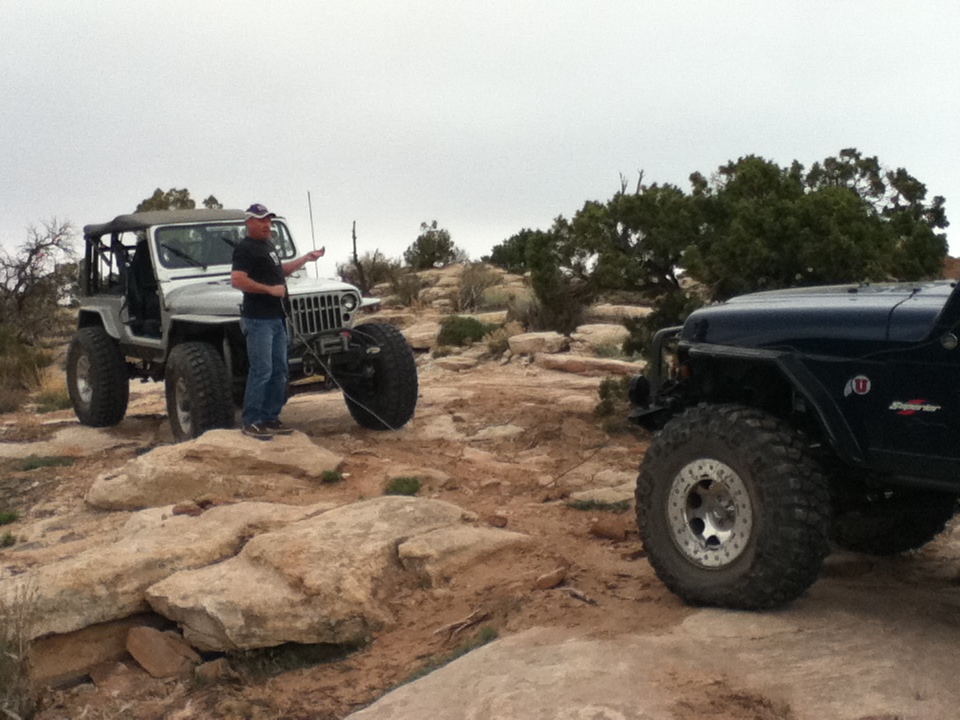 Man, those aerobic swimming classes are making me look SWEET. Check out that man modeling the Superior t-shirt. I look like I'm 21 again.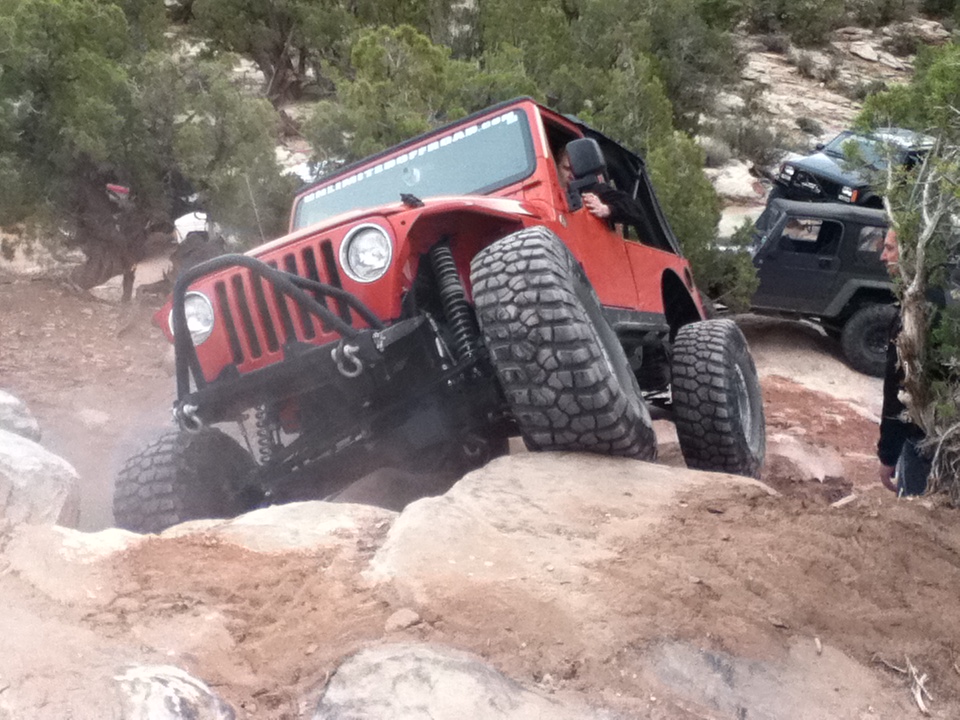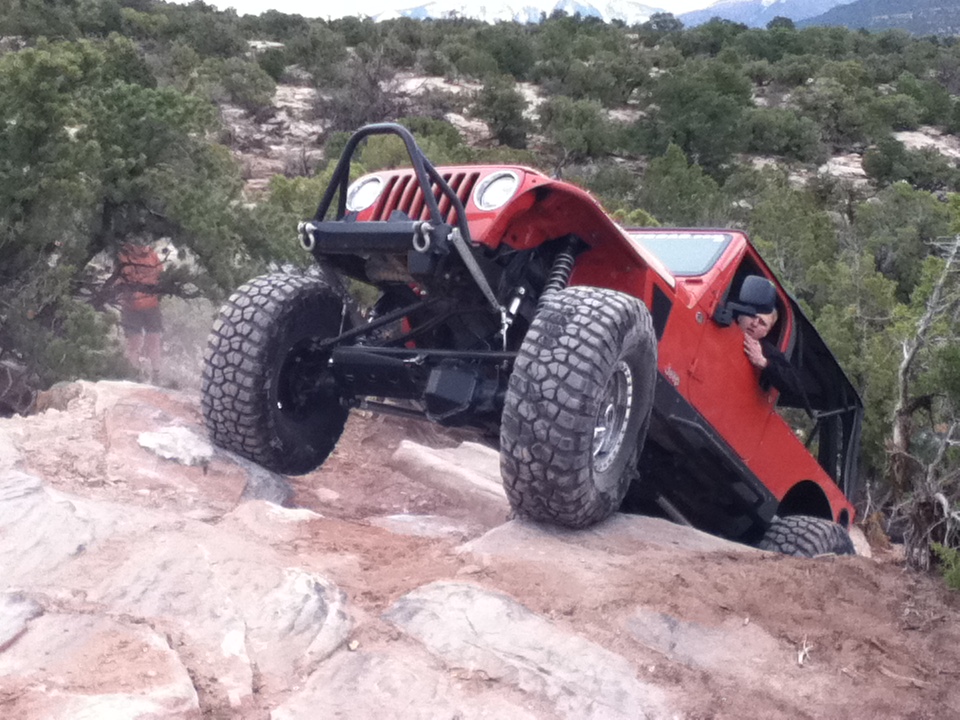 Same obstacle Brian was enjoying from the end of my winch cable. This guy from Michigan made it look fairly easy.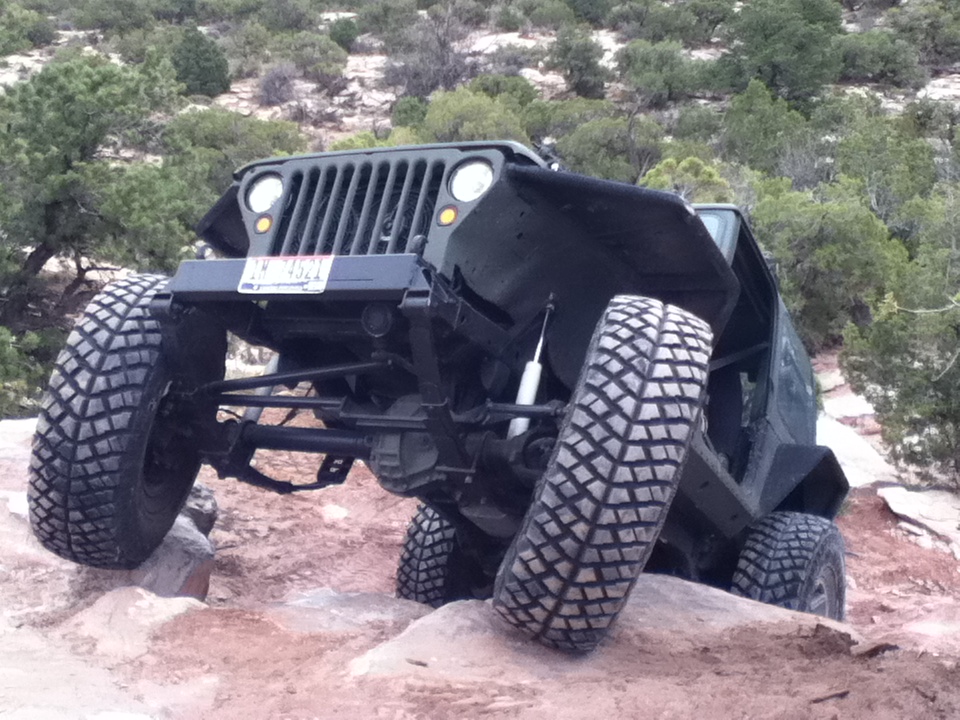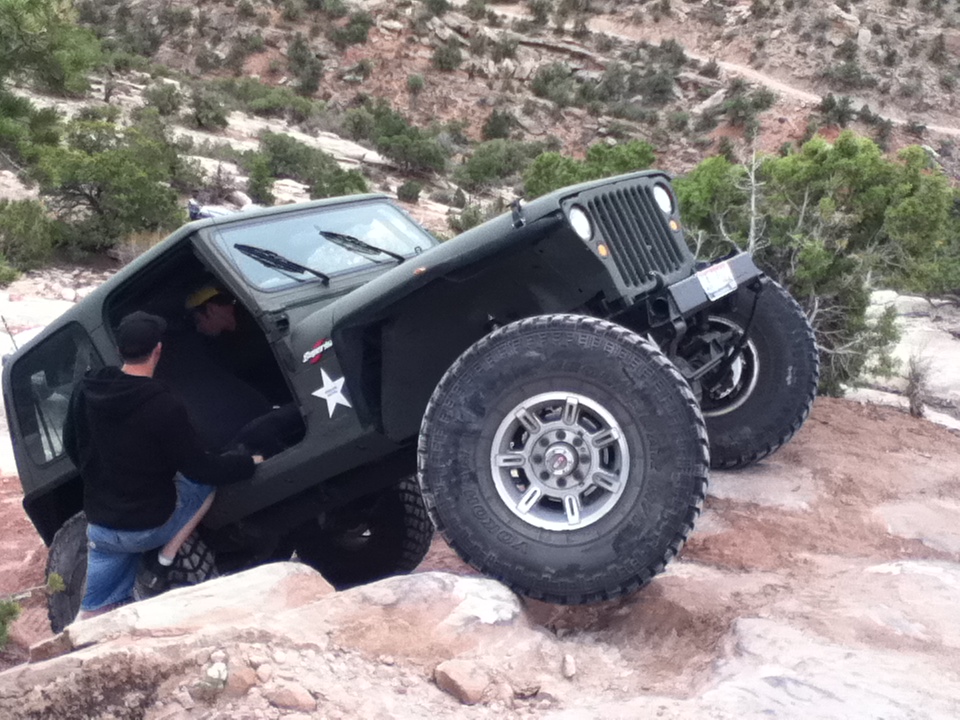 Hey, look what just popped over the ledge! Nice wheels!
We were done at this point. Pretty early ending to the day, but we headed to town, checked out the Jeep display, bought some gear and grabbed some grub then headed back to the trailer. Tuesday would be a pretty full day.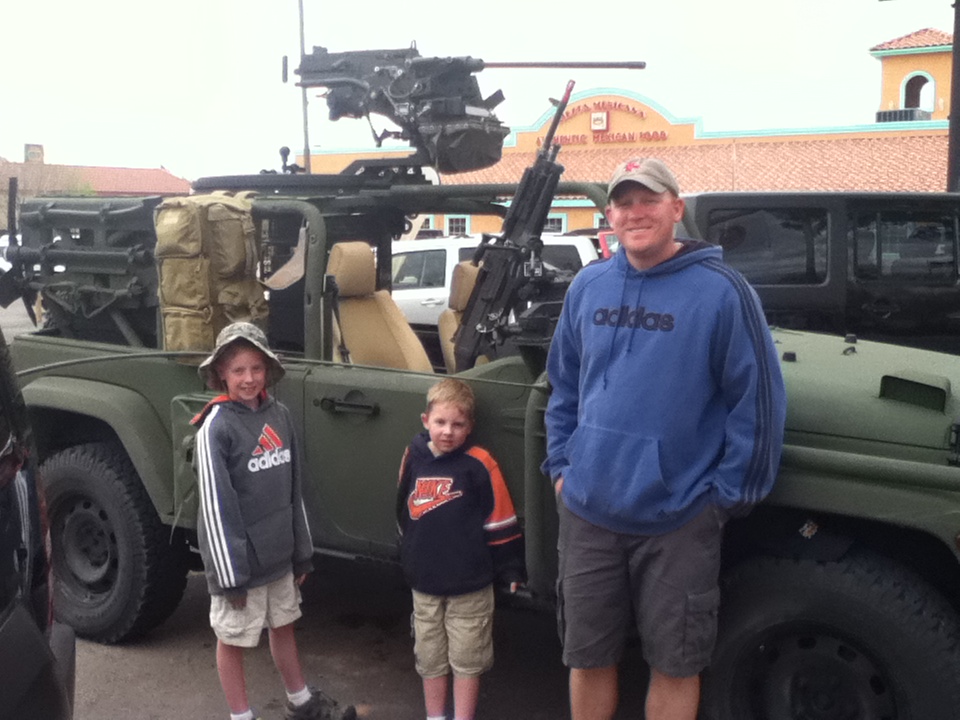 Jason knew both of the weapons mounted on the Jeep pretty well. It'd be fun to shoot either one, as long as I wasn't on the hook for the ammo.
Tuesday, we attack Mashed Taters, Hidden Canyon and Pickle