Moab Run 2007
So, I got an invite to run a trail with some of the locals. No real incidents, just a lot of fun with a great group. All had well prepared rigs and I was the only out of towner. Lucky for me, my rig chose not to have any major issues. Technical trail that just never stops. Again the pile of 'Jeep' impresses more often than not. I found a few weak spots, but nothing too significant.
Saturday, April14, 2007
So, the day starts out kinda crappy. I told Dave that I'd meet them at the highway turn off to the trail due to my Stupid Swampers being, well, not exactly street worthy. I had to pump up the tires at the Shell station to about 28 psi. Met the group at the turn off and we headed to the trail. Awesome trail in the bottom of a wash. Boulders about the size of pumpkins on up. Wherever you go in the wash you can be rolling rocks underneath your tires. Good thing for the Jeep and larger boulders you can get a little traction on. :D
Here's the pics. Jeff (drtsqirrel on some boards) getting us started. All pics are by my kids.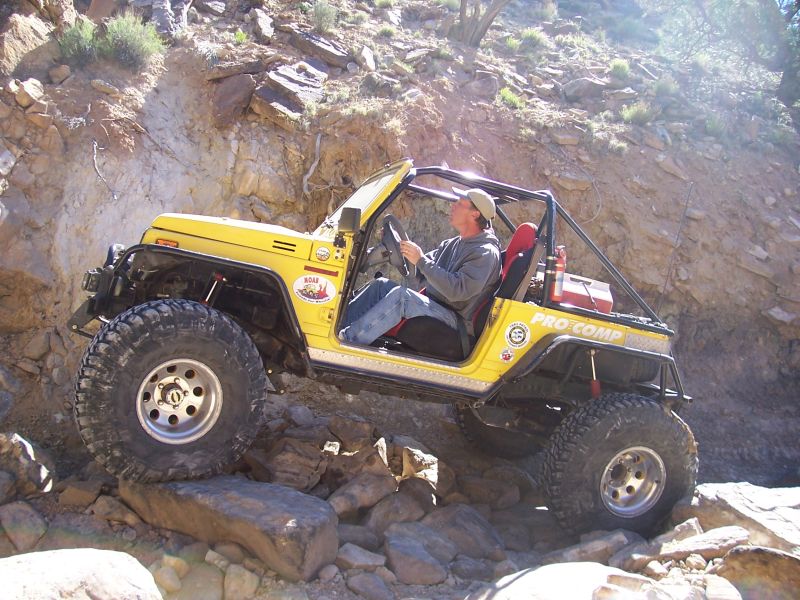 The lovely thing I call a 'Jeep' entering. The thing about this trail is once you're in, it's kinda hard to get out. You're committed.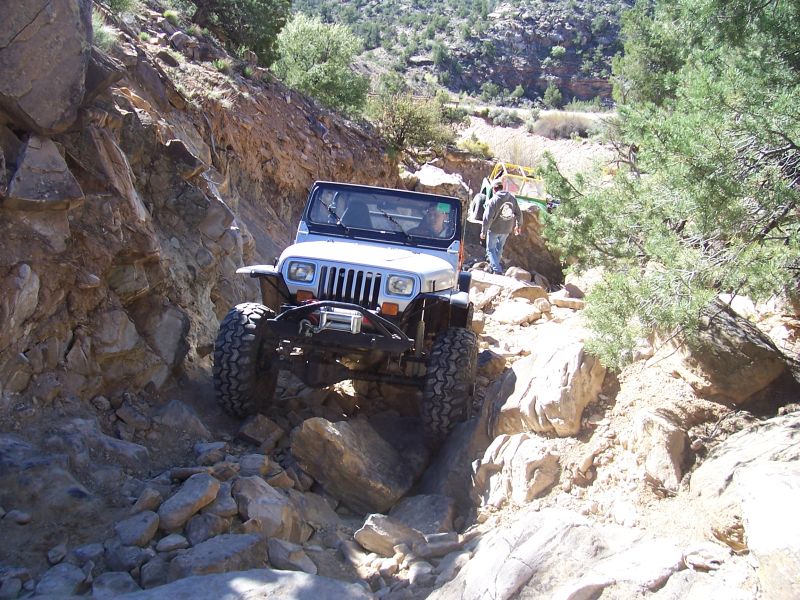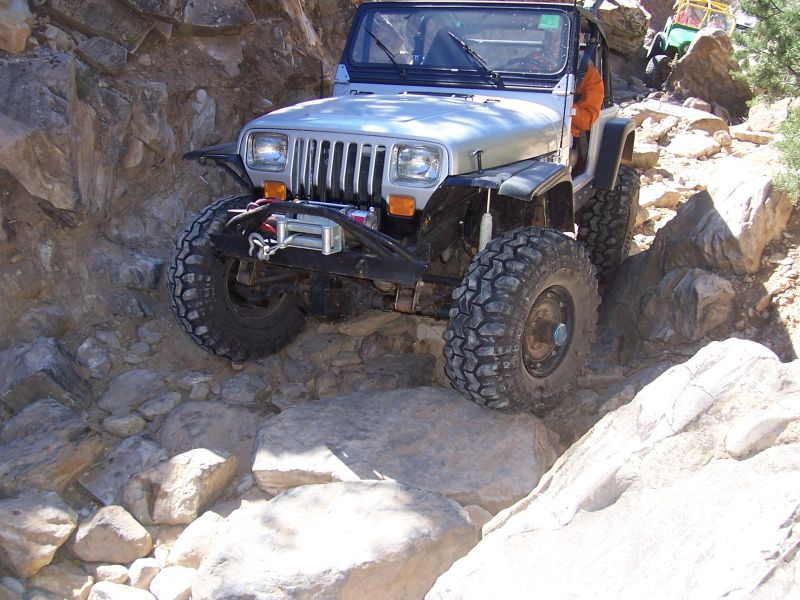 An 'unorthodox' line I took on an obstacle. A little angled, but felt pretty good from the drivers seat.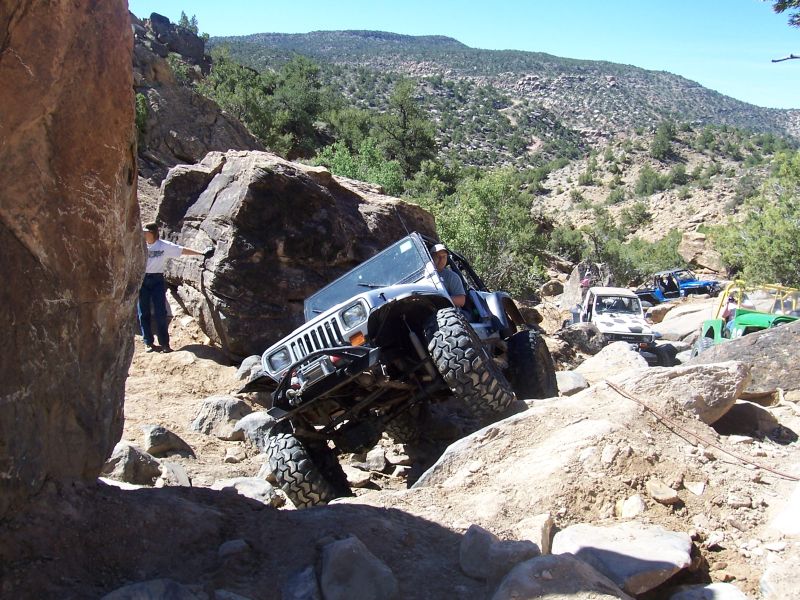 Speaking of unorthodox lines. :D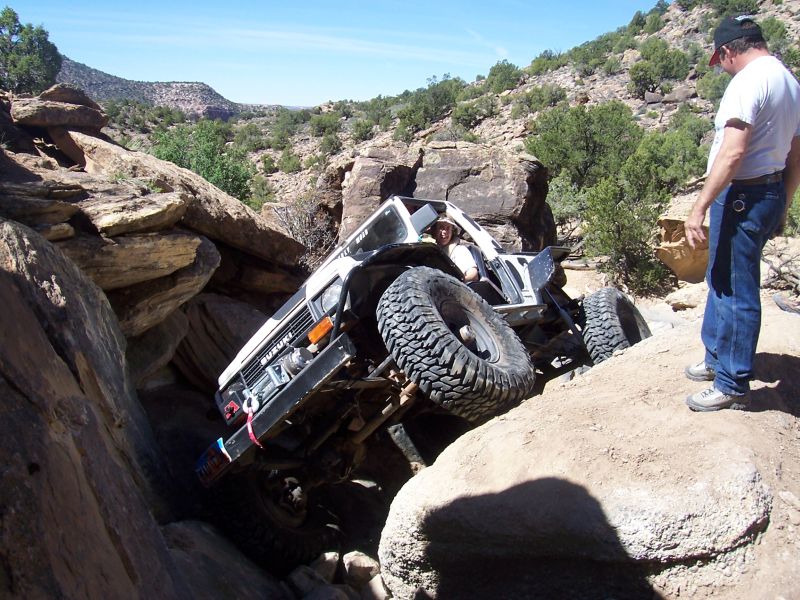 Here's the damage for the day. Passenger side drive slug cap. Mt. Logan units. Still very serviceable and I'm glad I welded the rings on the wheel (PBB's very own 66CJDean).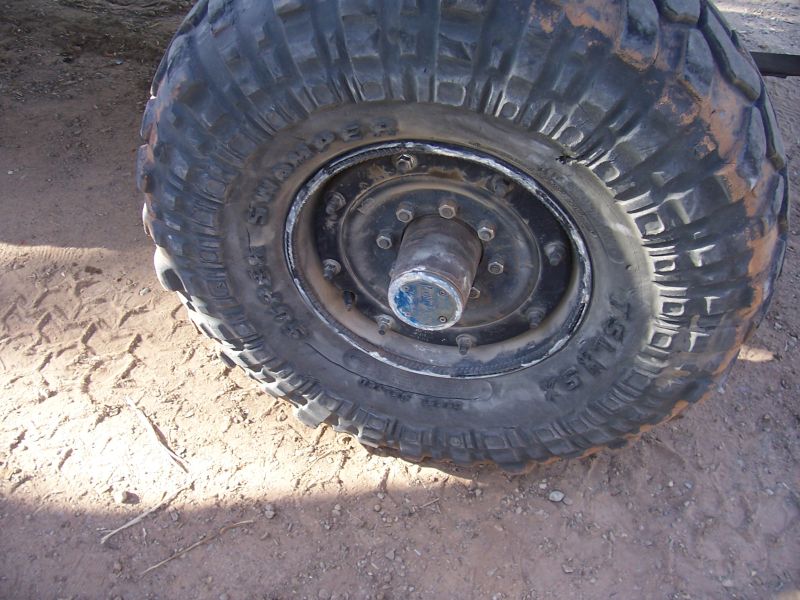 All in all, a GREAT trail day. Great company, fun trail and lots of sun. I did have some 'Jeep' issues. I need to replace an inner seal on my passenger side front axle. (discovered while I was 'parked' somewhere on the trail) We also noticed the front diff fluid wasn't quite the right color, with a 'milky' look. Hmmm....water from Hells Revenge. We drained that, fixed the peeled 14 bolt cover (wondered if that would happen with my 'shave' job) and busted up to Sand Flats to find some other guys we knew on Fins and Things. We never ran across them, but called them a few times via cell phone.