Planet 4x4.net trip with Greg Gardner, Mr. McAtee, Brent and Rick
Here's a little Pritchett Canyon action for the first trail. :D Nothing wrong with that at all, in my opinion. All pictures by Scott McAtee.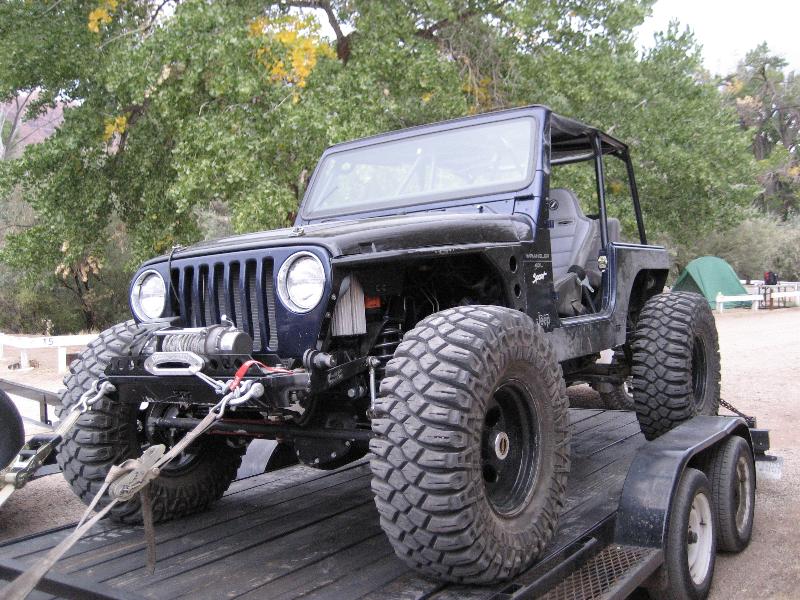 Greg's Jeep before we take off for Pritchett Canyon. Well executed rig. 40" Creepys, Teraflex suspension, 5.3L Chev, T400 , 60s, etc. I like how low it is and it'll only get better the longer Greg keeps the Jeep and learns to drive it. It works WELL.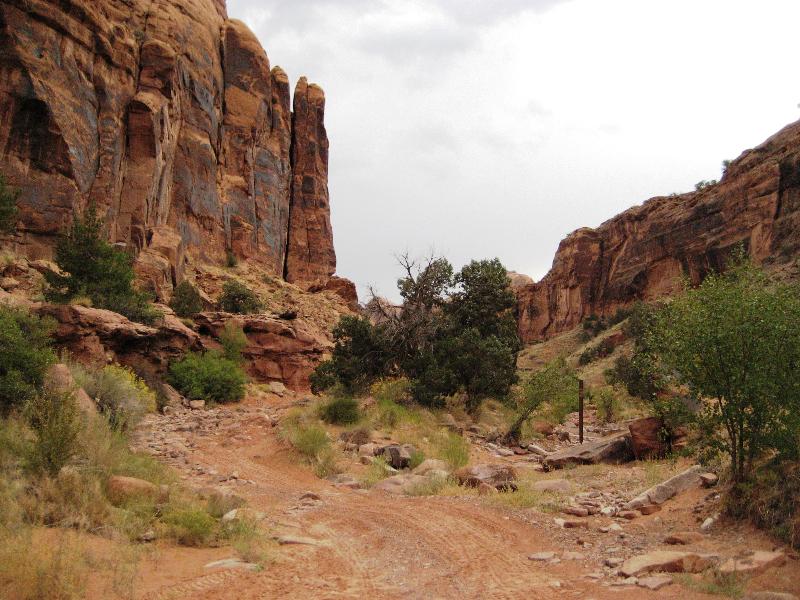 One of MY favorite places I ever go. I've went here EVERY time I've been to Moab. It's amazing to see the trail change over time, but still stay the same.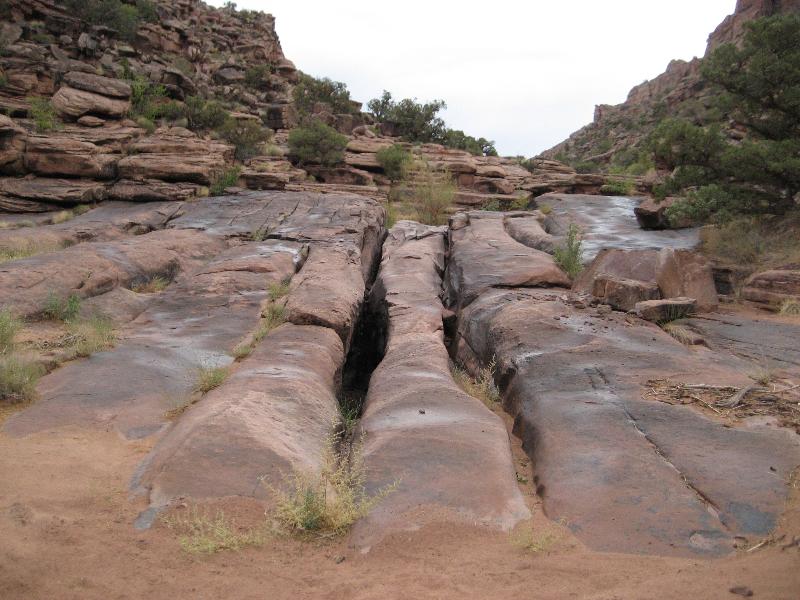 Here's more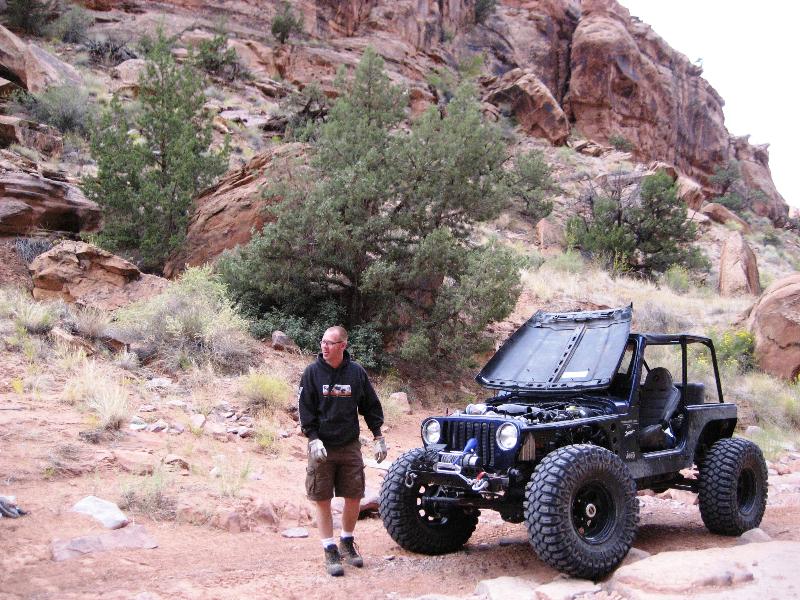 Good to see someone else with the hood up. I don't know what the problem was, but I think he got it taken care of. Did I mention I like how low this is with the big tires :D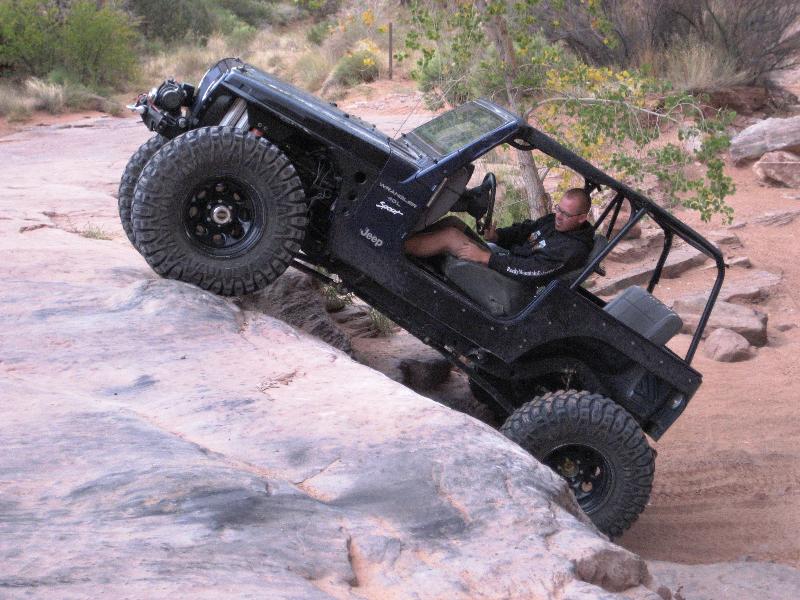 Keeps you nice and low on the climbs.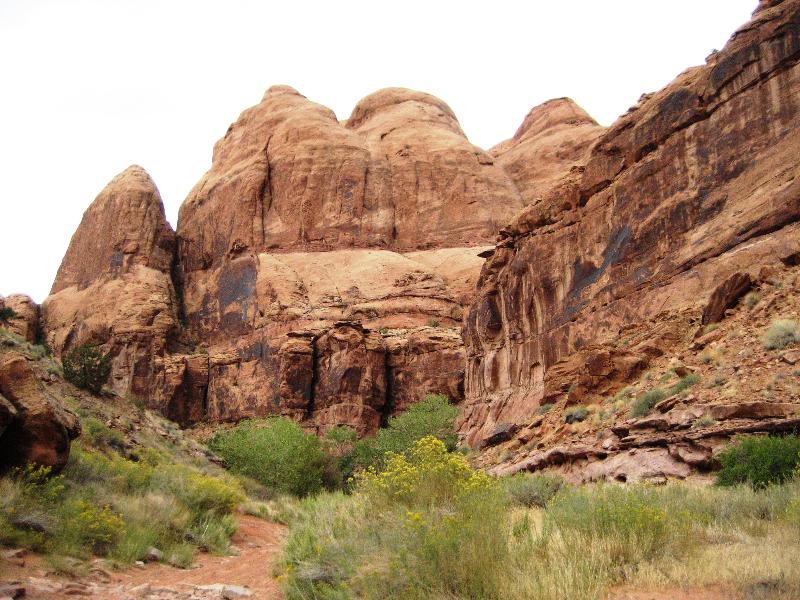 more cool scenery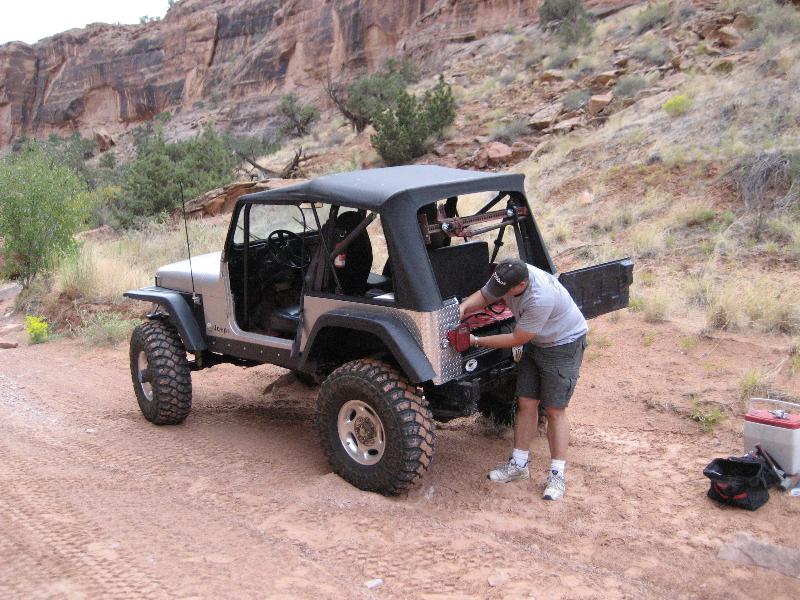 I did have a VERY strong gasoline smell as we started up the canyon. I stopped a couple of times to figure out what it was. The second time I ran into a hose clamp I'd left loose. I didn't want the Jeep becoming a "burnt offering" sacrifice to the Pritchett gremlins that sometimes plague other users of the trail. We got that put together just as Rick and Brent caught up to us on the trail. They were both amazed at the lack of size of my tool stash in this Jeep. I think I have everything I need in two bags where when I had the XJ, I had enough tools for everybody. In the picture above, I'm just putting the floor back in so I can strap stuff back down.
So here's Brent giving me encouragement to get my junk moving again.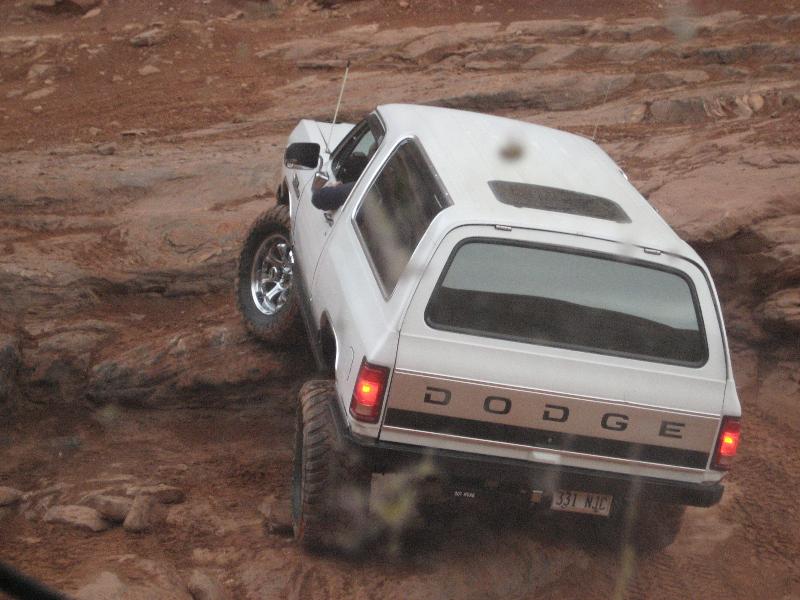 Rick climbing the second "obstacle" in Pritchett.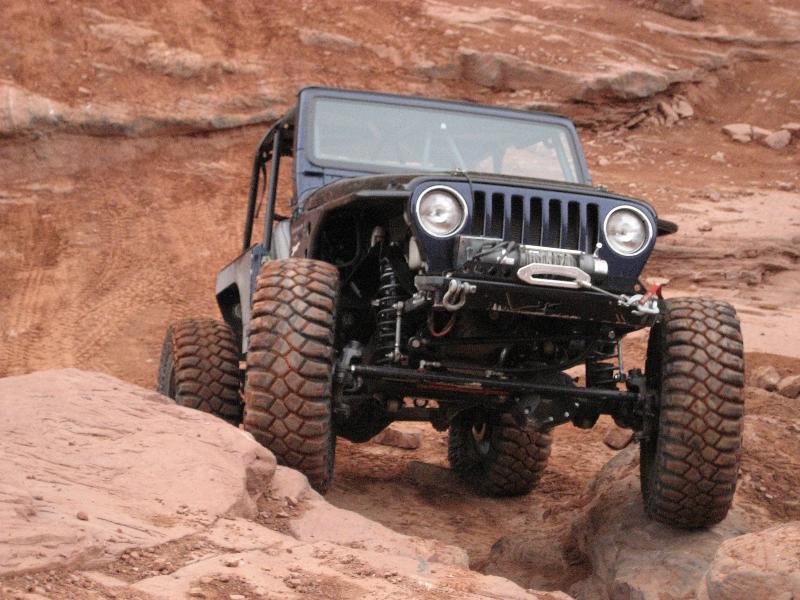 Greg in the same spot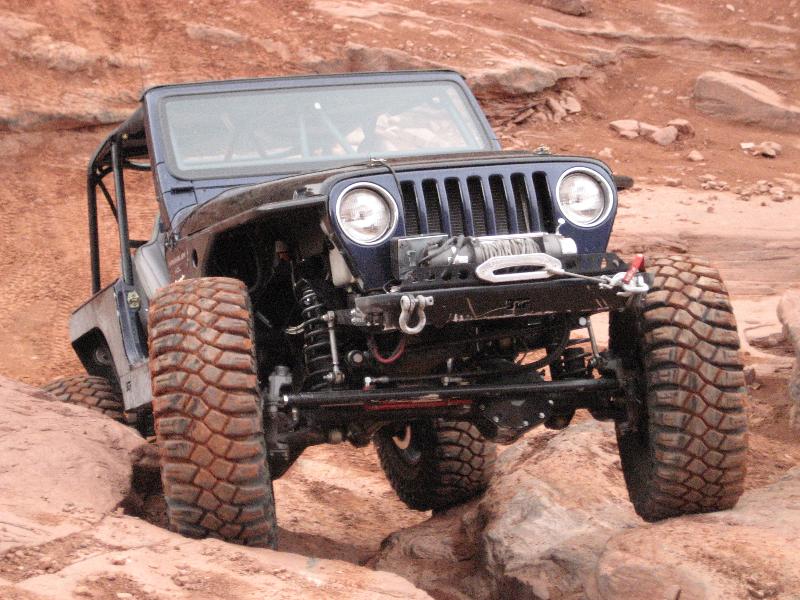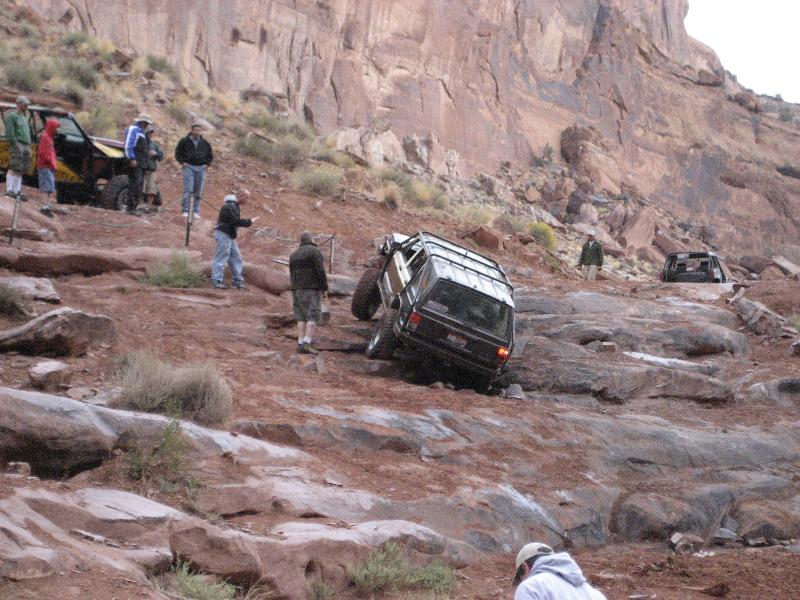 So, here's "chewy". It's one of those obstacles that used to be a non-obstacle. Now it slows folks down.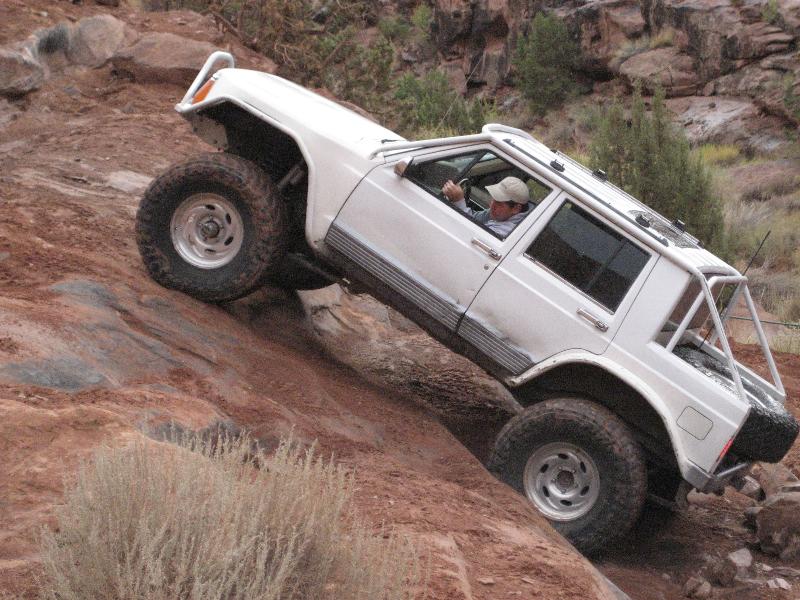 Brent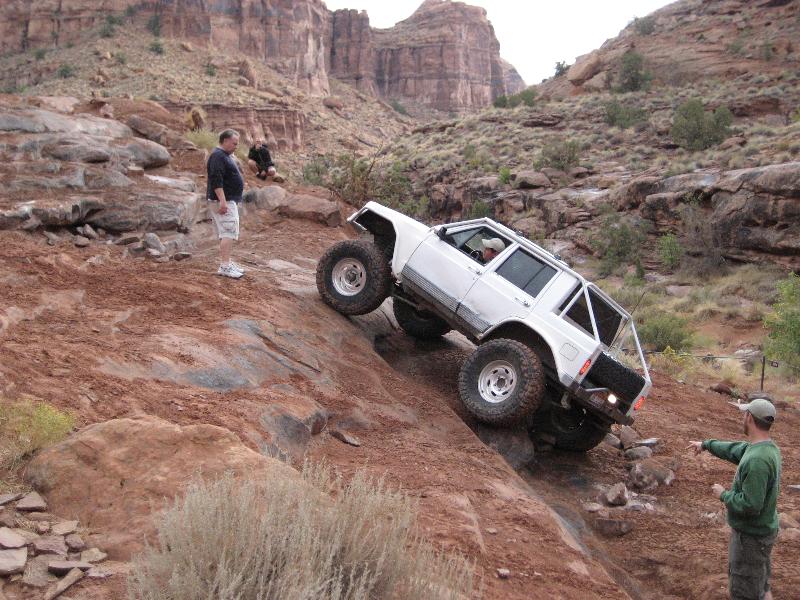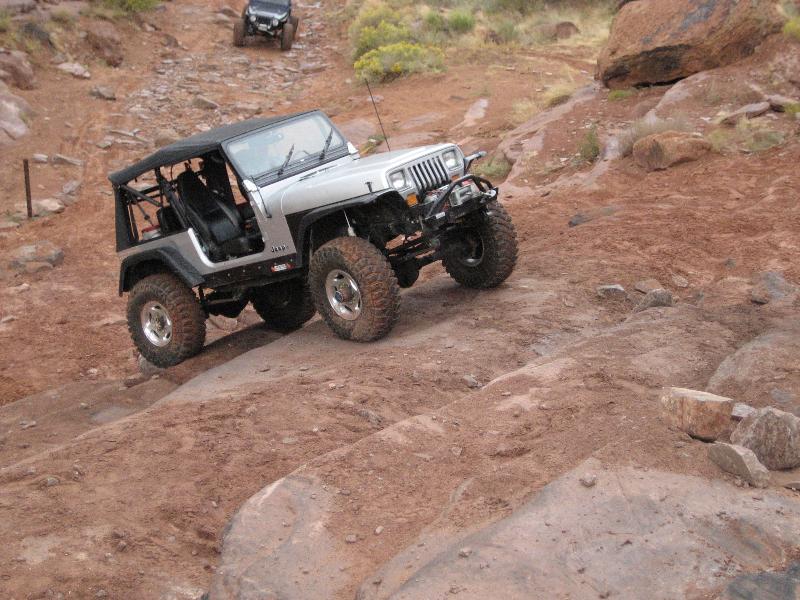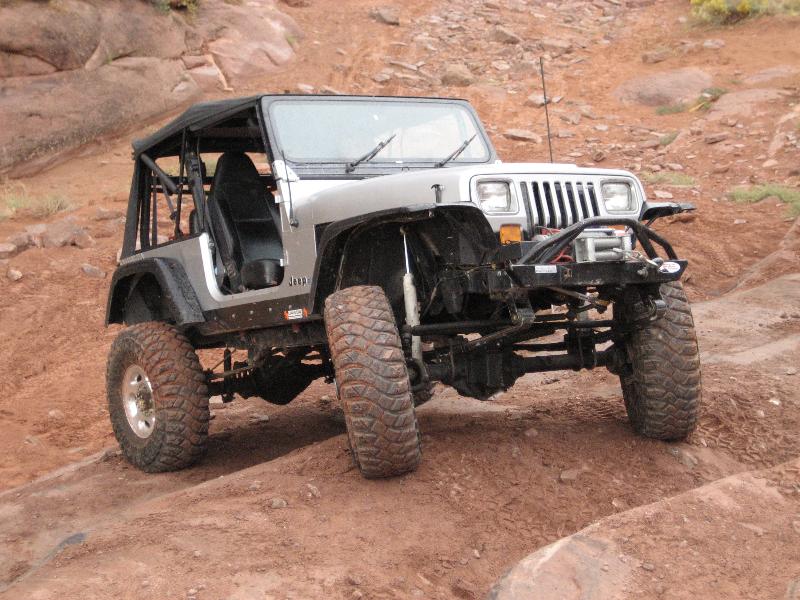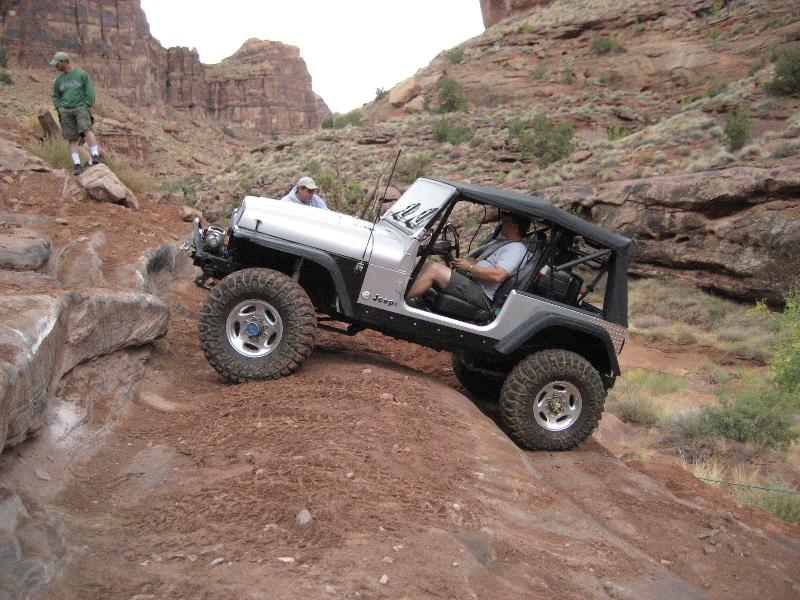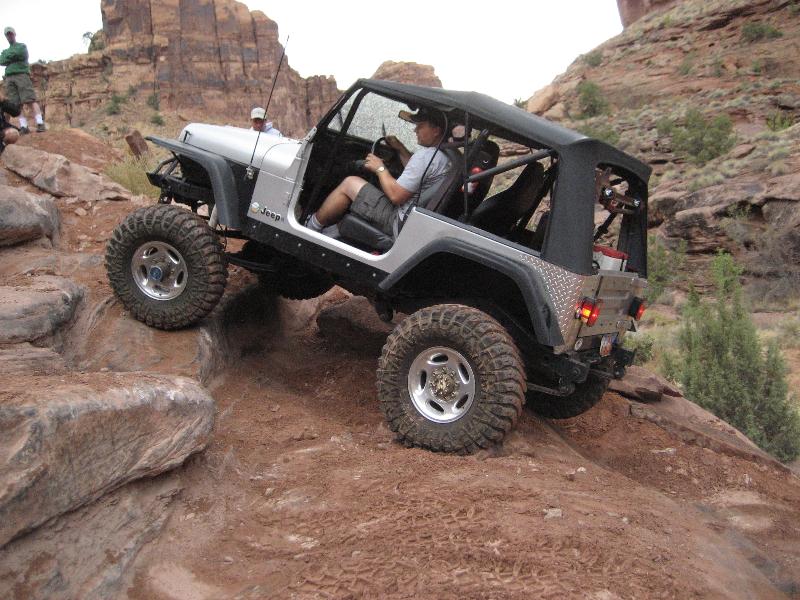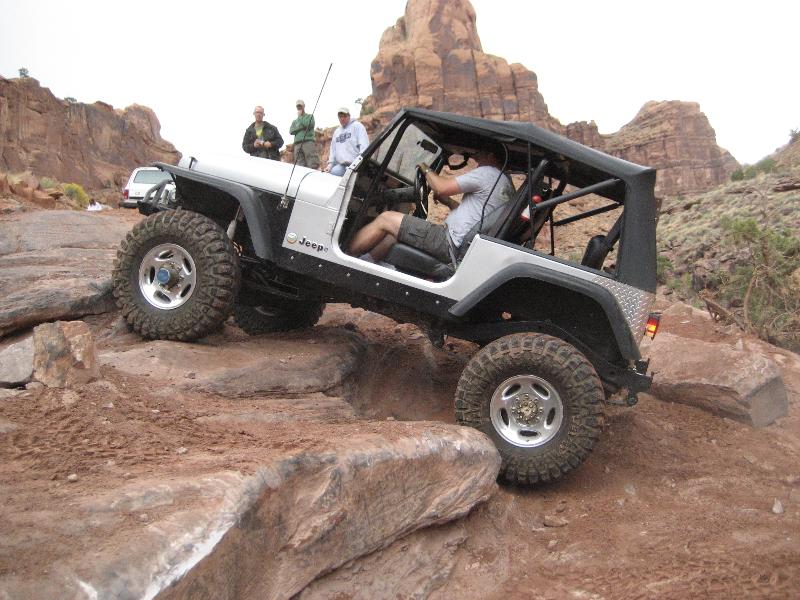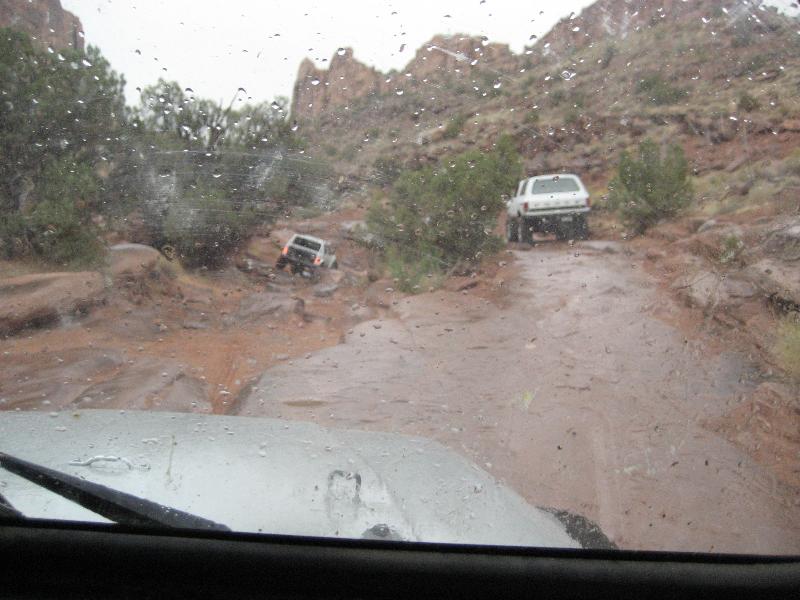 A little rainstorm after Chewy. I was wondering if I would be wanting doors and/or a heater.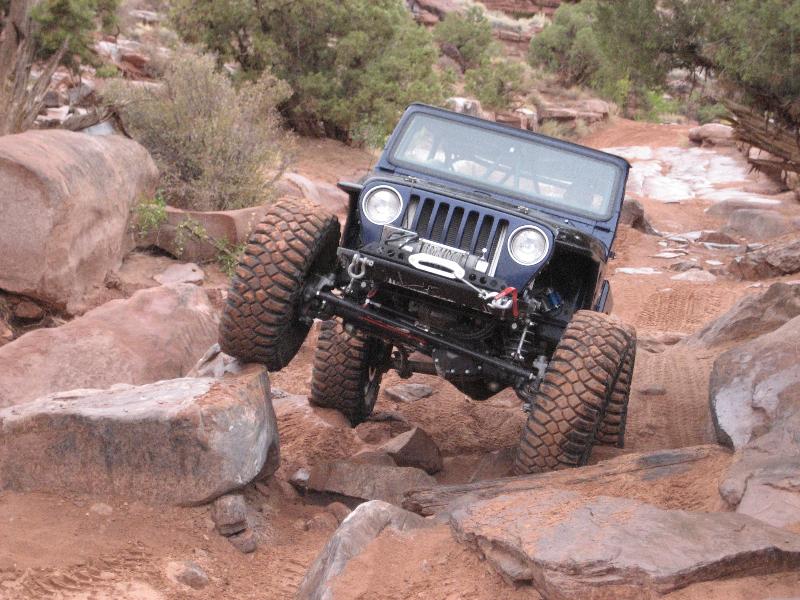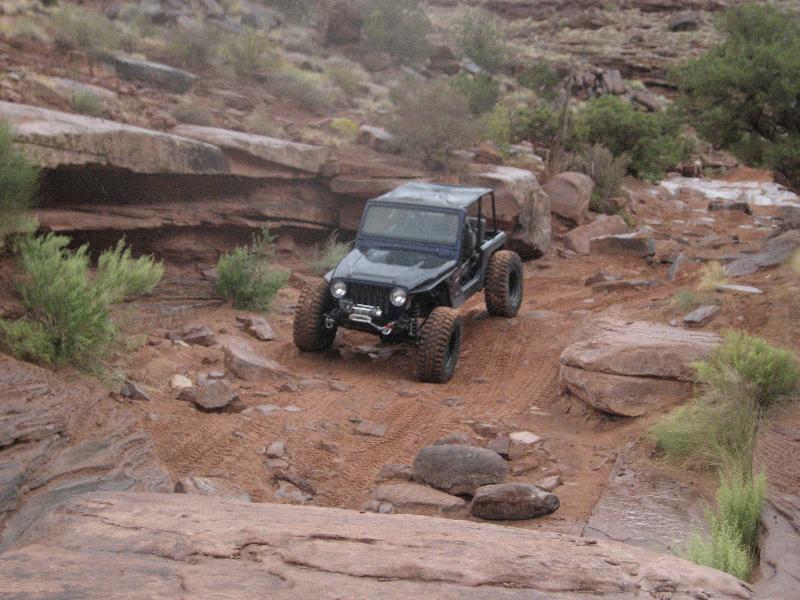 Greg in that cool little wash.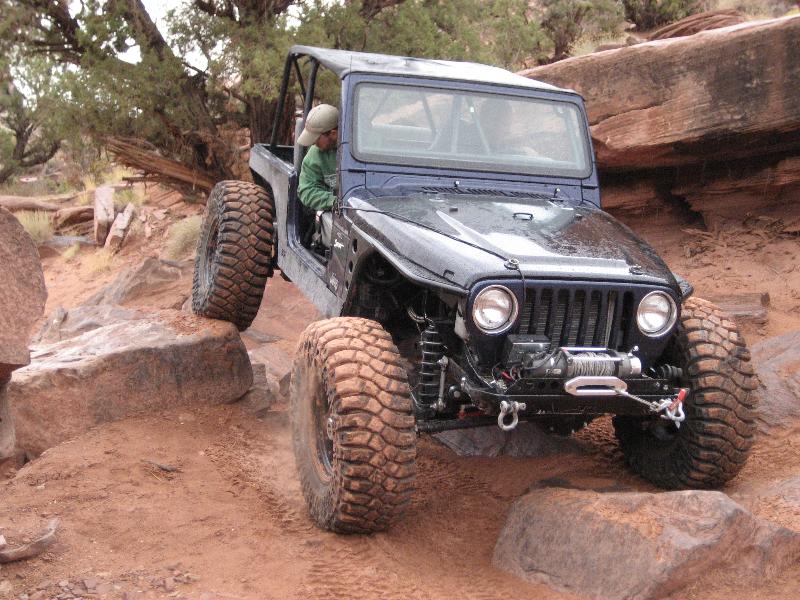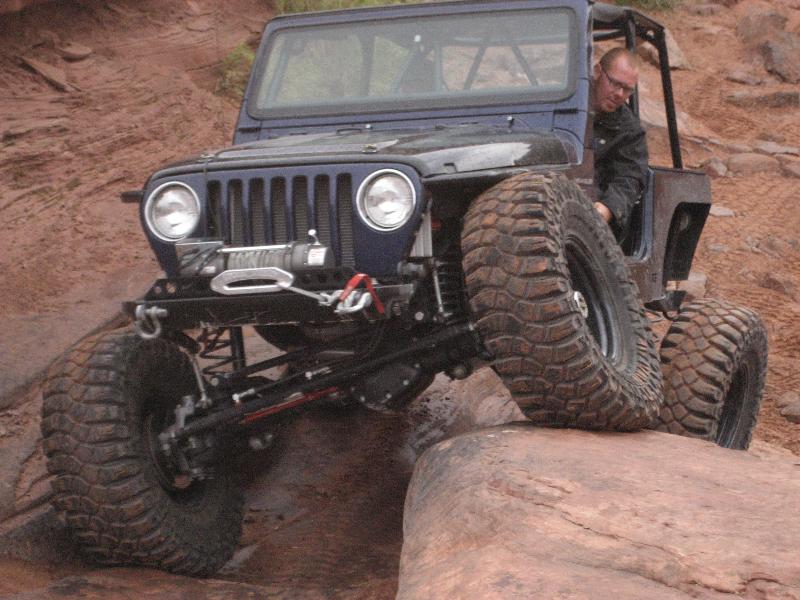 nice articulation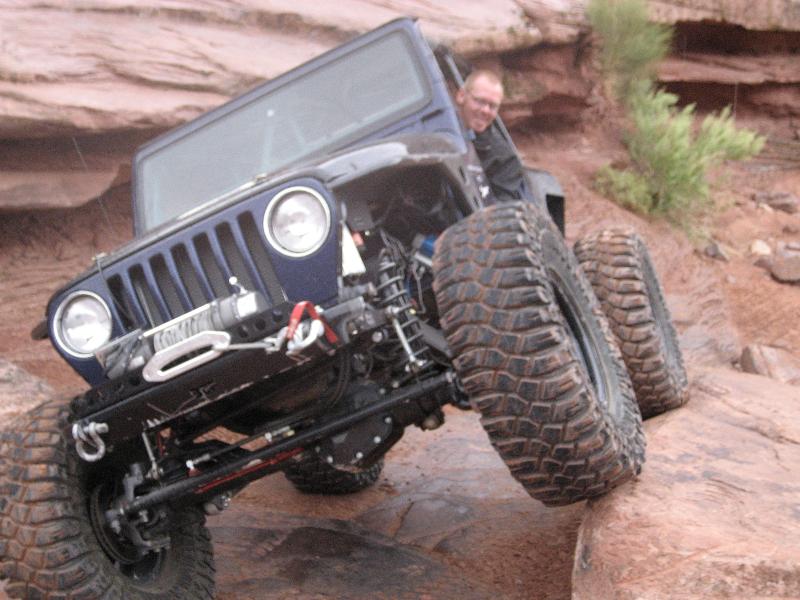 Hmmm.....that'd probably put a smile on anybody's face?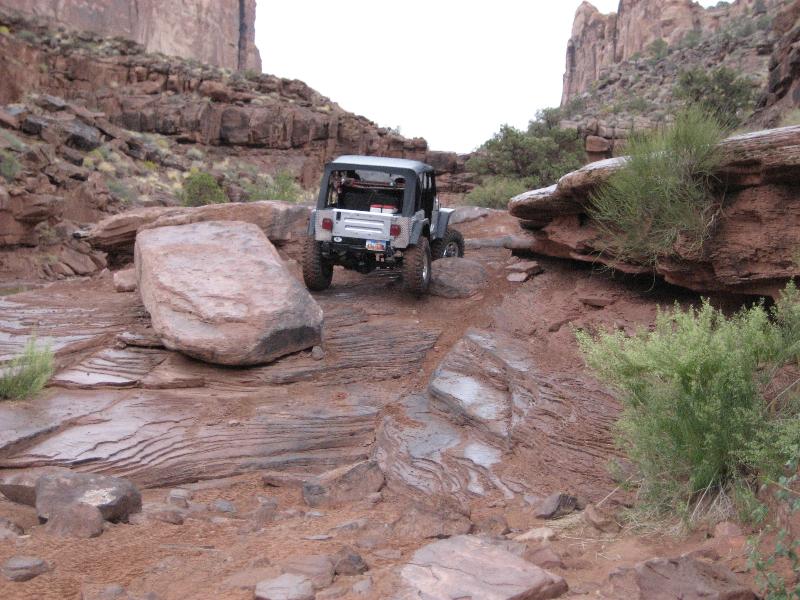 My ultimate cool, high dollar, "Jeep" just exiting the same wash.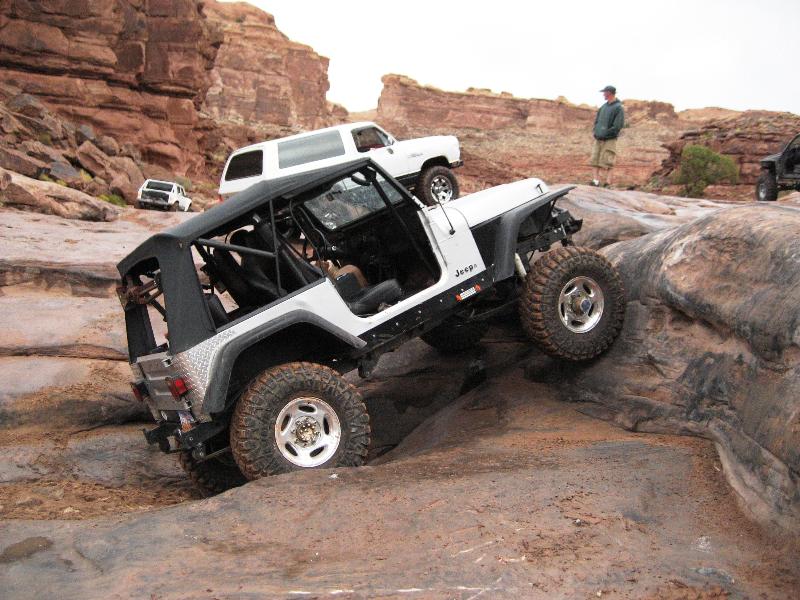 Feels pretty good.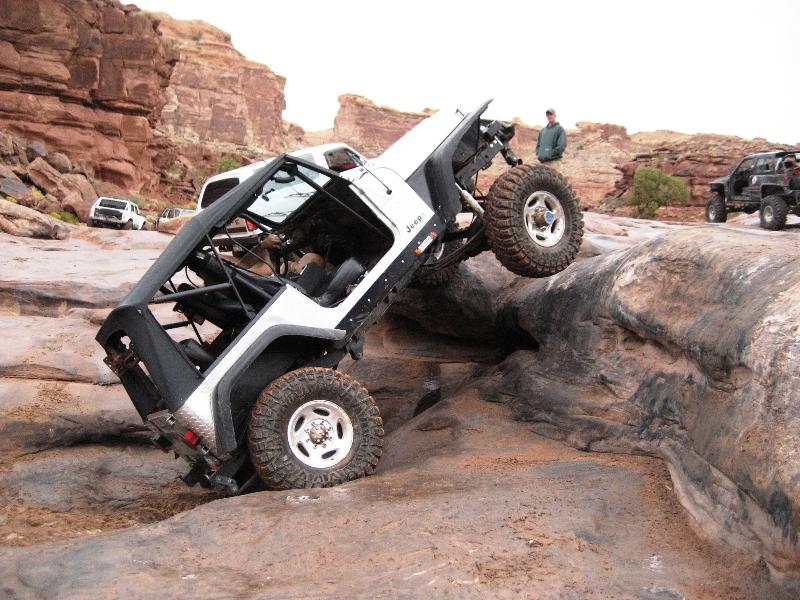 I'm still creeping along waiting for the passenger front to hit rock. I think it's coming down towards the rock at this point. The thing that scares me about this Jeep is I really don't "feel" nervous in it. It's really stable, almost to a fault. I'm SURE I'm going to put it on it's side or something as that'll be the only way I know I've went to far.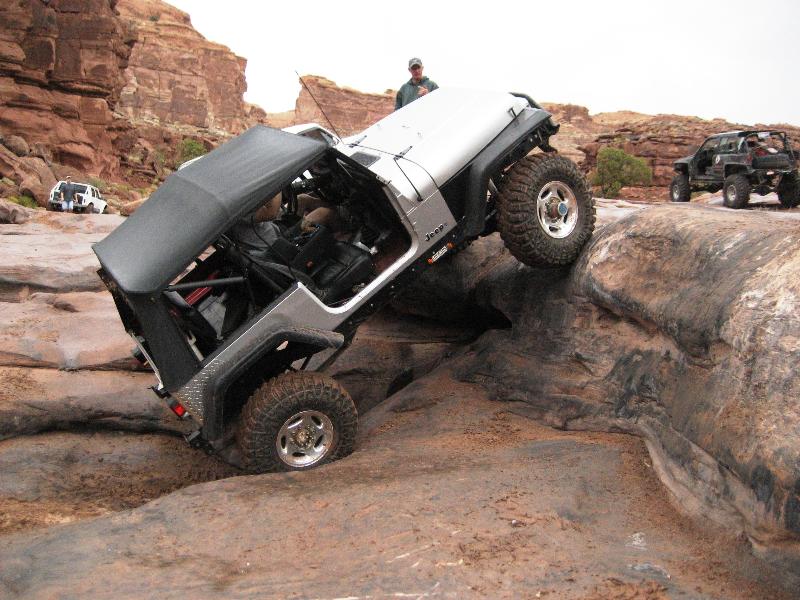 Hit it. Go up or go over. There's no in between.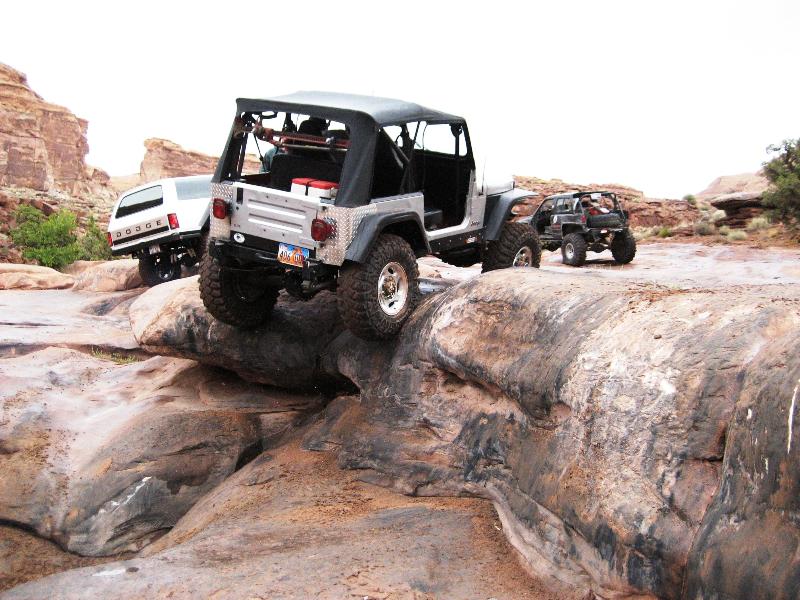 I'm in the throttle pretty good there.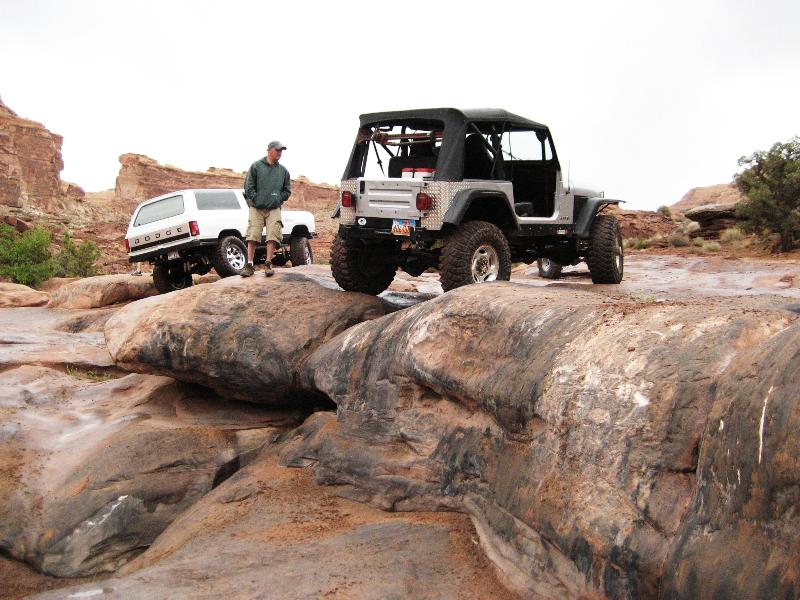 WOW, I'm elated I got up that. That's a steep climb and I was kind of surprised my leaf sprung Jeep made it without really a lot of drama.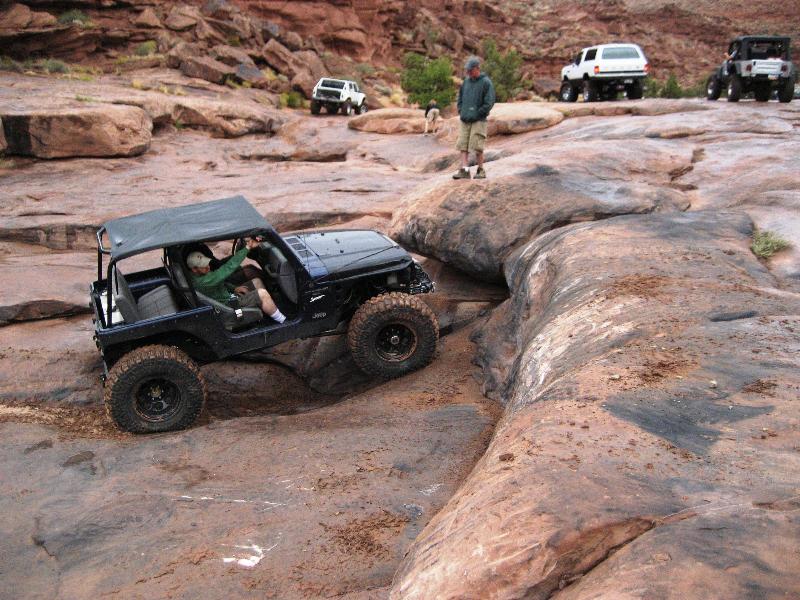 Greg lining himself up.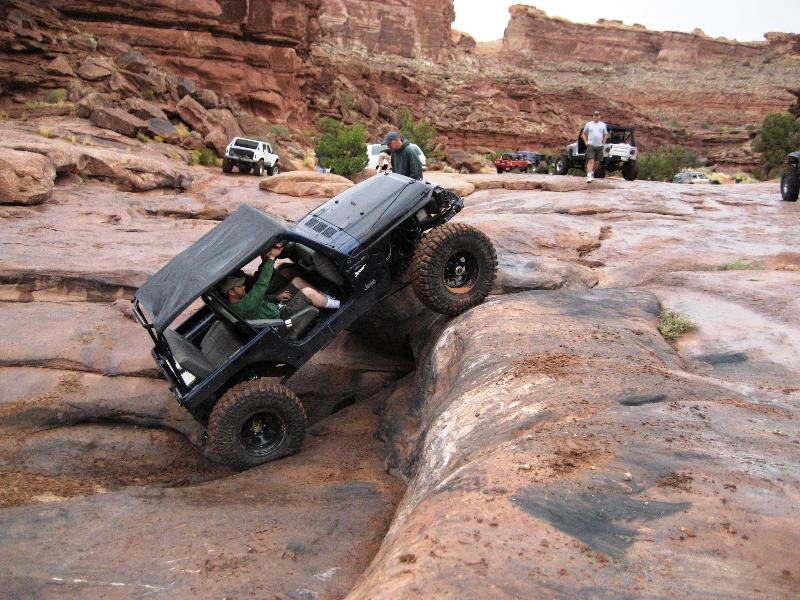 That always feels a little sketchy, but it's why I go. :D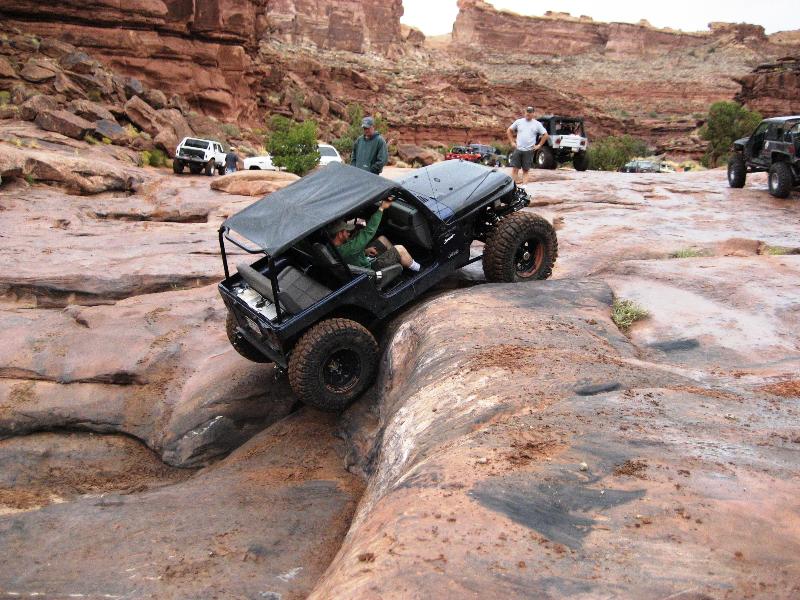 NICE. A little bump in the throttle to finish the climb and he's up.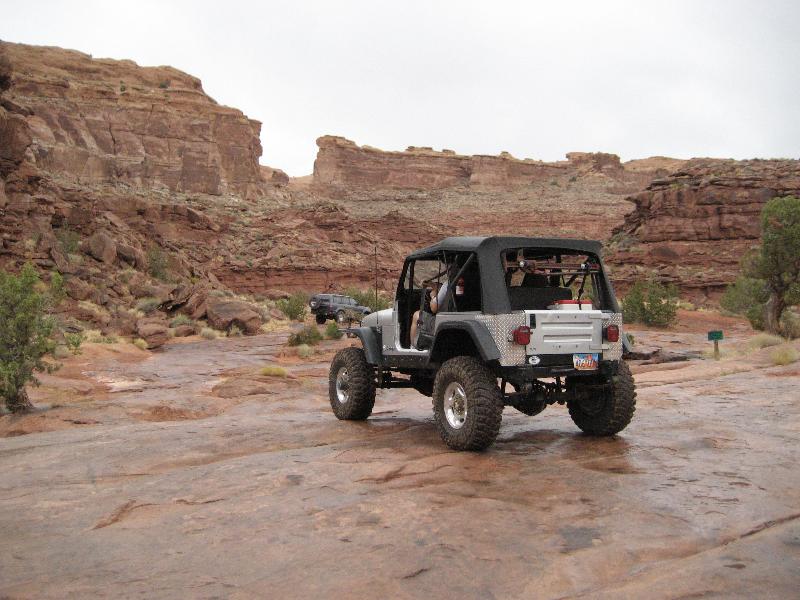 Rain on the slickrock. Makes you a little nervous if you've been in the canyon with any kind of storm. It's not SUPER threatening, but that can change PDQ.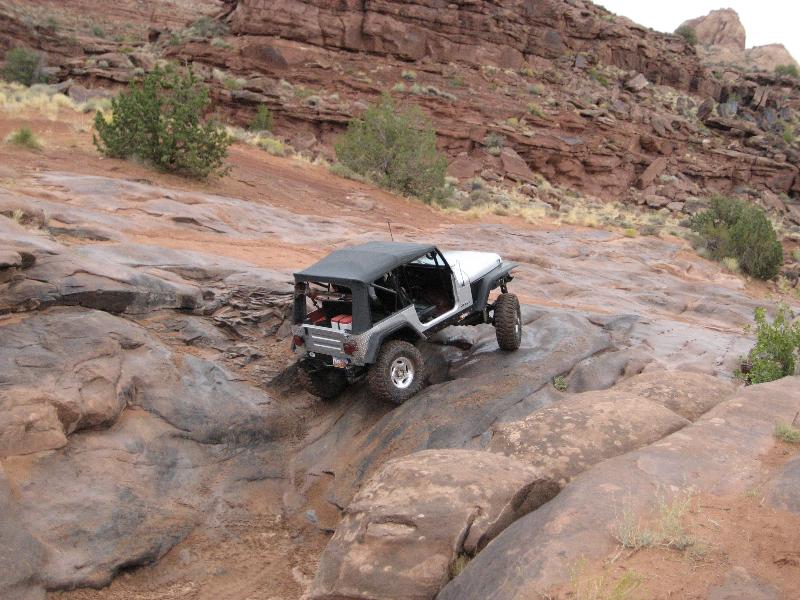 Just finishing the climb below Rocker Knocker.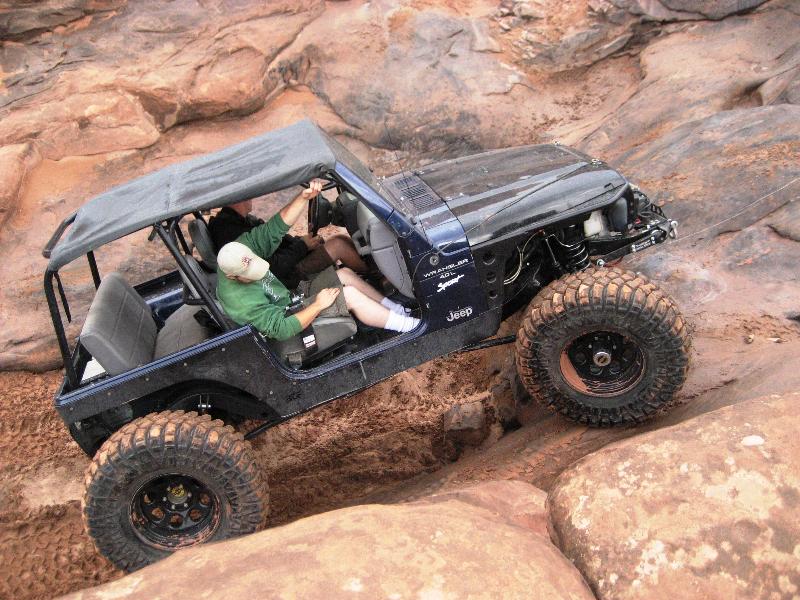 Start of the climb below Rocker Knocker.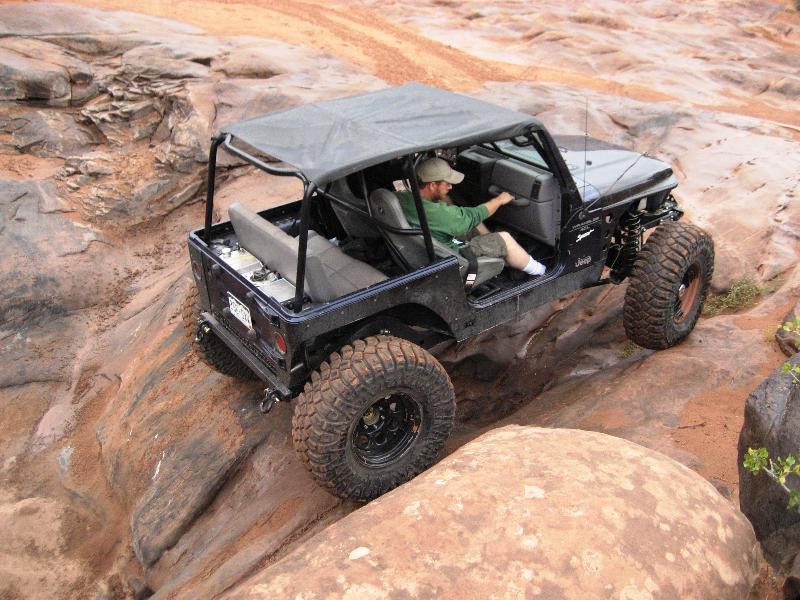 A little slickrock climb just below Rocker Knocker.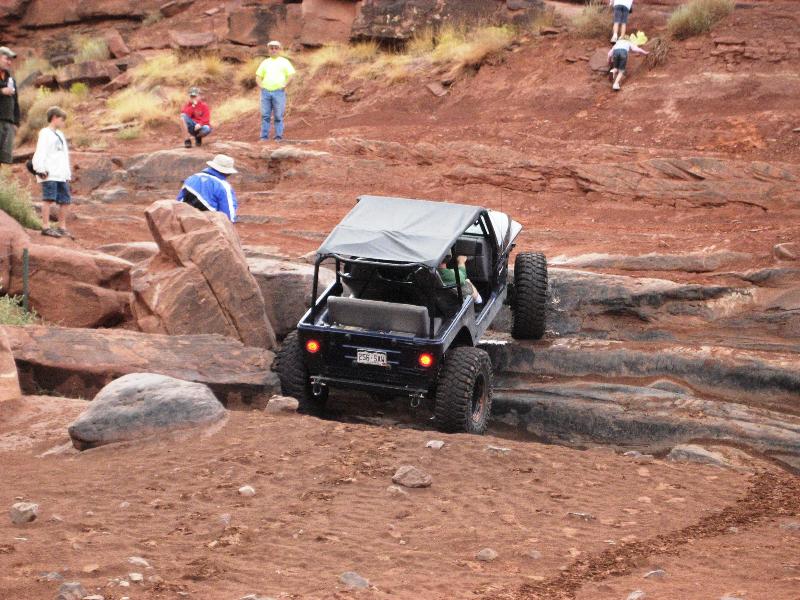 Greg had more trouble with this than I expected him to. I've NEVER seen anyone go up with that line, though.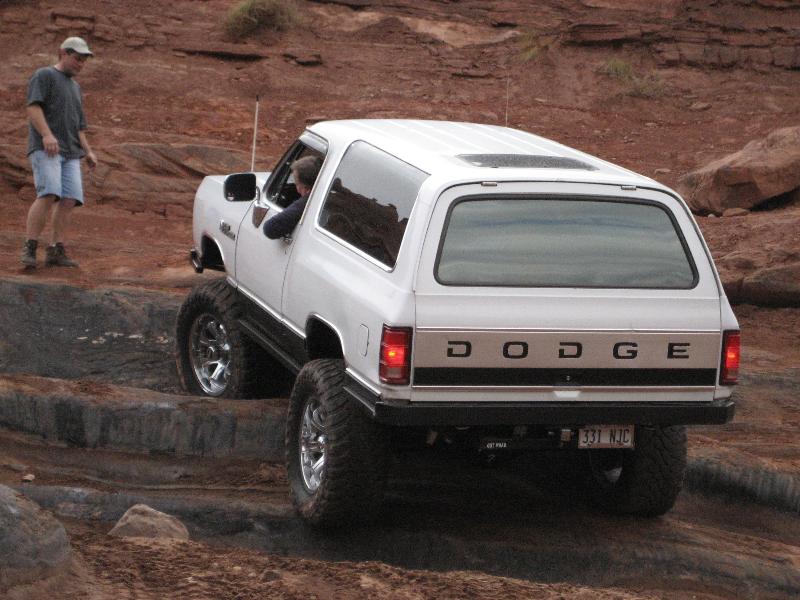 Getting that tank up that obstacle is pretty impressive if you ask me. It does get a little sketchy, but we've not had any real incidents yet. I think he's been up this at least 10 times?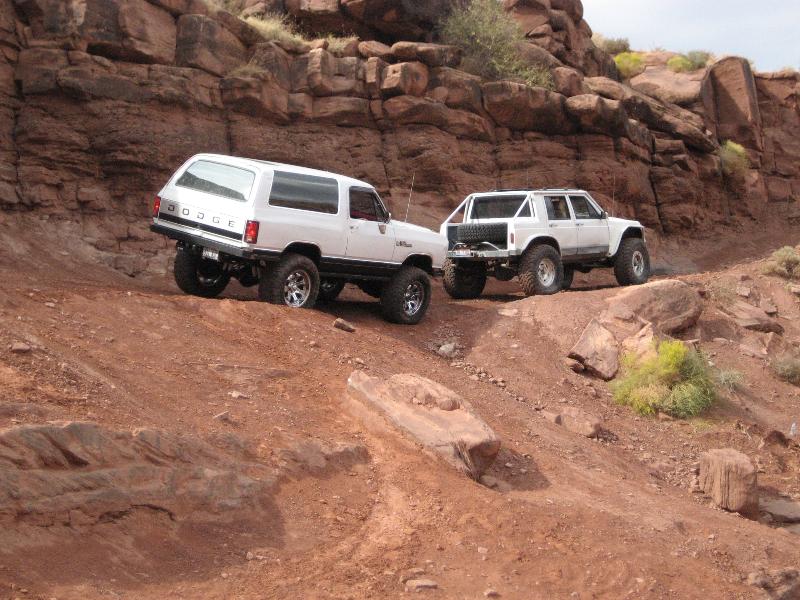 Well, wish mine was up there, but....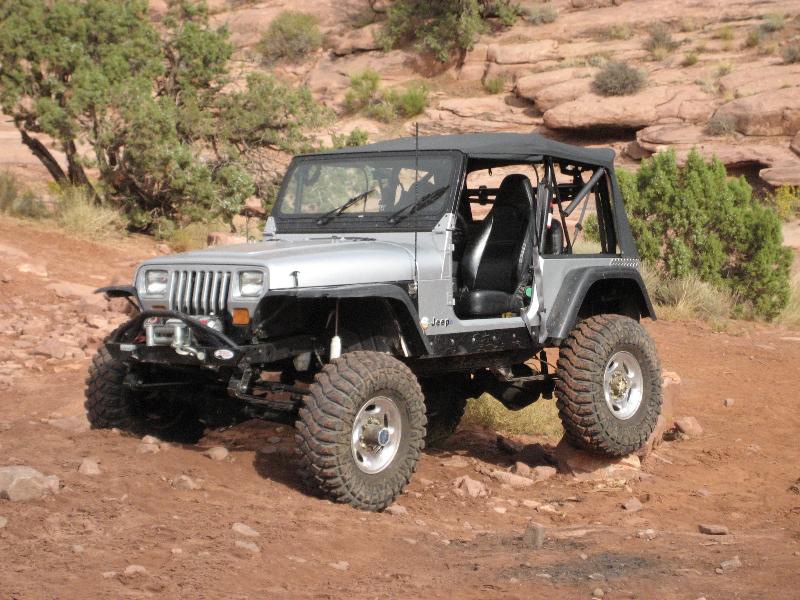 Broken u-joint strap on Rocker Knocker has me denied for the rest of the trail. I would have liked to get up RockPile or at least give it a chance to do so. I've been denied with Swamper SX's, Toyo Mts, and wanted to try it with the Maxxis (they really seem to be working MUCH better than either other tire).
We go for Coyote Canyon the next day while Greg goes for Upper Helldorado.